Win a FREE Ready Acoustics Room Treatment Package!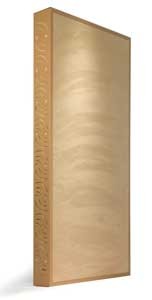 Ready Acoustics Chameleon Bass Trap
Ready Acoustics are giving away a complete room acoustics kit including a 3D room analysis with placement suggestions for your acoustic panels. The prize includes twelve (12) factory assembled Chameleon Bass Traps and Chameleon Acoustic Frames in any color combination you choose.Eight (8) Nested Corner Panels which fit behind corner-mounted Chameleon Bass Traps and the eight (8) Nested Corner Mounts which securely hold the panels in place.  ReadyAcoustics will also give the lucky winner 2 Wall Mounts for each panel, so you'll be all set to install this acoustic system into your home and turn your living room into a LISTENING room.
Audioholics Review Coming Soon!

Audioholics posts on July 05, 2007 17:24
sholling, post: 281132
Thanks for making the effort to bring another great contest to your readers. It's a heck of a prize but I'm afraid that going to have to pass on this one. I don't sign up for any contest that requires me to agree to accept spam in any form including "newsletters". Congrats in advance to who ever wins this prize.
Uh… OK. The "spam" is from us and it's a once-a-month newsletter, but to each his own.
j_garcia posts on July 05, 2007 17:21
Awsome contest. I have a tricky room, so it would be great to win. I noticed their ads start to show up on this site recently and was curious about them, so the contest got me to actually find out who they are The DIY bags look pretty interesting.
agarwalro posts on July 05, 2007 14:33
I got all the great equipment and speakers for a super setup, now I need to start treating room acoustics. If I win , it would be a good start.
Jim Robbins posts on July 03, 2007 13:02
Somehow, I haven't seen this company before. My wife and I were just considering some acoustical room treatments after the recent review of the Auralex products. We thought about trying to save some money and going the DIY route. It looks like this place has some "bags" that we could put our own material in pretty cheaply. Thanks for getting the contest going. Even if I don't win, I might have found exactly what I am looking for!
avaserfi posts on July 02, 2007 23:20
I can only hope that I win this one. My room could definitely use it and seems perfect timing since I just started looking. If not I guess I have started saving this is just so much easier :-D.

Great prize support thanks for everything.
Post Reply