Universal Remote Control Launches New Web Site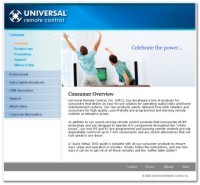 HARRISON, NY, Aug. 31, 2006 - Universal Remote Control, Inc. (URC), the leader in control system design and manufacturing for home and professional entertainment systems, has unveiled a fresh new design for its Internet Web site with streamlined content for consumers and professional audiences, plus a special password-protected area called the "URC Control Room" for dealers and custom installers.
The new, improved site, www.universalremote.com , has been designed, in particular, to help consumers more easily determine which URC remote best meets their needs, and to better provide URC´s professional communities with the information and services that will help them save time and increase profits.
The Consumer portion of the site has been made easier to navigate and redesigned with cleaner, more contemporary Flash images and other graphic features that more clearly reflect the modern aesthetic and user-friendliness of URC remote controls. This also applies to the sections designed for Professionals, Subscription Broadcasters and the OEM market. Visitors will find new product pages for each division, and that URC products and systems are easier than ever to locate, learn about and compare. A new "What´s New" section showcases recent introductions.
URC has also expanded and streamlined the password-protected URC Control Room section reserved for dealers and the custom installers. The Control Room is also where URC product manuals and downloads of its Custom Control Suite™ programming software may now be found. URC relocated the information here from its prior spot in the public portion of the site to send a strong, clear message of support to the installer community.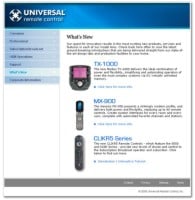 URC´s Complete Control™ line of remotes consist of powerful, sophisticated devices. Many are designed to be programmed and installed by custom installation professionals trained to configure them to exploit all the features that maximize consumer benefits. The URC Control Room was created to provide a place where installers can most easily and comprehensively familiarize themselves with these products. The software remains free-of-charge to professionals.
Consumers who prefer to do it themselves can select from a full line-up of URC MasterControl™ remotes that are available at prices starting under $30. The R-series, RF-series and new FX-1 remote controls deliver ease of use and flexibility, and can be configured by anyone.
About Universal Remote Control, Inc.
Headquartered in Harrison, New York, Universal Remote Control, Inc. is a world leader in the design, engineering, manufacture and distribution of high-quality remote control devices. Since its establishment in 1991, the company has become highly regarded by consumers and professionals alike, and won numerous industry awards. It supplies millions of remote controls each year to consumers around the world through four primary distribution channels: consumer retail, custom professional, subscription broadcast and OEM.
Over the years, clients have included many leading high-end audio and video manufacturers, and consumer electronics and subscription broadcast companies, including Adcom, B & K, Bright House, Cablevision Systems Corp., Charter Communications, Comcast, Crestron, Denon, Faroudja, Harman/Kardon, Klipsch, Krell, Lexicon, McIntosh, Motorola, NCTC, Rotel, Parasound, Polk Audio, Time Warner Cable, Toshiba, Xantech and Zenith.
Universal Remote Control products are manufactured in Asia and North America in factories that meet rigorous CE, ISO 9001, ETTS, IQNET and TQM certification requirements. For additional technical information, please visit www.universalremote.com .