Marantz UD9004 Universal Blu-ray Player First Look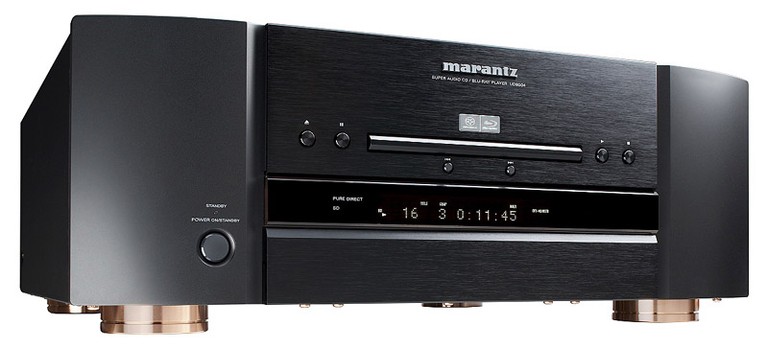 Now that is not an Oppo clone
Summary
Dual HDMI outputs allows Audio Video separate output for High Fidelity Playback
BD-Profile2.0(BD-Live), BD-Java, BONUS VIEW support
Plays SA-CD(Stereo/Multi), BD-Video/-ROM/-RE/BD-R, DVD-Audio/-Video/-R/-R DL/-RW/+R/+R DL/+RW, CD-R/RW and MP3/WMA/DivX(ver.6)/AVCHD/JPEG/Kodak Picture CD discs
Copper plated chassis and Tri box construction
Sophisticated new aluminum/reinforced resin front panel w/ Front door design
Machine milled solid copper block feet
Copper shielded Large Toroidal Transformer
Zinc Die-cast Enclosure, Aluminum Die-cast Tray Mechanism
Total 4 boards, Marantz HDAM-SA2&HDAM analog audio circuits w/ Custom audio parts
Balanced (XLR) Stereo analog audio output
192 kHz/32-bit audio D/A converters for all channels
Analog Devices SHARC 32bit DSP for HD audio Decoding
Dolby True HD, dts-HD MA decoder
Silicon Optix REALTA HQV Video Processor
Support 24fps, 36-bit Deep Color
297MHz/12-bit Analog devices video DAC
Vertical Stretch function for 2.35:1 aspect movie
1080p, 1080i, 720p 480p scaled output
SD Card slot for playback MP-3/WMA/JPEG
Firmware update capability via Internet
Display Dimmer, Source Direct, Pure Direct Mode
Audio Delay (up to 200msec.)
Component, S-Video and Composite Analog Video outputs
Digital audio outputs (Optical/Coaxial)
RS-232C for system control
Flasher In/Out
Discrete power on/off commands
Detachable Power Cord
Aluminum Top Device Remote
Region Codes: BD-Video: A, DVD: 1
RMK9004UD Option Rack Mount Kit Coming Soon
Executive Overview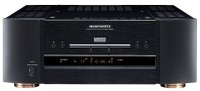 Apparently putting out high end, over the top priced universal Blu-ray players is contagious. Denon's, Lexicon, and now Marantz. One thing is for sure, however: The Marantz player is all original... at least to D&M Holdings. While there may be some debate about the changes and upgrades, the Oppo and Lexicon shared way too many layout similarities to be unique products. While we don't have a problem with clones (we wouldn't mind a few ourselves), when one is 7x's the price of the other, it makes you wonder exactly what they did to justify the price.
The Marantz UD9004 shares much with the Denon DVD-A1UDCI (Denon is also under the D&M Holdings umbrella). While the price of the Marantz is more ($5999 vs $4500), it isn't insanely more. Well, honestly, if you even look at price tags before you purchase your home theater equipment, you aren't shopping for either of these players. The Marantz UD9004 has many of the same connections as the Denon including 7.1 analogue outputs, balanced stereo out, and coaxial and optical audio out. On the video side, it has a fully compliment of composite (I'd love to meet the person with this player using this connection just so I could understand why), s-video (ditto previous comment), and component. Also like the Denon, the video and audio HDMI connection is split into two separate HDMI cables. While they state this is for high fidelity playback, the whole point of HDMI was to simplify connections to a single cable. Splitting them seems unnecessarily... oh, right, esoteric. Sorry, back to your regularly scheduled first look.
Marantz UD9004                        Denon DVD-A1UDCI
The entire chassis and case is overbuilt with aluminum and copper everywhere. The amount of copper is actually quite surprising as we were unaware that just constructing the feet out of the metal would make a sonic difference (they didn't claim that). The chassis is copper plated, the toroidal transformer is copper shielded, and the feet are machine milled solid copper blocks. Marantz is obviously serious about this player as they have broken down the internal components for you to see.
There is really no need to go into the components of the UD9004 Universal Blu player - if it is on the market and is the top of the line, they've shoved it in there. Silicon Optix REALTA HQV Video Processor? Check. 24fps, 36-bit Deep Color support? Check. 297MHz/12-bit Analog devices video DAC? Check. Wait, what? Oh whatever. Of course such a player will have support for 2.35:1 stretch mode for anamorphic lens pairing (what goes better with a $6k Blu-ray player than a $10k lens? We can't think of anything). Basically, if the Marantz UD9004 doesn't do it, it either can't be done or you're too unsophisticated to know that you shouldn't do it and you really are embarrassing yourself arguing with your Blu-ray player. 
Conclusion
If you are a consumer looking for advice on whether or not you should buy this player - well, you're probably from the future where people have moved on to true 3D and holodecks and you're one of those "only old tech is good, the new stuff sucks" guys. Well, really, you should be looking into vinyl cause that's where it is at. But if the alien heat rays melted all the LPs on the planet, then SACD is the next best thing (unless you can find reel to reel). No, the real consumer of the Marantz UD9004 doesn't browse the Internet looking for deals or advice. He (or she) just tells their installer to give them the best. If you are reading this, you can rest assured that you got one of the most expensive. So it must be the best right?
Check out more info on the Marantz UD9004.

Confused about what AV Gear to buy or how to set it up? Join our Exclusive Audioholics E-Book Membership Program!
Recent Forum Posts:
AcuDefTechGuy posts on September 18, 2009 11:25
Seth=L, post: 624553
Oh, I see the difference between the two. I guess everybody missed the fact the Marantz doesn't have Denon Link.
Gotta have that Denon-Link so that you could spend another $500 on the Denon cable.
Damn rich bastards.
Seth=L posts on September 17, 2009 20:21
Oh, I see the difference between the two. I guess everybody missed the fact the Marantz doesn't have Denon Link.
backspace posts on September 17, 2009 04:52
two hdmi out - why?

I read the write-up that went with the marantz ud9004 and note that the author makes a joke about having 2 seperate hdmi outs, one for picture and one for video - realy you should know better! nearly all cheap, medium range and some top end amps do not transferr the picture without some white snow or fuzz to the sharpness - often they will not allow 1080p at 24 feet. Many amp users run the image as source with no up-scaling as this often reduces quality ( which rather makes it a bit pointless regarding dvd and tape), many amp users run the picture from amp to tv via component rather than hdmi. So rather than make a joke about it we should be encouraging the makers of blu-ray players to add extra hdmi outs to midd range players and not just top end. My feed back from amp users is that Dennon amps hold the quality very well with little being lost during transferr, of course these are top of the range amps and should do well I guess. Simon
DTS-HD MA posts on August 29, 2009 03:09
davidmore, post: 616328
OK, but what about comparing all 3 - then we can figure out for ourselves just how many $$$ we might spend per 1% improvement - if any.

David
It wouldn't surprise me if that 1% went towards the Oppo unit..lol
davidmore posts on August 29, 2009 01:47
Comparative Review

OK, but what about comparing all 3 - then we can figure out for ourselves just how many $$$ we might spend per 1% improvement - if any.

David
Post Reply