Yamaha RX-A830 AVENTAGE 7.2 Channel Network AV Receiver Preview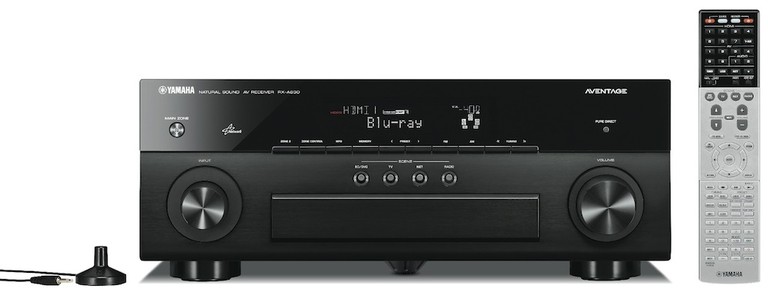 Yamaha RX-A830 AVENTAGE 7.2 Channel Network AV Receiver
Summary
Amplifier Section
Channel
7.2
Rated Output Power (1kHz, 2ch driven)
110 W (8 ohms, 0.9% THD)
Rated Output Power (20Hz-20kHz, 2ch driven)
100 W (8 ohms, 0.09% THD)
Dynamic Power per Channel (8/6/4/2 ohms)
140 / 180 / 210 / 250 W
Surround Sound Processing
CINEMA DSP
Yes (3D)
DSP Programs
17
Compressed Music Enhancer
Yes
Dialog Level Adjustment
Yes
Virtual Presence Speaker
Yes
Dialogue Lift
Yes (No presence speakers required)
SILENT CINEMA / Virtual CINEMA DSP
Yes / Yes (AIR SURROUND XTREME)
Dolby TrueHD
Yes
Dolby Digital Plus
Yes
Dolby Pro Logic IIx
Yes
DTS-HD Master Audio
Yes
Audio Features
Pure Direct
Yes (With video on mode)
YPAO multi-point measurement
Yes (R.S.C. w/multi-point measurement)
Adaptive DRC (Dynamic Range Control)
Yes
Initial Volume & Maximum Volume Setting
Yes
A.R.T. Wedge
Yes
Bi-amp capability
Yes
Audio Delay
Yes (0-500 ms)
192kHz/24-bit DACs for all channels
Yes (Burr-Brown)
Video Features
4K Pass-through & 4K Upscaling
Yes
HDMI 3D passthrough
Yes
HDMI Audio Return Channel
Yes
Component upconversion
Yes (480i)
HDMI upscaling
Yes (Analog to HDMI/HDMI to HDMI)
Deep Color/x.v.Color/24Hz Refresh Rate /Auto Lip-Sync
Yes
Extensive Connection
HDMI Input/Output
8 (1 front) / 2 (Simultaneous)
HDMI CEC
Yes (SCENE, device control)
Connectivity
MHL Support
Yes
Extensive Connection
USB Input
iPod®/iPhone®/iPad®, USB memory, portable audio player (MP3, WMA, AAC up to 48 kHz / 16-bit, FLAC/WAV up to 192 kHz / 24-bit)
Network Port
Yes (AirPlay, Pandora, Rhapsody, DLNA 1.5, vTuner)
Connectivity
AirPlay
Yes
Extensive Connection
Front AV Input
HDMI (MHL support), USB, analog audio, composite
Connectivity
DC Out
Yes (USB DC output 5 V / 0.5 amp)
Extensive Connection
Digital Audio Input/Output: Optical
2 / 0
Digital Audio Input/Output: Coaxial
2 / 0
Analog Audio Input/Output
5 / 1
Component Video Input/Output
2 / 1
Composite Video Input/Output
5 (1 front) / 1
Preout
7.2 channel
Headphone Output
Yes
Tuner Section
FM/AM Tuner
Yes
User Interface
On-screen display
Graphical user interface
SCENE
Yes (Four sets)
App Control
Yes (iPhone/iPad, Android™ phone/tablet, Kindle Fire™)
Web Browser Control
Yes
Remote Control Unit
Yes (Preset)
Zone Control
Zone 2 Audio Output
Line output
Powered Zone
Zone 2
Zone B Output
Yes (HDMI)
RS-232C Interface
Yes
+12V Trigger Output
Yes
Remote (IR) Input/Output
1 / 1
General
Standby Power Consumption (IR only)
≤0.1 W
Auto Power Standby
Yes
ECO mode
Yes
Dimensions (W x H x D)
17-1/8" x 6-3/4" x 14-1/2"
Weight
23.2 lbs.
Executive Overview
Even for people that have the money, spending $2000+ on a receiver can be a lot to swallow. Once you look at the features, compare them to your needs, and figure out how much other gear you'd need to buy to do the same thing, maybe it makes sense. But for most of us, the price point of a receiver is a major sticking point. That's why manufacturers try to give us as many options as possible.
Yamaha's AVENTAGE receivers have really taken off and they are not letting up. The newest to the line is the RX-A830. This receiver represents the top-end of the budget side of their AVENTAGE line. There will certainly be more expensive (and feature-full) AVENTAGE receivers announced soon. But for now, the RX-A830 is the newest.
With 7.2 channels and 100 W per discrete channel (8 ohms, 20 Hz - 20 kHz, 0.09% THD, 2 ch driven), the 23.2 pound RX-A830 is no slouch. It features eight HDMI inputs (one of the front) and two outputs with 3D, ARC (Audio Return Channel), and standby pass-through. The second HDMI output can output to Zone B (mirrors the content of the main HDMI output).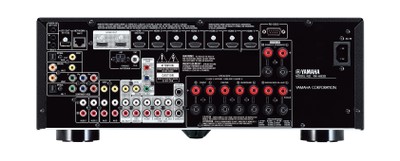 Glancing at the back, we find nine pairs of speaker terminals. The seven internal amps can power a 7.2 system or 5.2 system with the last two amps powering presence speakers or Zone 2. They can also be used to bi-amp the front speakers. There are two component video inputs, five composite video (one on the front) inputs, and one output for each. The RX-A830 can upcovert and scale all video to HDMI to 4K resolution.
The RX-A830 has a MHL HDMI port on the front for connecting your mobile devices. This allows for full HD video and audio from mobile phones and portable devices. The RX-A830 has an Ethernet port on the back for connecting to your home network. It supports Apple's AirPlay, Pandora, Rhapsody, and vTuner. The RX-A830 is DLNA 1.5 certified for streaming local content and can be controlled by Yamaha's remote app with your compatible iOS or Android device. 
For ease of setup, Yamaha has included their upgraded YPAO with R.S.C. (Reflected Sound Control) that includes multi-point measurements. There is a GUI overlayed over the HDMI output (2D and 3D). The RX-A830 supports two zones of audio either by the internal amps or through the included pre-outs. The RX-A830 has 7.2 channel pre-outs for adding additional amps. There are no pre-ins for adding legacy gear.
The front of the RX-A830 has a USB port on the front that is iDevice certified allowing for a direct digital connection. This bypasses the DACs in your phone/pod/pad in favor of the ones in the Yamaha. It supports MP3, WMA, AAC up to 48 kHz / 16-bit, FLAC/WAV up to 192 kHz / 24-bit. While connected, iDevices will charge even if the receiver is in standby mode. When in use, iDevices song titles displayed in English and Western European languages on the front panel. 
Conclusion
The most exciting thing about the new Yamaha AVENTAGE RX-A830 is the price. At under $900, it has enough features to please even the most ardent audiophile and feature-phile. A full suite of networking, iDevice compatibility, MHL, 7.2 inputs, 100 watts per channel, Burr-Brown 192 kHz/24-bit DACs for all channels, Pure Direct mode for bypassing any unnecessary circuitry, YPAO with multi-point measurements, 4k upconversion...the list goes on. At this price point, it is hard to believe that there is much more that could be offered. Anyone needing a new receiver would do well to keep the RX-A830 in mind.
For more information, please visit www.yamaha.com.

Unless otherwise indicated, this is a preview article for the featured product. A formal review may or may not follow in the future.
Confused about what AV Gear to buy or how to set it up? Join our Exclusive Audioholics E-Book Membership Program!
Recent Forum Posts:
Pyrrho posts on September 12, 2013 12:15
3db, post: 987962
My Yammy RX-V1800 has been going strong for the last five years with no problems. Every company can produce a lemon but some produce more lemons than others. Yamaha is NOT a company with a reputation of producing lemons.
My older Yamaha RX-V2700 works perfectly and has never needed a repair. And the Yamaha I had before that, an RX-V730, is still working perfectly as well (I gave it away to a person with whom I keep in touch). Unless they change their ways, my next surround receiver will probably be a Yamaha, though I don't expect to buy one until I need some feature or other that the RX-V2700 lacks. And one of my brothers is still using the Yamaha RX-V750 he bought many years ago. He does not need HDMI with it; he uses an Oppo BD player with multichannel analog outputs and runs the HDMI for video straight to his TV. My guess is that he will keep that for many more years, as he is not someone to replace gear when he can get away with the old gear doing everything he needs. Yamaha receivers, if not abused,
usually
last longer than one really needs them to, given the desire for newer features.
3db posts on September 12, 2013 00:03
My Yammy RX-V1800 has been going strong for the last five years with no problems. Every company can produce a lemon but some produce more lemons than others. Yamaha is NOT a company with a reputation of producing lemons.
farrelli54 posts on September 09, 2013 21:18
I can remember at the moment…




mike c posts on September 09, 2013 17:54
the receiver does have an individual source input levels. it wasn't in the setup menu, it was in the options menu.

i guess i don't have any major complaints about this receiver now.
daeldsir0 posts on September 08, 2013 21:08
There are no pre-ins for adding legacy gear.




Post Reply