Cables To Go TruLink High Speed HDMI Active Optical Cable Preview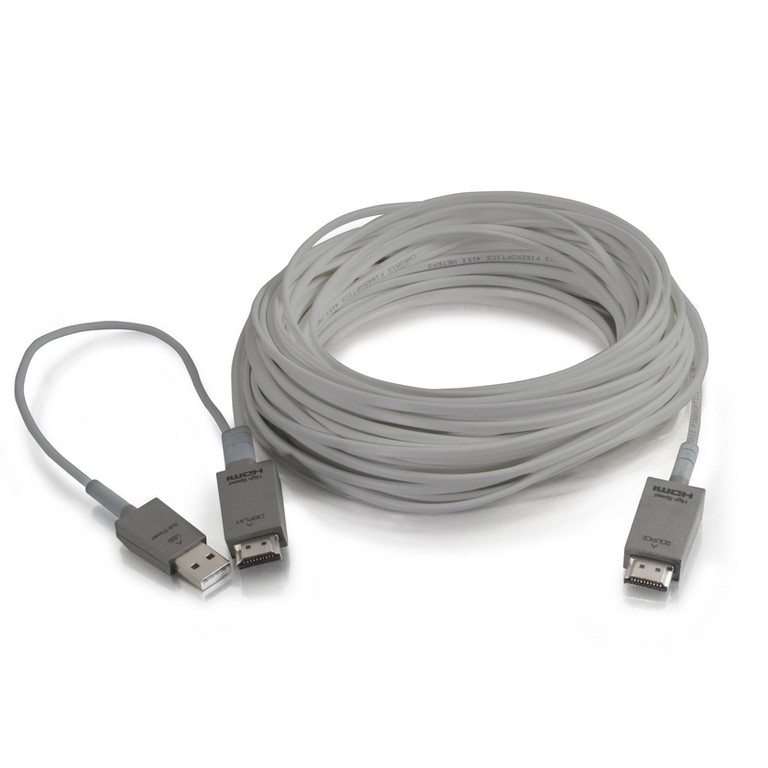 Cables To Go TruLink High Speed HDMI Active Optical Cable
Summary
Supports up to 1080p video resolutions
Resistant to EMI/RFI
Plenum rated cable jacket
High Speed HDMI
HDMI features supported:


3D
Deep Color
x.v. Color
Dolby® True HD
DTS-HD Master Audio
HDMI CEC
HDCP

USB powered - 5V DC (receiver end)
Minimum bend radius: 3mm
Connector pull strength: 10kg
Warranty: 3 Years

Color: Gray
Length: 20m
Mfr: Cables To Go
Weight: 0.01lbs
Jacket Rating: Plenum
Note: This cable must be powered by a USB port on the display, or by a separate AC to USB power adapter like our part number 22328
Executive Overview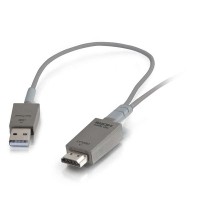 While most consumers are happy to buy HDMI cables (usually overpriced ones that the guy at the big box store said was 'the best'), installers often run into a host of problems. Sure, Joe Consumer may think he has a lot of gear, but it is nothing compared to a professional installation. Racks and racks of gear, usually located far away from the room in which it is used, pumping out everything from excess heat to EMI. These are the sorts of problems that can send an installer into a fetal position.
One of the biggest problems are long HDMI runs. HDMI cables are expensive and even the pricy ones can fail over long runs. One way to get around this is using a fiber optic cable instead. The problem has been that such solutions require power and (also) end to be expensive). But for long runs, optical cables really can't be beat. They are small, thin, flexible (especially over copper cables that tend to get thicker and stiffer over long runs), and are very resistant to interference. In areas with high EMI/RFI, an optical cable is an perfect choice.
When we saw the Cables to Go TruLink High Speed HDMI Active Optical Cable (AOC), we thought, "Why hasn't anyone else done this?" Rather than providing a power cord (usually with a power supply on the cable or *gasp* the dreaded wall wort), they've included a USB connection. This is perfect for today's gear that seems to be gaining USB ports like they were contagious. 
The AOC cable is currently maxing out at 20 meters but a 100 meter version will be available soon. If you don't have a USB port nearby (and that USB cable looks a little short to us), you can use a USB to AC power adapter (Cables to Go sells one or you can buy something after market). The TruLink AOC cable supports full 1080p resolution, 3D and 4K x 2K resolution with Deep Color, and all the latest HD audio codecs. Of course, HDCP is supported as is HDMI CEC. The only thing not on the list that we see is Audio Return Channel which we think probably can never be supported by an optical solution.
While the Cables to Go AOC cable might find more homes in professional and commercial installations like Houses of Worship and Hospitals, we're sure a few home installations will have them as well. One thing we were disappointed to find was that the USB power must be plugged in on display side. While it makes sense that the terminating end is where the active boosting is most needed, it seems like it would be more convenient to have the ability to plug the USB in on either side. With most mid-level and up receivers sporting rear-mounted (and oft ignored) USB ports, it would be an elegant option.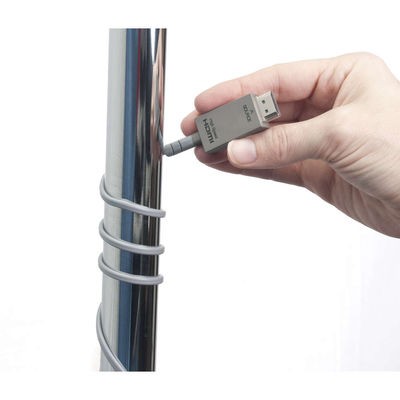 Try to do that with an HDMI cable

The only real problem with the Cables to Go AOC is cost. Optical solutions have been, traditionally, expensive and the Cables to Go TruLink High Speed HDMI Active Optical Cable is no different. At $200 for 10 meters and $300 for 20, we can extrapolate and say the 100 meter cable is going to be nearing if not over $1000. That's a chunk of change for a cable. But if you have an extremely long run and problems with interference, you may have few options. With the USB power rather than a clunky power cord, the TruLink High Speed HDMI Active Optical Cable may be the solution for you.
Conclusion
The Cables to Go TruLink High Speed HDMI Active Optical Cable isn't going to be for everyone or for every installation. But if you have a long run through an area of high interference, it may be your best solution. Given how small and flexible optical cables are, it may make sense just on space saving alone. Cables to Go has always provided quality cables and we're sure the TruLink High Speed HDMI Active Optical Cable is no different. The USB powered active cable should make many installations much cleaner and easier to manage. Plus it gives that unused USB port something to do.
For more information, please visit www.cablestogo.com.

Unless otherwise indicated, this is a preview article for the featured product. A formal review may or may not follow in the future.