Anthem Audio/Video Master 50v Preamplifier/Processor Preview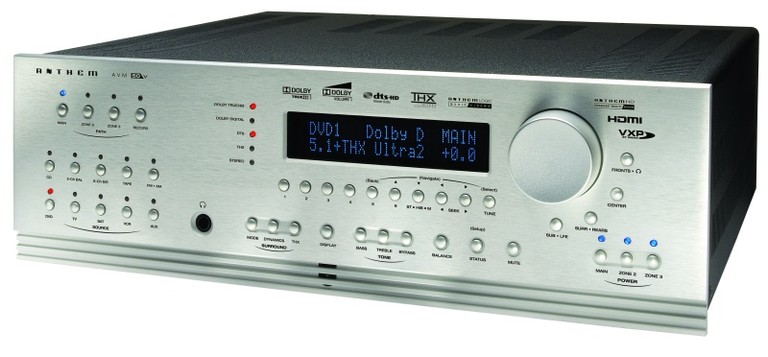 Anthem Audio/Video Master 50v Preamplifier
Summary
Executive Overview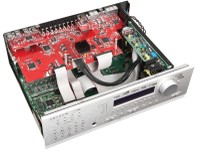 Anthem showed the Audio/Video Master 50v preamplifier/home theater processor with a built in tuner and independent source selection for recording at CES this year. This updated version of the AVM 50 combines A/V performance-enhancing technologies with whole-home entertainment control that makes it possible for users to direct audio and video program materials throughout their homes.
The AVM 50v features the latest Sigma Designs VXP broadcast-quality digital video processing to ensure deep color while offering improved noise reduction through block artifact and mosquito noise reduction. Two new dual-core audio Digital Signal Processing (DSP) engines, designed in-house by Anthem, offer a total of 800 million instructions per second (MIPS) of processing power to allow decoding of the new Dolby, DTS and other HD audio standards. Additionally, a free software download for support of Dolby Volume will soon be available via Anthem's website.
In seeking to accommodate the most advanced input formats available, Anthem has upgraded its pulse-code modulation (PCM) input to support 7.1 channels at 24 bits or 192 kHz. Additional HDMI inputs (v.1.3c) have been added, bringing that total to eight, along with two parallel HDMI outputs, enabling the AVM 50v to be the true high-performance hub of any A/V set-up.
Anthem's Room Correction System comes standard with the AVM 50v. While equalizing frequency response in a room to achieve some generic (i.e. "flat") response is a common approach to solving problems with room acoustics, it will result in an unnatural spectral balance, since it does not take into account the human hearing system (according to Anthem). Anthem's is a "true audiophile" solution: it differs from other systems in that it uses proprietary processing to compute each speaker's in-room frequency response, and then computes a target frequency response for each to yield the optimal sound. Of course since "optimal" = "non-flat" (at least according to Anthem), your results and satisfaction may vary.
For more information, please visit www.anthemav.com.

Confused about what AV Gear to buy or how to set it up? Join our Exclusive Audioholics E-Book Membership Program!
Recent Forum Posts:
CraigV posts on April 03, 2009 12:50
allargon, post: 509708
So, are you guys getting one of these in for review? Actually, more importantly, are you getting one of these in for review and then offering it as a FREE giveaway to a lucky, loyal reader perhaps?
Damn, beat me to it
Of course, an extended listening test with my own equipment would be acceptable also
sawzalot posts on April 03, 2009 09:04
zr123, post: 511678
I believe the MSRP is only $5499 US which makes it one of the best pre/pros in it's class.

It'll internally decode all the new HD Audio codecs as well as come built-in with Anthem's new ARC software.

From what I understand Anthem just started production today and will be shipping these towards the end of next week.

We've put in an order for one and should be receiving ours for our new dedicated HT that's set for completion sometime in Feb.

Excited
Did you say Only ?
Warpdrv posts on April 03, 2009 08:48
greggp2, post: 547432
Anyone get one of these yet? Can you comment on the ARC setup and how well it improves your sound? I'm seriously considering this and the Anthem D2v. I'm just hesitant to pull the trigger with business as slow as it is…

Also, does this unit have the same Video Scaler as the D2v?

This or the D2v will be in my home one of these days…. The question is when…

That is of course, unless the Emo Umc-1 is a complete sleeper and comes close to the performance level of one of these. But I'm thinking it is going to be very difficult to truly compete with the SQ and video capability of these Anthem units…
The Scaler is the same in both the D2v vs the AVM50v.
See this post for the differences between the 2 units….
http://www.avsforum.com/avs-vb/showthread.php?p=15546653#post15546653
Patiently waiting…. :o
greggp2 posts on April 02, 2009 19:45
Anyone get one of these yet? Can you comment on the ARC setup and how well it improves your sound? I'm seriously considering this and the Anthem D2v. I'm just hesitant to pull the trigger with business as slow as it is…

Also, does this unit have the same Video Scaler as the D2v?

This or the D2v will be in my home one of these days…. The question is when…

That is of course, unless the Emo Umc-1 is a complete sleeper and comes close to the performance level of one of these. But I'm thinking it is going to be very difficult to truly compete with the SQ and video capability of these Anthem units…
strube posts on January 20, 2009 13:21
I certainly want one when the time is right . It has all the features I want and (I think) I can use pro power amps without all of the conversion and amplification boxes for RCA-to-XLR, etc…
Post Reply