Emotiva XDA-2 DAC/Digital Preamp/Headphone Amp Preview
Summary
Main Outputs

Output Level:


1 VRMS (nominal, unbalanced with full scale digital signal); 2 VRMS (maximum, unbalanced)
2 VRMS (nominal, balanced with full scale digital signal); 4 VRMS (maximum, balanced)

Frequency Response:


20 Hz – 20 kHz +/- 0.1 dB (44/16)
20 Hz – 40 kHz +/- 0.1 dB, -3 dB @ 80 kHz (192/24)

THD+N (all sample rates):

< 0.0025%

IMD:


< 0.0025% (44/16)
< 0.0005% (192/24)

S/N Ratio:


> 96 dB (44/16)
> 113 dB (192/24)

Crosstalk:


< 100 dB (44/16)
< 113 dB (192/24)
Headphone Amplifier Output

Output Power:


1.9 VRMS max into 10 Ohms @
< 0.02% THD (360 mW)
2.25 VRMS max into 47 Ohms @
< 0.015% THD (100 mW)
2.25 VRMS max into 100 Ohms @
< 0.01% THD (50 mW)
2.25 VRMS max into 300 Ohms @
< 0.01% THD (16 mW)
2.25 VRMS max into 600 Ohms @
< 0.01% THD (8 mW)

Signal to Noise Ratio:


> 105 dB (ref full output)
Size:
unboxed: 17" W x 2.25" H x 14" D
(not counting feet and connectors)

Weight:

10.5 lbs (unboxed)
Executive Overview
While we would love to say that we spend most of our time in our home theaters playing with new speakers, amps, receivers, and Blu-ray players, it just isn't the case. Most of our time is spent in our offices working on various news articles and reviews. This is not unlike many of our readers. Sure, a few hours at night or maybe an afternoon on the weekends might be spent listening to music (or watching movies) but most of our music listening happens in our offices.
So why is it that so many of us have substandard office audio systems?
Emotiva Audio is looking to turn all that around with the XDA-2. The XDA-2 almost defies easy description as it does so much and yet it is still a very targeted product. First of all it it is an audiophile quality DAC (Digital to Analogue Converter). With full support for 24-bit/192kHz resolution for all inputs, including USB, it will have no problems handling all your high quality files. The XDA-2 has an Analog Devices AD1955 multi-bit delta-sigma DAC which delivers exceptional performance and superior audio quality. Sporting two coaxial digital audio, two optical digital audio, one USB, and one AES/EBU input, the has just about all your input needs covered.

On the output side, Emotiva has included not only standard RCA unbalanced outputs for connection to an amplifier, but XLR balanced outputs for your higher quality amplifiers. Using Analog Devices AD1896 asynchronous sample rate converter (ASRC) provides almost total immunity to jitter. The analogue resistor ladder volume control is in .25dB steps and gives the XDA-2 the ability to be a digital preamp as well as a high quality DAC. With the large line of quality Emotiva amplifiers, it would be easy to put together a stereo listening system on the cheap. But where Emotiva has really changed the game is with the last functionality of XDA-2.
The XDA-2 is a high-current headphone amplifier with independent control and retention of main output level and headphone volume. The XDA-2 has a low-noise discrete design with 0.1-ohm output impedance. The headphone amp features a 105dB Signal to Noise Ratio (SNR) and will work well with sensitive headphones.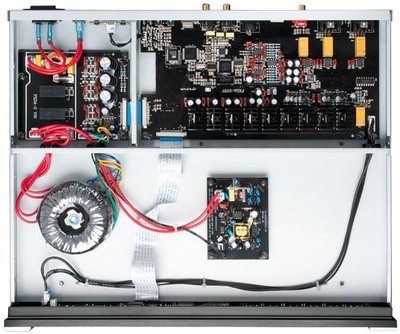 There are many other audiophile features of the Emotiva XDA-2, like Emotiva's Differential Reference balanced design with OPA 2134 precision op amps, but what will most grab your attention is the price. At $399 (currently on sale for $349), this is the perfect office system. We can see this near you workstation feeding a couple high quality near-field monitors that are either self powered or with Emotiva's XPA-200 amplifier (150 watts x 2 channels into 8ohms). When there are people around (or your music dips into language inappropriate for an office environment), the XDA-2 steps in to power your high-end headphones. And when someone comes in and asks you what that box is with the pretty blue light? "Sonic bliss" should be response enough. Of course, it would be just at home in a stereo listening room for the Audioholic on a budget. Either way, Emotiva has brought a very interesting product to market with the XDA-2. We're betting it will be a hit. 
Conclusion
As at home in an office as it would be in a two-channel listening room, the Emotiva XDA-2 has just about everything you'd want out of a digital preamp. Integrating high quality components, support for 24-bit/192kHz files, balanced design with an immunity to jitter , and a high-current headphone amp, the XDA-2 can be just about anything you need. While it doesn't support analogue inputs, it doesn't pretend to. Instead, this is an audiophile device for the digital age. We're betting this will be a popular present this Christmas. At least it would be welcome under our tree.
For more information, please visit www.emotiva.com.
Confused about what AV Gear to buy or how to set it up? Join our Exclusive Audioholics E-Book Membership Program!
Recent Forum Posts:
Steve81 posts on June 06, 2013 10:53
Couple of initial impressions after unboxing my new XDA-2 last night:

1. I already dislike the remote. If the remote to Emo's CD player is similar, I can see why Irv had a problem with the sharp edges on it (IIRC). On the petty side, it's also irritating to get a new toy and have to remove a few screws to get to the batteries in the remote to remove the insulator included for shipping.

2. Overall fit and finish seems OK (I haven't tried to rip out an RCA jack or anything), but not quite up to the standard of my XPA-200 (basic connectors vs the bits of audio jewelry on the amplifier).

3. That's a big power cord, especially for a preamp…

4. It is definitely deep, and judging by the interior shot, much more than really needed.
jinjuku posts on December 13, 2012 13:58
JerryLove, post: 932961
If they would just add a crossover and sub-out so I could run 2.1 without having to use high-level inputs on the sub; it would be irresistible.
Go to Guitar Center and look at any number of USB audio interfaces with 4 outputs and custom DSP mixer.
JerryLove posts on December 13, 2012 13:55
If they would just add a crossover and sub-out so I could run 2.1 without having to use high-level inputs on the sub; it would be irresistible.
duncaterro posts on December 13, 2012 01:08
It would look sharp with my 2 channel rig and it has a lot of functionality at a reasonable price.
mlknez posts on December 12, 2012 21:28
BoredSysAdmin, post: 932623
it does any digital format, as long as it's PCM
I think you are correct. That should have been explained in the article
Post Reply