Auralex SubDude-HT Subwoofer Isolator Preview

Auralex SubDude-HT
Summary
22" wide
17" deep
1.75" tall
.75" velour covered MDF

1" base Auralex Platfoam

Executive Overview
Correcting the room is one of the best ways to get the most out of the money you spent on your speakers. Sure, audiophiles believe all you need is better cables, but most of the time, what you really need is to stop the ringing and reflections in your room that are coloring and distorting the sound. Auralex has long been one of the best companies to get products that deal with room problems.
One of their products that caused a bit of a stir when it was released is the SubDude. Designed as a platform for your subwoofer to decouple it from the floor, the SubDude quickly became a mainstay of die-hard bass heads. The problem with die-hard bass heads is that they tend to like bass. And bass either comes from big subs or small, very expensive subs. The original SubDude was just too small for many of these larger, Internet direct subwoofers.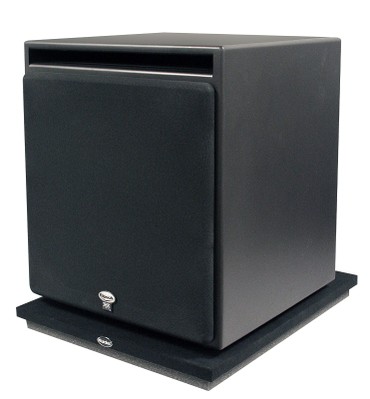 The evolution of the SubDude started with the 15" x 15" x 2.75". Auralex introduced the SubDude(HD) which lowered the height by .25" and used velour instead of ozite as a wrapping material for the top. The new SubDude-HT makes the first major change to the line by increasing the size to 22" x 17" x 1.75". This gives the SubDude-HT the ability to work with much larger subs while reducing the profile of the platform.
The way the SubDudes work is that they mechanically isolate the subwoofer from the floor. This means that the sound vibrations created by the sub are not transferred through the enclosure and into the floor and surrounding materials. Auralex's own measurements show that the SubDudes work best from about 100Hz and up. This is in the harmonic range above the fundamental the sub is recreating which should, according to Auralex, increase accuracy and lead to a less muddy presentation.
Conclusion
Will the Auralex SubDude-HT reduce all vibrations? No. And don't think you can place one under your sub and not have to worry about your neighbors. But it will reduce the transmission of vibrations through the connection of the sub to the floor. While pricing hasn't been announced, we expect it to be in the same $60 range as the original SubDudes. Many home theater enthusiasts swear by their SubDudes. With the SubDude-HTs larger platform (17x22 inches) and lower profile (1.75 inches tall), there is little reason not to invest in one. For the potential gains, the cost is slight.
For more information, please visit www.auralex.com.

Unless otherwise indicated, this is a preview article for the featured product. A formal review may or may not follow in the future.