V-MODA Faders Tuned Earplugs Review
V-MODA Faders Tuned Earplugs Review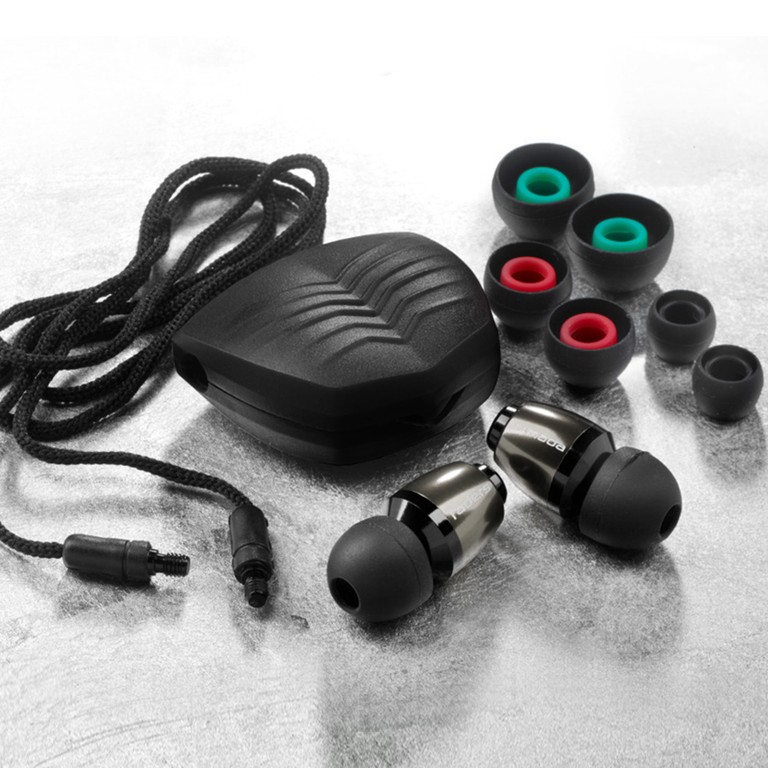 V-MODA Faders Tuned Ear Plugs
Filters harmful noise levels
12dB noise reduction
Medical-grade fittings (XS,S,M,L)
Metal construction
Crystal-clear music and speech
Pros
Perform as promised (for the most part)
Reduces volume while maintaining overall sound quality
Cons
Only 12dB of noise reduction
Stick out of ear too far for use with tight helmets
Look like earbuds
V-MODA Faders First Impressions and Use
Lets talk about your ears. If you are really honest, you know that you've made some mistakes. Maybe you were an avid concert goer when you were in college. Maybe you had a Walkman when you were a kid and played it so loud that when you took off your headphones, your ears were ringing. Heck, maybe you work in an industry that requires you to be around sustained loud noise. These days, ear protection is not only provided but required (just ask OSHA). But back when I was in High School, I worked at a glass plant for a summer. It was loud, hot, and miserable. They provided earplugs but no one cared if you used them or not.
Research has shown that, even if you have avoided the above situations, your hearing will deteriorate with age. Of course, with age also comes two important things - money and wisdom. While we could only afford the crappiest home theater systems (or stereo systems depending on your age), now we can afford much nicer systems. The last thing you want to do is spend a bunch of money on a system you can't enjoy because of hearing loss. At the same time, getting a high end music system encourages people to see more music live so that they can compare (or just tune their ears). When you start going to concerts again, you're going to want have hearing protection on hand. 
First Impressions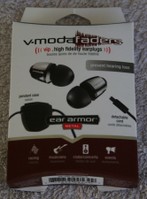 V-MODA contacted us about their Fader Tuned Earplugs and I have to say, I couldn't help but request a review sample. I've recently acquired my motorcycle license and I'm very interested in protecting my hearing. Buzzing around the neighborhood is one thing, but any sort of extended ride requires that you protect your hearing. The road noise alone is enough to justify hearing protection. If you have a loud bike (or a riding buddy with one), you better have earplugs in.
I'd picked up some of the pharmacy stock foam earplugs but, frankly, I've never been a fan. They're just too uncomfortable. Plus, you can hardly hear a thing in them. Add a helmet to the mix, you better be fluent in sign language if you want to communicate with those around you. But V-MODA's founder and DJ, Val Kolton developed the Faders with world-renowned musicians Erick Morillo and the Manufactured Superstars. The design goal was to creature a comfortable, affordable earplug that protected your hearing while maintaining the ability to hear the music and conversations going on around you.
The V-MODA Faders come in gunmetal grey, red, or pink. The review pair were gunmetal grey. The arrived in a small cardboard sleeve surrounding a plastic clamshell case. Three of the four different earplug tips are on display as is the black carrying case. If you've ever owned earbuds, you'll probably recognize the tips on the V-MODA Faders. Black rubber ends have color-coded collars to recognize the different sizes. The smallest (labeled extra-small) are very difficult to install and remove from the Faders. The others aren't nearly as bad.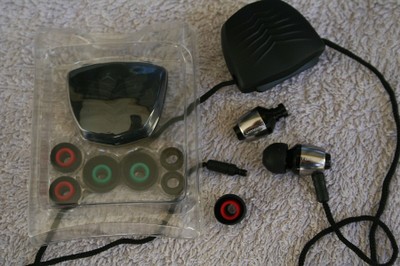 The Faders look like a set of earbuds. They stick out your ear as much as any pair of earbuds I've used and have a removable string connecting the two. There is a hole in either side of the black case so that you can run the string between the two to keep the case handy. Since getting the string and the Faders back into the carrying case is nearly impossible, I kept the string outside the case which made what looked to be the worlds smallest purse (keep these away from your daughters, fellas). The body of the Faders is metal for longevity.
Use

If you are familiar with rubber-tipped earbuds, the use of the V-MODA Faders is just the same. Just push them in and don't worry about them. Now, if you have oddly shaped ears, the different sized tips should cover you. If you've had a problem keeping earbuds of this type in your ear, don't expect anything different from the Faders. Their tips, while advertised as "patented medical grade BLISS 3.0 hybrid silicone fittings to perfectly fit ears of all sizes, even the smallest and largest of ears," didn't seem any different than the ones I've used in the past. That said, there is a reason so many manufacturers use these types of tips - they fit just about everyone and they are comfortable.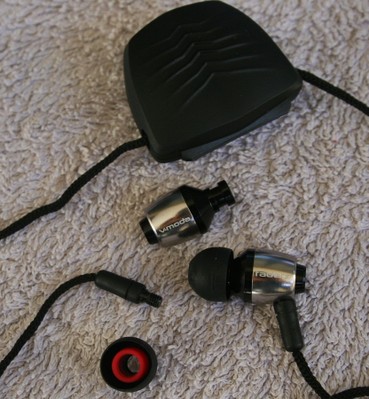 Inserting them is as easy as pushing them into your ears. The V-MODA Faders are obviously ported in some way as I could hear air whistling by as I moved with them. The removable string is simply unscrewed from the back of the Faders for those that aren't worried about losing $10 worth of earplug by turning their heads too fast. I preferred to use the cord and attach the case through the hole. I could put the case behind my head and it usually rested on my neck (or just inside my shirt) easily. This kept the case handy and made sure that if one Fader was to fall out, I wouldn't lose it.
If there is a knock against the V-MODA Faders it is that they look just like earbuds. If you are at a concert and you've got earplugs in, people think you are weird. But if you are wearing what look to be earbuds... well, they start to give you a wide berth. The other problem I had was the distance they stick out of your ears. I was hoping for something a bit more flush. Motorcycle helmets are generally pretty tight and it was nearly impossible to put the helmet on without dislodging on of the Faders. If you can wear earbuds with your helmet, you won't have a problem. I can't, so it was.
V-MODA Faders Performance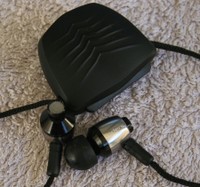 The immediate issue I had with the V-MODA Faders was the marketing material. On the back of the box it says, "crystal-clear music & speech". That's setting the bar pretty high. So, my first test, after determining the correct tips for the Faders, was to put them on and try to have a conversation with my wife.
Well, it didn't go as I'd expected. As I've experienced with other earplugs, overall sound was muffled, conversation was difficult but not impossible, and, in general, "crystal-clear" wasn't the way I'd describe the Faders. But there were some rays of hope. First, I noted that there was a lot more intelligibility at higher frequencies. Around the upper midrange. I definitely felt like I was hearing more from outside than I had with the traditional foam earplugs.
The next step was to see how they performed in loud conditions. My plan was to take them out on the motorcycle with some of my friends with obnoxious bikes but I couldn't get them to reliably stay in my ears with my helmet on. So, instead, I grabbed my Denon AH-D1000 and Audio-Technica ATH-M50s over-ear headphones and used them in conjunction with the V-MODA Faders. I turned up the volume to ear-bleed levels and put the headphones on.
To be honest, I wasn't expecting much. The V-MODA Faders promise 12dB of noise reduction which, in comparison with other, traditional, earplugs, isn't that impressive. Most of the foam earplugs I found would reduce between 18dB and 23dB. But I still found the level of noise reduction from the Faders to be very good. Not only was the overall sound muted, but there was a lot of the vocals that were maintained.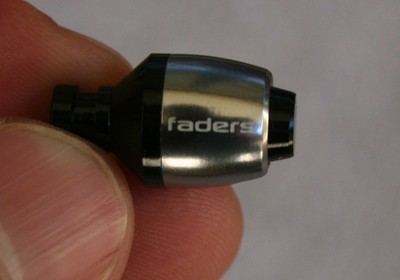 At that volume level on my computer, even changing the volume (specifically, the accompanying "click") is painful. With the V-MODA Faders installed, I found the experience to be quite... pleasant. While the overall sound was muted, there was enough of the dynamics maintained so that I still felt that emotional connection to the music that I love so much. But, of course, this is only half of the story.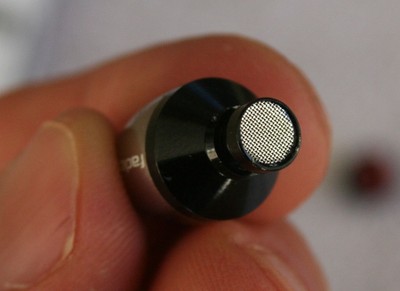 V-MODA claims that they spent over 2 years developing the Faders so that they would perform "better than expensive custom earplugs." Well, I don't have expensive custom earplugs but I do have cheap foam ones. So, switching as fast as possible, I compared the two. Remembering that the foam earplugs naturally reduce the volume more than the V-MODA Faders, two things were clear. First, that the Faders reduced the volume to a safe level and second that they Faders sounded better. Vocals were definitely clearer and less muted, the highs, usually the worst offenders when the volume is too loud, were well controlled, and the bass, while present, didn't overpower.

One additional test I did was to watch a few YouTube videos with the two different types of earplugs. Without any sort of hearing protection, I can't turn the volume up past 1/3rd. With this test, I turned it all the way up and compared. While the V-MODA Faders reduced the volume, it still seemed pretty loud while the foam earplugs reduced the volume to very comfortable levels. But, again, the Faders sounded more natural and less muffled. This indicates to me that the 12dB of reduction should be fine for most situations but, in extreme ones like industrial settings, trips to the shooting range, or up front at a heavy metal concert, the Faders probably won't be enough. When I compared directly to the source without either of the earplugs (and the volume reduced), the Faders sounded most like the source while the foam earplugs made the presentation much less natural and more robotic (specifically the vocals which completely changed in timbre).
V-MODA Faders Tuned Ear Plugs Conclusion
Years ago, I was in Vegas for CES and got to go to the see the Blue Man Group. I brought with me a pair of off-the-shelf foam earplugs. I put them in just as the concert started. A moment later, I removed them because of how bad they made everything sound. I figured, "It's only one concert, how much damage can they do?" Well, I'll never know the answer to that question but I do know that if I'd had the V-MODA Faders on hand, I'd have likely used them.
That's the important thing with earplugs. Sure, you can get some that block over 30dB of noise but if they make it impossible to enjoy what you are listening to, you aren't going to use them. That sort of earplug is fine for industrial purposes, but that's not what we're talking about here. The V-MODA Faders are designed to protect both your hearing and your listening experience. At $20 a pair, they aren't cheap but they are nowhere near as expensive as custom made earplugs (which can run in the multiple hundreds). Even the DIY molded earplugs tend to cost more. At this price, there is little not to like about the V-MODA Faders and anyone serious about protecting their hearing should have a pair around just in case. Highly recommended.

V-MODA Faders Tuned Earplugs
$20/pair

The Score Card
The scoring below is based on each piece of equipment doing the duty it is designed for. The numbers are weighed heavily with respect to the individual cost of each unit, thus giving a rating roughly equal to:
Performance × Price Factor/Value = Rating
Audioholics.com note: The ratings indicated below are based on subjective listening and objective testing of the product in question. The rating scale is based on performance/value ratio. If you notice better performing products in future reviews that have lower numbers in certain areas, be aware that the value factor is most likely the culprit. Other Audioholics reviewers may rate products solely based on performance, and each reviewer has his/her own system for ratings.
Audioholics Rating Scale
— Excellent
— Very Good
— Good
— Fair
— Poor
| Metric | Rating |
| --- | --- |
| Performance | |
| Versatility | |
| Build Quality | |
| Appearance | |
| Fit and Finish | |
| Performance | |
| Value | |