Integra DTC-9.8 Three-Zone Preamplifier/Processor Introduced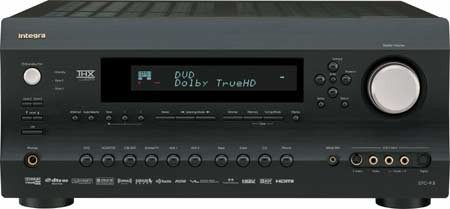 Integra DTC-9.8 Three-Zone Preamplifier/Processor
UPPER SADDLE RIVER, NJ (7/31/07) -- Integra, the leading manufacturer of home theater components designed specifically for the custom installer, has introduced the THX Ultra2 Certified DTC-9.8, an exceptionally versatile audio-video preamplifier / processor designed to meet the complex needs of system integrators and custom installers while providing state-of-the-art features and performance for the home theater enthusiast. This three-zone processor features HDMI v. 1.3a switching, HQV Reon-VX video processing, complete 7.1-channel processing including onboard decoding for lossless and HD audio formats, and an extensive suite of multizone/multisource and system integration control features all at a suggested retail price of just $1,600.
"With processing and switching capabilities that allow installers to squeeze every possible bit of performance out of the latest HD audio and video sources, this will be a market-leading component," said Integra Director of Sales Keith Haas. "Add to that a remarkable combination of integration options, including Ethernet-based control compatibility and three-zone A/V distribution, and we believe there is nothing anywhere near this price point that can compete with the DTC-9.8."
Featuring four HDMI inputs and two outputs, the DTC-9.8 is a flexible centerpiece for even the largest high-end home theater installations. It is fully compatible with HDMI v. 1.3a, including 1080p and Deep Color™ 36-bit video signals. Additionally, the controller includes the acclaimed Silicon Optix HQV Reon-VX onboard video processing, capable of scaling and transcoding all video source material to 1080p output over HDMI.
The DTC-9.8 features 7.1-channel professional-grade balanced XLR outputs for connection to compatible multichannel amplifiers. Three advanced TI™ 32-bit DSP chips provide all audio processing. There is onboard decoding for nearly every major format in use today, including the latest high definition and lossless audio formats specified for HD-DVD and Blu-Ray disc formats. The unit features an oversized Toroidal transformer for the main power supply as well as separate transformers for the audio and video circuitry. Each channel also employs premium quality Burr Brown audio DAC's and Integra's VLSC (Vector Linear Shaping Circuitry) for dynamic, low-distortion reproduction at all output levels.
The Integra DTC-9.8 includes a comprehensive package of features specifically tailored to the needs of custom installers, including an Ethernet port for integration with network-based control systems such as AMX Device Discovery and Crestron E-Control. It also includes bi-directional RS-232, RIHD (Remote Interactive over HDMI) system control integration over HDMI, three programmable 12-volt triggers, dual IR inputs, and three unique assignable IR code sets. Lockable customized dealer settings can be independently stored for easy recall, making it simple for installers to maintain complex installations.
The DTC-9.8 boasts exceptional multizone capablities, including fixed and variable line level outs with subwoofer for two additional zones. Zone 2 also includes both composite and HD-quality component video outputs, as well as independent tone controls. Zone 2 and Zone 3 both include balance controls as well as maximum and power-on volume settings.
For simplified setup, the DTC-9.8 includes Audyssey's acclaimed MultEQ XT room acoustics correction, the most powerful built-in solution available for countering room distortion in dedicated home theaters. This technology uses an included microphone to detect and configure speakers in the room, and then adjusts each channel's level, delay, and crossover settings to best suit the room's acoustics. By incorporating measurements at up to eight points in the listening room, Audyssey MultEQ provides both frequency response and time domain corrections throughout the entire listening area, rather than just at a single position. The DTC-9.8 is also Audyssey MultEQ Pro capable- allowing custom installers even more room calibration precision and flexibility.
The DTC-9.8 includes a high quality AM/FM radio tuner and built-in HD Radio reception capability. It is also the world's first "SAT Ready" preprocessor with connections for both XM and Sirius satellite radio. It includes onboard Neural THX processing for multichannel surround programming on XM HD and other Neural THX sources. Finally, there are 40 presets for AM, FM, HD Radio, XM, or Sirius stations.
The Integra DTC-9.8 is now available from Integra dealers with a suggested retail price of $1,600.
Integra designs and manufactures premium Home Theater receivers, processors, amplifiers, and DVD players that are specifically designed to meet the needs of custom audio/video systems installers. System integration and convergence technology protocols include RS-232, IR, and on-board Ethernet for network connectivity and TCP/IP control. Integra has access to vast technical resources, and bears a proud heritage of over 60 years of audio engineering excellence. For more information about Integra and its many fine products, visit www.integrahometheater.com or call (800) 225-1946.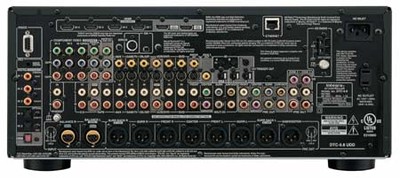 AUDIO PROCESSING:
• THX Ultra2 Certified
• Toroidal Transformer Plus 2 Separate Power Transformers for Audio & Video Processing
• HDMI (v.1.3a) Audio & Video Processing
• Audyssey MultiEQ XT Advanced Room Correction
• DTS-HD Master Audio, DTS-HD High-Resolution Audio, Dolby TrueHD, Dolby Digital Plus Decoding
• Burr Brown 192khz/24-bit DACs for all channels
• Neural THX Surround Processing
• Three Advanced TI 32-Bit Processing DSP Chips
• Linear Optimum Gain Volume Circuitry
• VLSC - Vector Linear Shaping Circuitry - All Channels
• Bi-Amp Capability for Front L/R Channels
• IntelliVolume Input Level Calibration System
• 15-band Graphic Equalizer
• Variable Crossover Settings by Channel Pair
• Accurate Speaker Distance Settings (0.2 ft increments)
• A/V Sync Delay Adjustment by Input (up to 250ms)
VIDEO PROCESSING:
• HQV Reon-VX Processing for Premium Quality HDMI Upscaling/Transcoding of All Sources (up to 1080p)
•Deep Color™ (36 bit) Capable HDMI (4-in/2-out)
• HD Component Video (100 MHz) w/Upconversion
CONNECTIONS:
• 7.1 Channel Balanced Line Level XLR Outputs
• 2 Channel Balanced XLR Audio Input (assignable)
• 7.1 Multichannel Input & Pre-output
• XM® & SIRIUS Satellite Radio Ready [Required XM or SIRIUS tuner, antenna, and subscription sold separately.]
• HD Radio Reception Capability
• Assignable Digital Inputs (4 HDMI/3 optical/3 coaxial)
• HDMI/Component Video Assignable to Tape/CD/Phono
• 1 Optical Digital Output
• Front Panel A/V Inputs (including optical)
CUSTOM INTEGRATION FEATURES:
• Bi-directional Ethernet & RS-232 Port for 3rd Party Control Systems (Device Discovery, E-control, etc.)
• Fixed/Variable/Powered Zone 2w/ HD Component Video & Subwoofer Output
• Zone 2 Bass/Treble/Balance Controls
• Main Zone/2/3 & Zone 2 Max & Power On Volume Settings
• Dealer Settings Memory Store & Recall w/Lock/Unlock
• Permanently Stored Memory Settings
• Dual IR Inputs w/Common Output
• 3 Programmable 12V triggers (w/adj. delay)
• RIHD for System Control via HDMI
• Optional Rack Mount Kit Available (IRK-155-3A)
Recent Forum Posts:
dhitoshi posts on February 01, 2008 20:07
B&W700guy, post: 294885
BEWARE!!!!!!!!!!!!!!!!!

NO REON PROCESSOR CONTROL OR AUDYSSEY PRO SOFTWARE….READ. NOTE: AUDYSSEY PRO WAS PART OF THE DTR-9.8 SPEC ON THE INTEGRA WEBSITE…..

"The DTR-8.8 has a Picture Control Menu that gives the user control over the Reon processor. The Onkyo TX-NR905 also has this…it was clearly a "last minute" addition for the Onkyo unit, as the manual does not have this feature in it. They threw an addendum with that info into the box!

Also, contrary to previous reports, the Audyssey Pro software is not compatible with the DTC-9.8. It is compatible with the DTR-8.8."

I canceled my 9.8 order!!!!!!!!!!!!!!!
The units originally had firmware V1.01 and there is a firmware update V1.04 which addresses the issues of not being able to control the Reon processor!
Anyone who buys a unit because they see Audyssey Pro usually does not research what this entails. I sell Denon, Onkyo, Integra, Harman Kardon, and at the last Denon training they explained that Audyssey Pro is for making more revenue at the dealer level. First, you need the Audyssey pro software and microphone $350.00 dealer cost (I only list dealer cost because the mic and sofware are not available for consumers to buy, does not matter how much you beg your dealer, Audyssey, Denon or Onkyo), next step: purchase key to unlock Audyssey Pro $125.00 (these are specific keys for serial number of unit being calibrated) labor cost: 2 hours @$95.00 hour at the store I work at. Oh, and again, Audyysey Pro is can only be accessed by an authorized dealer/installer!!!!!
Most people have sticker shock after they find out Audyssey Pro adds $315.00 to the cost of a Denon 3808ci or 4308ci or any other AVR that offers Audyssey Pro.
————————————————————————–
Onkyo TX-NR901 (used as preamp) Audioquest Columbia 48vDBS used for all pre-outs
(2)Harman Kardon AVR7000 (used as slave amps by removing the pre-out/amp-in jumpers)
Panamax M5400-PM (this unit has voltage regulation/linear filtration so most my gear plugs into this)
Panamax M5400-EX (ran out of outlets so still have a use for this Panamax)
Denon DVD-2910: Audioquest: King Cobra's for 6 channel analog outs, Optilink3 for toslink out
Onkyo DX-C390: Audioquest: Optilink5
Pioneer D-605 laserdisc player: Audioquest VDM-3 digital coax
Playstation 3 60GB: Audioquest: Optilink5
XBox360 with HD-DVD drive: Audioquest Optilink1
Paradigm Reference Studio 40's, CC570, Studio 20's for surrounds, Ultracube 12
Audioquest for all speakers: CV-4 48vDBS for fronts, CV-4 no DBS for surrounds, Sub-3 DBS
rmk posts on January 28, 2008 14:49
Another happy Integra 9.8 user
klondike, post: 365046
Just picked up one of these Integra 9.8's. I am pretty stoked. I am hoping I will have some time to hook it up soon.
Be sure and report your impressions.
I have really been impressed with the DCT 9.8. I now have all four of my audio/video sources running though the 9.8 via HDMI (I have lots of nice analog audio and RGB video cables available if anyone's interested). The SQ is as good as any Pre/Pro I have used and the Video is spot on regardless of source or display (I have two displays being driven by the 9.8 but not simultaneously). I am not experiencing any voice sync or other issues with the 9.8. Switching sources does cause some brief sync delay but nothing I can't live with.
All and all, I am thrilled with the 9.8. It works as advertised and has lived up to my considerable expectations.
frostbyte posts on January 28, 2008 09:30
Awesome Klondike!! Congrats. Let us know what you think of it once you get it set up and tested.
klondike posts on January 26, 2008 23:00
Just picked up one of these Integra 9.8's. I am pretty stoked. I am hoping I will have some time to hook it up soon.
Cozmo posts on January 13, 2008 14:59
Thanks guys, looks like there is a dealer somewhat close by. I'll check into the cost of the Onkyo vs. the Integra. I still have an old Onkyo surround receiver (pre Dolby Digital). Still works like a charm but i am just using for Stereo now in a different room.
Post Reply