Panasonic/Comcast Portable DVR Preview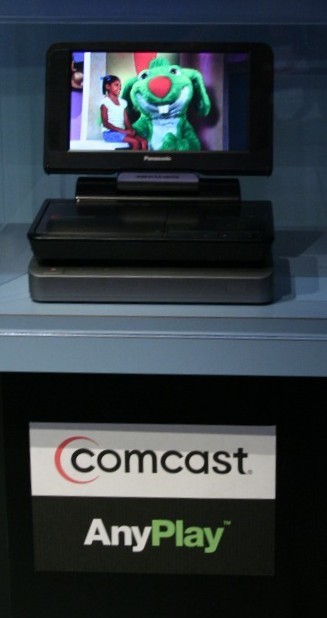 P-DVR Model TZLC100
Summary
Product Name:

AnyPlay P-DVR Model TZLC100

Manufacturer:

Panasonic/Comcast

Review Date:

January 14, 2008 14:35

First Impression:

Gotta Have It!
Executive Overview
Panasonic and Comcast Corporation unveiled the industry's first Portable DVR/DVD player powered by tru2way technology at the CES. The Comcast/Panasonic co-branded AnyPlay Portable DVR (P-DVR) will let Comcast customers record programming at home and take it with them wherever they go. The P-DVR will be available beginning in early 2009.
Developed by Panasonic AVC Networks Company, the video, audio and computer development and manufacturing arm of Matsushita Electric Industrial Co., Ltd., for Comcast, the AnyPlay P-DVR Model TZLC100 incorporates digital video recording functionality into a Panasonic portable DVD player platform. The AnyPlay P-DVR features 60GB of digital video recording capacity, an 8.5" folding LCD display screen, and integrated stereo speakers. Dual audio headphone jacks are included to support personal viewing. When placed onto a companion docking station that functions as a standard DVR set-top box, the AnyPlay P-DVR lets viewers watch and record their favorite television programs from their television sets. However, unlike a traditional set-top box, it can be taken out of its docking station, so recorded programs can be watched anywhere in or out of the home on the AnyPlay P-DVR. It also can playback DVDs and audio CDs.
AnyPlay P-DVR can be powered through the docking station, which also acts as a battery charger, or through its own internal battery when undocked. It also comes with a 12V DC adapter for automotive use. This is by far one of the cooler devices we saw at CES this year, not so much because it was a technological advancement as a philosophical one. For years our recorded TV programs have been trapped on our set-top boxes. We'll finally be able to catch up on all our episodes of Heroes on the plane to the next CES. For more information, please visit www.comcast.com.
Unless otherwise indicated, this is a preview article for the featured product. A formal review may or may not follow in the future.