IMAX Private Theater for your Home

If you have to ask...
I remember the first time I saw an IMAX screen. It was at an amusement park in California and it was one of those flying videos. When the plane turned over, everyone tilted their heads to the side. A little girl in front of me looked at her cotton candy (it may have been a bag of popcorn, I can't really remember) and deliberately dropped it. I'm convinced she did this to see if it would fall up.
When a big movie comes out these days, many people head to their local (and sometimes not so local) IMAX theater because of the huge screen, the usually much better sound, and (for me at least) the bone shaking bass. But IMAX showings tend to be more expensive and, for many, they are not always convenient. Plus, who wants to share a theater with other people? All it takes is one person with their stupid phone to ruin a perfectly good ending.
IMAX is solving this particular "problem" with their new service/product combination - the IMAX Private Theater. From their website:
IMAX has combined its industry-leading expertise, cutting-edge proprietary and patented technology and architecture to bring the world's most immersive entertainment experience to select homes with the IMAX Private Theatre™. Modeled after IMAX's state-of-the-art private screening room in Santa Monica where leading filmmakers such as Christopher Nolan, James Cameron and JJ Abrams come to review their films in IMAX for the first time, the IMAX Private Theatre sets a new benchmark for the ultra-premium home theatre market, delivering a truly exclusive and complete end-to-end experience designed for the ultimate home.

Be one of the few to own it.
 You can bet that last line is right. Check out the design of one of their private theaters from their website: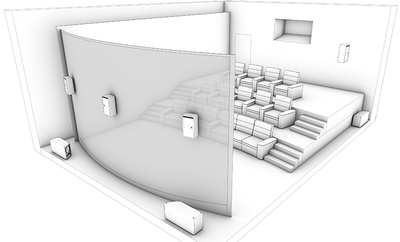 That seems like a lot of chairs for a "private" theater. As you can see, the theater is designed to be a room within a room with the front being one big screen. From what we can tell from the image, they are using a standard 5-channel system with up to four individual subwoofers (at the corners). The website indicates that they can accommodate up to 7.1 channels. We're surprised they don't at least support stereo subwoofers or any sort of height/width channels. The speakers are laser aligned and the system has an automatic calibration system that not only does an initial setup but does daily calibrations to make sure that every day sounds as good as the last. Aside from the space requirements (which look to be pretty significant), you'll also need to make room for this beast: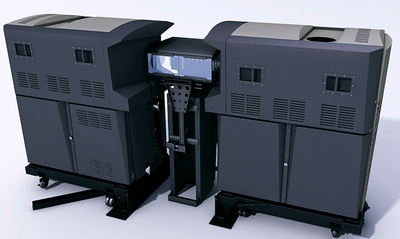 No, it is not the newest in the line of color copiers. It is two (count'em) 4k projectors. Capable of both 2D and 3D images, the projector works with the floor to ceiling, wall to wall screen to bring you the type of experience you expect from IMAX. Lastly, they have round the clock 24/7/365 customer support with a promised 5 minute response time. With predictive maintenance, performance tuning, and more, your IMAX theater is sure to be the envy of all your friends. We're also wondering if upgrades to the system (to include extra speakers or stereo subs) might be possible as they add features. You certainly wouldn't want to have to rebuild the whole thing from scratch.
This is obviously a unique solution for those with money to spare. We're hoping to see it trickle down to the more modest consumer in some form. Much like the THX certification program, we'd love to see some way for consumers that don't upgrade their yachts every year have some way of enjoying an IMAX experience at home. 
For more information, please visit www.imaxprivatetheatre.com.