The Hobbit Scrapped?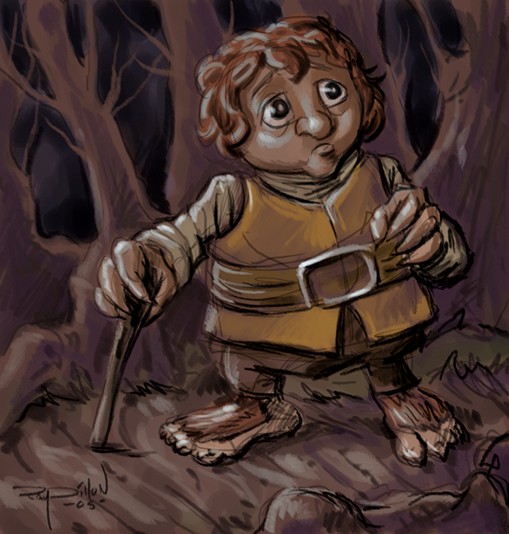 Don't kill me!
New Line Cinema is again finding itself on the wrong side of a lawsuit involving the lucrative Lord of the Rings trilogy. It seems that the Tolkien estate (a British charity named The Tolkien Trust) is alleging that the studio hasn't paid them the 7.5% of gross receipts contractually required for the use of the novels according to the Associated Press. They have decided, after reportedly spending years trying to negotiate a settlement, to bring a lawsuit.
This is not the first time that New Line has found itself facing a lawsuit over these movies. Saul Zaentz sued them alleging that they cheated him out of $20 million in royalties as did Peter Jackson (who only recently agreed to executive produce The Hobbit after reaching a settlement with New Line). The Tolkien Trust is seeking $150 million plus the right to terminate any rights to make more films based on Tolkien's works.
What does this mean for the future of The Hobbit? It is unclear. Obviously the Tolkien estate wants control over The Hobbit if for no other reason but to leverage it into a better deal over what will likely be a very lucrative two movie series. It seems unlikely that they would scrap the project simply out of spite. As fans, we shall be watching this story very closely.

MUDSHARK posts on February 15, 2008 16:29
Balin, Dwalin
j_garcia posts on February 15, 2008 16:12
Owinser, Glowinser?
Audioholics posts on February 14, 2008 08:33
MUDSHARK, post: 375062
Who can name Bilbo's thirteen companions without looking it up?
Thorin, Dori, Ori, Oin, Gloin, Bifur, Bofur, Bombour, Fili, Kili… pausing to think… still thinking… ah, 60 seconds up.
Edit, as soon as I read the post below mine (afterwards) I realized the two I missed.
MUDSHARK posts on February 14, 2008 00:03
To help everyone get started I will give three referenced in LOTR
Gloin (Gimli's father)
Oin (penned the diary found in Moria)
Balin (fought the orcs by his tomb)
Highbar posts on February 13, 2008 21:04
Mud, it's been too long since I read the books. Now I want to read them again just to remember all the names… Damn You.

As for the Tolkien estate NLC issue. They don't want more money they want the money they were supposed to get. NLC didn't pay them anything. Now on top of that they want control over future projects, like the Hobbit. Now that may be for more money.

I want to see the movies made, del Toro and Jackson together should be an incredible combination. LotR's trilogy is incredible and Pan's was right there with it (think I'll put it on right now as a matter of fact, be back in a few hours).

T
Post Reply