Samsung's SC-HMX20C Progressive HD Flash-based Camcorder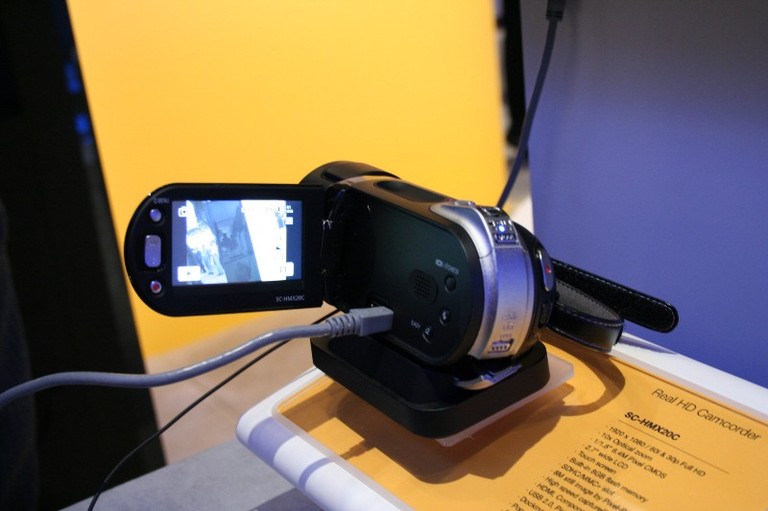 SC-HMX20C Progressive HD Flash-based Camcorder
Summary
Product Name:

SC-HMX20C

Manufacturer:

Samsung

Review Date:

January 14, 2008 19:45

First Impression:

Gotta Have It!
Executive Overview
Samsung Electronics showed off the SC-HMX20C Progressive HD Flash-based Camcorder as CES this year. Featuring Full HD and a1080p mode with 30 frames-per-second recording capability, the SCHMX20C's flash-based design makes this camcorder compact and easy-to-use. With an included docking station, users will find it simple to not only charge the SC-HMX20C, but utilize the HDMI input and component connectivity to easily view home movies directly on an HDTV. Furthermore, users are able to connect the SC-HMX20C to their laptop or PC via a USB connection and share their home movies with family and friends quickly and easily. For added value and convenience, this multifunctional HD camcorder also delivers among the best still camera functionality within a camcorder on the market—up to 8 megapixels size through pixel-rising technology.
The SC-HMX20C's performance is the result of cutting-edge design coupled with innovative technologies in HD recording. The SC-HMX20C features a 6.4-megapixel CMOS with electronic image stabilization so even action-packed scenes come through with clarity. Featuring an HDMI-CEC (Anynet+) high-quality connection to HDTVs and other devices, consumers can easily control the camcorder through their Samsung HDTV remote while viewing movies.

With the unique feature of high speed capture and super slow motion playback, the SCHMX20C allows consumers to record fast motion at 300 frames per second for up to 10 seconds and then drastically slow down the playback of the recording. Perfect for sports fanatics looking to tape and analyze their golf-swing in slow motion, or anyone interested in getting the detail of fast-flying events that otherwise would be undetectable to the human eye, this special function opens up a new world to users.
Samsung also engineered its new HD camcorder to be significantly more powerful than previous models. The 8GB of built-in flash memory helps ensure that nothing is lost for lack of space and users also have the option of recording onto high-capacity SDHC/MMC+ cards via the additional card slot.
In addition to ample memory and superb recording capabilities, the SC-HMX20C also reportedly delivers among the best still pictures of any camcorder on the market. The SC-HMX20C has a few unique features traditionally found on digital still cameras such as a pop-up strobe flash, automatic built-in lens cap and advanced face detection to automatically bring facial features into crisp focus, delivering high-quality images.
At only 10.9 ounces, the SC-HMX20C fits easily into the palm for quick-and-easy shooting. For further convenience, the SC-HMX20C comes equipped with features that make it simple to use. Samsung's proprietary swivel hand-grip makes it possible to record from multiple angles, including regular and low-angle shots, while the 2.7-inch wide-aspect touchscreen LCD makes editing on the fly easy. Additionally, the iCheck function lets the user know how much memory and battery life remains to ensure not a second is lost. Finally, Samsung has designed the SC-HMX20C to be both stylish and ergonomically correct. Its design utilizes trends seen in the fashion and car industries, resulting in a camcorder that's as elegant as it is practical. The SC-HMX20 will be available in May 2008. For more information, please visit www.samsung.com.

Unless otherwise indicated, this is a preview article for the featured product. A formal review may or may not follow in the future.
Confused about what AV Gear to buy or how to set it up? Join our Exclusive Audioholics E-Book Membership Program!