Logitech Squeezebox Duet Music Server Review
Logitech Squeezebox Duet Music Server Review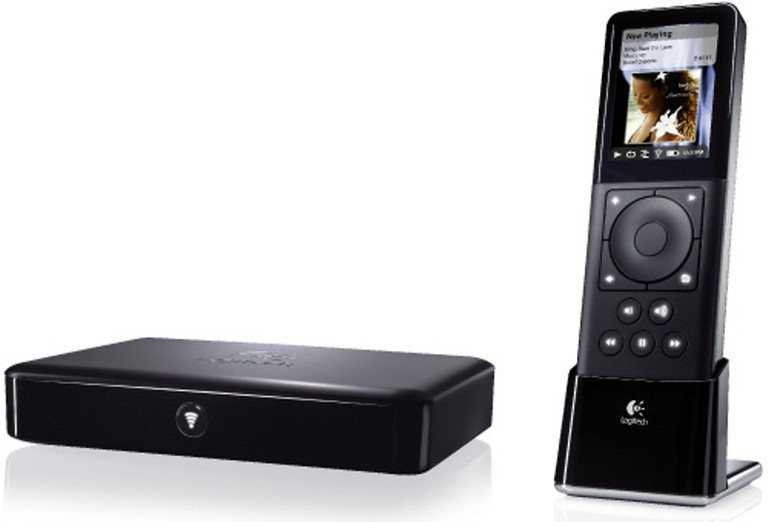 Logitech Squeezebox Duet
Specifications

Digital and analog outputs

High fidelity Wolfson 24-bit DAC

Two dedicated linear power regulators for DAC and line-out stages

4.8Vpp line-level outputs

Signal-to-noise ratio: over 90dB

Total harmonic distortion: less than -88dB (0.002%)

Optical and coax digital connections

Squeezebox Receiver

Dimensions: 6.2" x 4.4" x 1.2" (156mm x 112.5mm x 29.25mm)

Finish: high gloss black

Squeezebox Controller

Dimensions: 5.75" x 2" x 0.75" (156.2mm x 50.8mm x 18.8mm)

Finish: high gloss black

2.4-inch color LCD TFT display

240 x 320 pixels

256K colors

LED backlit

Audio Formats

Lossless Formats (Apple Lossless, FLAC, WMA Lossless)

"Bit-perfect" CD audio streaming, with reduced storage and bandwidth usage

Approximately 2:1 compression ratio

Uncompressed formats (AIFF, WAV, PCM)

Supports raw pass-through of uncompressed PCM audio formats

Digital pass-through to S/PDIF for DTS

Compressed formats (MP3, AAC, Ogg Vorbis, MP2, MusePack, WMA)

MPEG decoding uses MAD software, widely regarded as the most accurate, most compatible MP3 decoder

High accuracy 24-bit synthesis

Supports all MP3 data rates and sample rates, including VBR

May be streamed in PCM (raw), MP3 (transcoded), or FLAC (transcoded) formats

Sound Check and Replay Gain support for automatic volume control

Some formats may require additional software installation (e.g. QuickTime), depending on platform

Other
True 802.11g wireless networking
Dual antennas for improved range and throughput (Squeezebox Receiver)
Supports all 802.11b and 802.11g access points
Automatically detects available networks for quick setup
Supports both WPA Personal, WPA2-AES and 64/128-bit WEP encryption
"Always-on" Internet Radio, powered by SqueezeNetwork, lets you tune in to Internet Radio streams even when the home PC is switched off
Pros
Easy access to Internet Radio
Tons of connection options
Great fidelity and lack of audio dropouts
SqueezeCenter makes personalization a breeze
Cons
If receiver has a problem connecting, there is very little feedback to tell you what's wrong
Software still beta
Menu layout could be better organized
Logitech Squeezebox Duet Introduction

If you haven't heard of Squeezebox - you've been living under a rock. On the other hand, you may recognize the name but not know what it does. Well, we'll fix that in a moment. The Squeezebox products have always gotten good reviews here but that was before Logitech bought them. At first, they tried to compete with their Wireless DJ system but eventually they ended up just purchasing their competition. One thing we really liked about the Wireless DJ system was its remote. When we finished the review, the first thing we said to Logitech was that we thought it'd be a great idea if they integrated the Wireless DJ remote with the Squeezebox functionality. They didn't exactly answer except to give us a wink and a smile. Since then, we've been waiting with bated breath.

Confused about what AV Gear to buy or how to set it up? Join our Exclusive Audioholics E-Book Membership Program!
Recent Forum Posts:
deadushka256 posts on September 24, 2009 13:56
Squeezebox Duet Is A Small Miracle

I own a squeezebox and a squeezebox duet one year now and I have to tell you this is very neat device. I've tried many network players (Dune, Netgear, Sonos etc) but this one beats them all hands down.

The sound of the two devices is very different (if you have a decent piece of kit to tell it) so you have to carefully select what you connect it to.

After many hours of listening I've picked what I think best combination. My reference system consists of squeezebox duet connected optically to Audio Alchemy DAC-In-The-Box which connects directly into Parasound A21 power amp (the best preamp is no preamp) and a pair of NHT 2.5i. The sound is owesome. It's the best system I've ever had (and I've had a lot).

The second system in my study is squeezebox connected to Nakamichi IA-4 integrated amp and a pair of Monitor Audio RS-6. The sound is very good but not as good as with Parasound.

The Controller can control both squeezeboxes (separately or in sync) or you can control both system from any computer on your network via browser (I use Google Chrome).

I've never had ANY problem with both squeezeboxes. Both are connected via WIFI. Well there is one small issue when microwave oven is turned on for more than 4 minutes then the closest squeezebox rans out of cache and start to stutter.

Otherwise the squeezebox is perfect. It was perfect with initial releases of SlimServer, now it gives you more and more features with every new release.

The controller is a treat. I noticed I started to listen to the music more considering that any track of any CD in my collection now is just a click away. Now the actual CDs are stashed away in the box in the closet.

Great job Logitech (or SlimDevices)!

Thinking of going for the Transporter. It has the balanced outputs and think this alone will worth a try. Even if it's not better than the Duet it will look great on top of my Parasound.
seriley posts on September 13, 2008 19:43
Squeezebox Duet disappointment

Wow, what a waste of many hours of my life trying to get this to work. I spent three hours trying to get the duet to connect to my network. It seems once you finish an option in the setup, you can't ever go back there. I don't know what changed, but after three hours suddenly it connected.

Then the 2nd problem - no sound. Then I noticed the remote saying it was playing a song, with the little countdown timer, but it wouldn't play more than 30 seconds before it would start over again. If I changed the volume, it also started over at the beginning. I spent several more hours on this step, trying to figure out why there was no sound, and why the song wouldn't "play" more than 30 seconds.

I went on to Logitech's web page to post my problems. I typed in a very long list of my issues - and pressed submit. I got an error, the page had timed out, and everything I typed was gone! That was the final straw for me, I am returning this. Too bad - it looks very cool, and the people that managed to get it to work love it.

And for those of you thinking I may not be technically inclined, and possibly that was my issue - I'm a programmer, I set up encrypted WiFi all the time, I set all kinds of electronice devices up - usually with little or no issues. And I'm a web prgrammer - there was no reason for them to time out their web page and lose my problem description I spent so much time typing in. Logitech just gave a tiny brochure on how to set this up - so it should have taken no more than 10 minutes.
bignerd posts on August 19, 2008 09:51
Great Product

I love my squeezebox. It is really come a long way and the duet remote control is outstanding. I have it hooked up to two receivers, and though it is sometimes a little slow buffering pandora over my crumby internet connection, the sound quality is flawless. I read a really great review at this site "The Mantuary" (just google it… it wouldn't let me post the link but it is www(dot)themantuary(dot)com search squeezebox)
mvalera posts on May 21, 2008 15:20
10010011, post: 414471
Don't hold your breath. Logitech is well known for releasing buggy products, promising patches, then abandoning it after several failed attempts at bug fixes.

Like my MX5000 Cordless Desktop bluetooth mouse and keyboard.

I had been considering a Squeezebox. I did not know Logitech had bought them. I thank Audioholics for pointing this out, now I will avoid the Sqeezebox.
Logitech bought Slim Devices, but we retained virtually all (I think we lost one) the same developers that brought you the Squeezebox Classic and Transporter. That includes the founder and lead product tinkerer Sean Adams, and our Director of Engineering Dean Blackketter. With the additional funding Logitech has thrown behind us, we actually expanded our engineering ranks quite a bit by hiring some of our most prolific community developers.
I can't speak for how the keyboard guys release their software, but the main reason we acquired these guys was their expertise in the field. The Logitech "overloards" have not taken over, in fact we're having an affect on the rest of the company in terms of how the greater Logitech releases and tests their software and products with our whole open source thing.
Mike
__________________
Michael Valera
Online Communities Manager
Logitech Streaming Media Business Unit
slimdevices.com
olc posts on May 20, 2008 22:02
I'm surprised at no mention of FLAC encoded files as it is my preferred method of storage. Not only does it save space on my hard drive but it is a native file type for the Duet (or SB). Both devices convert WAV to FLAC in the Squeeze Center server before broadcasting to the receiver.
Post Reply