Skullcandy iPhone Ear Buds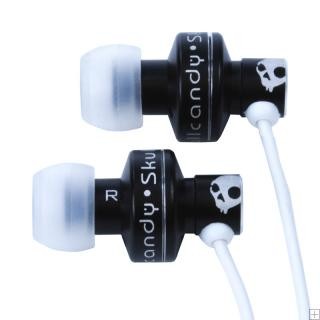 Skullcandy Full Metal Jacket Ear Buds
Summary
Product Name:

iPhone Full Metal Jacket Ear Buds

Manufacturer:

Skullcandy

Review Date:

January 07, 2008 00:05

MSRP: $59.99+
First Impression:

Mildly Interesting
FMJ 9 mm
Speaker diameter: 9 mm
Frequency response: 18 Nz-20z Hz
Impedance: 16 ohms
Max input power: 5 mW
Cable type: TPE
Cable length: 1.4 m
Plug type: 3.5 mm gold plated
Weight: 13 g
FMJ 11 mm
Speaker diameter: 11 mm
Frequency response: 16 Nz-20z Hz
Impedance: 16 ohms
Max input power: 5 mW
Cable type: TPE
Cable length: 1.4 m
Plug type: 3.5 mm gold plated
Weight: 13 g
Executive Overview
It's hard to picture "tough" and "ear buds" at the same time but Skullcandy is trying to get you there. Their Full Metal Jacket ear buds sport metal alloy casing, your choice of 9mm or 11mm speakers, a special carrying case, and 3 different shapes of gel inserts. Not tough enough for you? What about if they put a skull on each bud?
All kidding aside, the new iPhone Full Metal Jacket ear buds are designed specifically to be used with the "unique" jack that has required an adapter for every other set of non-Apple headphones. The ear buds have noise canceling properties and claim high quality sound reproduction.

If you didn't jump on the iPhone bandwagon, Skullcandy also offers other buds and headphones with such features as bass amplification and noise cancellation in a variaty of colors and styles (including on with bullets on the top - try to get that through airport security!). Skullcandy has also announced that it is going green. No, no painting all their buds green but environmental green. They are currently working toward guaranteeing that 70% of their packaging will be made from Corn Plastic by the end of 2008. While this type of plastic is 5x's as expensive to use, they are promising not to raise prices. If you like to rock skulls on your ear buds but don't want to destroy the environment while doing so, check out www.skullcandy.com.

Unless otherwise indicated, this is a preview article for the featured product. A formal review may or may not follow in the future.
Confused about what AV Gear to buy or how to set it up? Join our Exclusive Audioholics E-Book Membership Program!