Sceptre Galaxy Series Polarized 3D HDTV First Look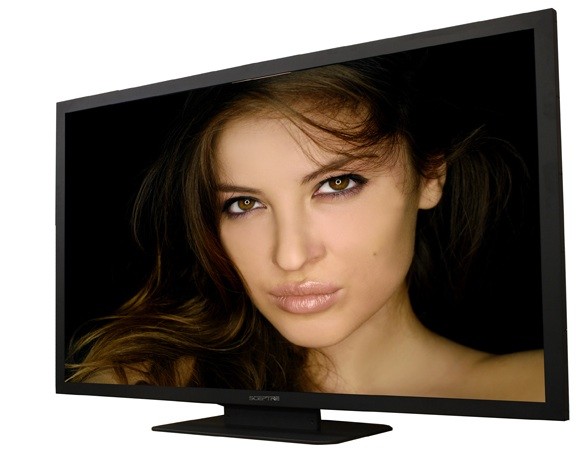 Sceptre Galaxy Series 3D HDTV
Summary
LED E650BV-F12D (65")
1080P FullHD
1920×1080 Resolution
120Hz Refresh Rate
16:9 Aspect Ratio
5 x HDMI Ports
1 USB port
Response Time 5.5ms
ATSC/ NTSC/ Clear QAM
Auto Contrast Enhancement
28 W Stereo Speakers (including Sub Woofer)
Dimensions: 1¼" thinnest, 2½" thickest
Energy Saving
Neck & Base Detachable
Wall Mountable
MSRP $4,999,99
LCD X650BV-F12D (65")
1080P FullHD
1920×1080 Resolution
120Hz Refresh Rate
16:9 Aspect Ratio
5 x HDMI Ports
1 USB port
Response Time 5.5ms
ATSC/ NTSC/ Clear QAM
Auto Contrast Enhancement
28 W Stereo Speakers (including Sub Woofer)
Dimensions: 2½" thinnest, 4" thickest
Energy Saving
MSRP $3,499.99
E320BV-FHDD (32"), E400BV-FHDD (40"), E420BV-FHDD (42"), E460BV-FHDD (46"), E550BV-F12D (55")
1080P FullHD
1920×1080 Resolution
16:9 Aspect Ratio
3 x HDMI Ports
1 USB port
Brightness 400 cd/m2
Response Time: 6.5ms
ATSC/ NTSC/ Clear QAM
Energy Saving
Neck & Base Detachable
MSRP $599.99 to $1,499.99
Executive Overview
Let's be honest, no one really likes the shutter glasses for 3D. Sure, manufacturers love them because they require very little changes to the hardware of their displays but consumers certainly don't. They are active, which means powered, which also means expensive, which also means they won't always work, which also means they are heavy... the list goes on. Polarized glasses are more in use in the theaters and are passive. That means they are light, they don't require a battery or a charge, and they always work. Plus, they are cheaper for consumers to buy. With manufacturers including only one or two pairs with their displays, active glasses can at $150 plus per pair. That's a huge expense especially since most active glasses work only with one manufacturer's display. If you want to have people over for the big game, they better all have the same 3D TVs (or at least from the same manufacturer) or you're looking at a huge expenditure for extra glasses. Of course you could watch the game in 2D but then no one would come. They can do that a home.
CES 2011 has been full of 3D and polarized 3D home solutions have been all the craze. While this is a very new technology for the home, it isn't all that new overall. But it does represent an advancement in 3D for the home. Part of the problems people have with active glasses is the flicker effect you can get. With polarized glasses, you don't have to worry about that. Plus, the glasses your kid swiped from the theater might actually work in the home. While we're not advocating that, you know the theaters didn't pay $100+ per pair for those glasses. With passive glasses you could invite the entire family (and most of your neighbors) over for your super bowl party and not worry about the added expense of the glasses. There are sure to be cheap, throw-away models on the market.
Sceptre is making their foray into the polarized glasses market with their new line of 3D HD TVs. The Galaxy Series of displays mostly use LED lighting. The top of the line 65" LED E650BV-F12D runs in at a penny under $5k. For $1500 less, you can have the straight LCD X650BV-F12D. Both feature 5 HDMI inputs, a USB input, 120Hz refresh, and 1080P. The big difference is the size. The LED model 1.25" at the thinnest and 2.5" at the thickest while the LCD model is 2.5" and 4" respectively. All the rest of the specifications are identical. It is unclear if they are using edge lit or local dimming (that usually means the less desirable but considerably thinner edge lit). The size difference is considerable, however. The question is whether consumers will see the LED option as cost effective for and extra $1500.
The rest of the line is all LED lit and includes the 32" E320BV-FHDD, 40" E400BV-FHDD, 42" E420BV-FHDD, 46" E460BV-FHDD, and 55" E550BV-F12D. The 32" clocks in at $599 with the 55" at $1499. We think that 55" looks like a pretty good deal at that price. Depending on the performance, of course. Spec-wise, they look decent with 1080p resolution, 3 HDMI ports, one USB port and a removable neck and base (something you don't know you need until you try to mount a display and realize you need a hacksaw to get the neck off). No mention of 120Hz processing which means these are probably relegated to 60Hz.
What consumers should really take note of, however, is the number of glasses included. With the 65" models, you get four. That's right, four. All the other models come with two. But manufacturers pumping out active glasses are barely able to include one (and maybe two) with some not including any. That should give consumers some sort of indication as to how expensive the glasses are. When manufacturers can include enough glasses for a family of four to actually enjoy a 3D movie out of the box without having to purchase $300 to $600 worth of glasses, that's huge. Unsurprisingly, it's actually what consumers expect.
Conclusion
Sure, polarized glasses are not a new technology in the grand scheme of things but they are new for the home. Manufacturers are just starting to put out displays that can utilize the technology. Does this mean it's still a bit beta? Probably. But all reports from CES 2011 indicate that the polarized displays were hands-down better than the active shutter sets. Unproven or no, that's some pretty compelling evidence. The top of the line Sceptre Galaxy sets are a bit pricy but considering just five to seven years ago flat panel displays commanded the same price with nothing more than HD, it isn't that bad. The smaller sets look to be an even better value. We look forward to getting our hands on some of the Sceptre sets to see how well their LED lighting performs. At these prices, they look to be a very nice solution for a second display. If the big 65" models perform well, they might even be recommended for the main theater.
For more information, please visit www.sceptre.com.

Unless otherwise indicated, this is a preview article for the featured product. A formal review may or may not follow in the future.
digicidal posts on January 13, 2011 17:20
Seth=L, post: 781943
Can anyone find any information on this mysterious company? I'm drawing nothing here.
You're not the only one - I did some
casual research
prior to going TV shopping, but found little to no real information. However, from the models I saw on the shelves… I knew I didn't need to bother looking further, if you get my meaning.
I actually thought the Westinghouse models looked a little better built but they seemed like they were using a similar panel.
Let's just say they have previously brought some of the cheapest technology available to the consumer… however, since I don't know too many people (including some millionaires) that think a $5K TV is 'dirt cheap' - they are really branching out into uncharted waters (for them at least) with this high-end model. Don't know how that will fly personally.
Seth=L posts on January 12, 2011 22:29
Can anyone find any information on this mysterious company? I'm drawing nothing here.
Jim Robbins posts on January 12, 2011 20:36
Looks like they are making a 32" 3D tv as part of this line. Man, that would be so sweet for my computer!! Well, if it really works without ghosting. With the modern video cards, you can run nearly all PC games in 3D. I am an XBox guy, but I think I can be drawn back to the PC for some cheap and easy 3D action…
digicidal posts on January 12, 2011 12:47
Perhaps it's just me, but although I'm well aware of the rise from off-brand to nearly top-of-the-line ascent of Vizio - I'm not sure how many consumers are going to jump at a Sceptre-branded screen that's $5K regardless of the number of glasses included. Maybe in a few more years I could see that, but presently the offerings I've seen from them are budget models available in Costco and Sears next to the Westinghouse models - which certainly doesn't preclude them making a great product - but does give a buyer like me significant pause.

I may be more brand-loyal (or brainwashed depending on how you look at it) but I know I wouldn't drop that much coin on something without a significant known history in that market sector.
Post Reply
Confused about what AV Gear to buy or how to set it up? Join our Exclusive Audioholics E-Book Membership Program!