AVRant #37: Sounds Better than Real Life
AVRant #37: Sounds Better than Real Life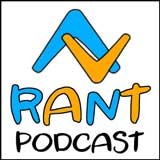 You know, it DOES sound better that real life!
Tom's back from CES. Super nap power GO! Tom sends a personal message to Gene. Dina threatens Tom. Tom gives some love to the listeners (that's you). Guys have a fantasy about everything and Tom discusses one. Dina brings up a topic. I know, shocking. She also inadvertently reveals her age (kinda). Let's talk about the new season of shows (both of them). Tom is like Switzerland. AppleTV is discussed in brief along with the HD DVD demise. What does Universal mean when they say that they're still supporting HD DVD? Listen in to find out. Tom went to T.H.E Show at Alexis Park (the esoteric show at CES) and he's got a few things to say about cable elevators, cable sizes, aluminum, and high end designs. How do these high end speakers end up selling? Tom has a theory. How to ship expensive amps. Tom listened to some Magnepans and gives his impression. Tom shares a couple of Emails that Audioholics got. Here's the link to vote for us on Podcast Alley and thanks for listening.
Confused about what AV Gear to buy or how to set it up? Join our Exclusive Audioholics E-Book Membership Program!