Cerwin-Vega! CVHD 5.1 Review
Cerwin-Vega! CVHD 5.1 Review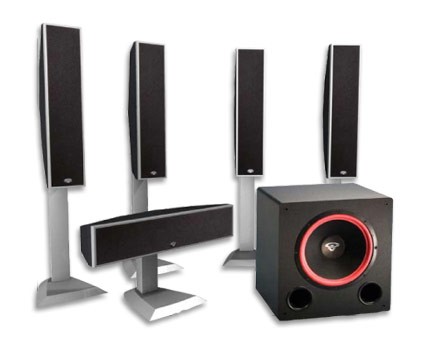 Cerwin-Vega! CVHD 5.1
CVHD Satellites with Linear Dispersion Speaker Technology™ (LDST )
Frequency Response: System 28 Hz to 22 KHz, Satellite 150 Hz to 22 KHz
Power: 50 to 125 watts continuous
Impedance: 8 Ohm nominal
Sensitivity: 95 db
Filters: 150 Hz high pass filter
Drivers: One 1" [2.54cm] high definition soft dome tweeter and six 3" [7.62 cm] cellulose composite cone woofers
Video Shielding: Yes
Floor Stands: Yes (optional) vertical stands sold in pairs provides 3 adjustable height positions, with wire management
Wall Bracket: Yes Included - Optional Omni-mount brackets for wall and ceiling mounting
Subwoofer: 12" [30.48 cm] powered
Frequency Response: 28 Hz to 150 Khz
Amplifier: 250 Watts (110V and 230V versions available)
Speaker: 12" [30.48 cm] woofer
Cabinet: Bass reflex
Other features: AC and thermal protection Speaker level and line level inputs Auto-on sensing
DIMENSIONS
CVHD Satellites with Linear Dispersion Speaker Technology™ (LDST )
Dimensions (HxWxD) 22.5 x" 5" x 5", 57.15 x 12.7 x 12.7 cm
6.32 lbs [2.84 Kgs]
Subwoofer: 12" [30.48 cm] powered
(HxWxD) 17.75" x 16.75" x 16.5", 45.09 x 42.55 x 41.91 cm
Weight: 48.5 Lbs, [22.05 Kgs]
Pros
Powerful sub
Plays LOUD
Good aesthetics
Cons
Tweeter fell apart with some material
Only wall mounts included with set
Introduction
For years, Cerwin-Vega! has been known as a company that produces LOUD speakers (they seem to harbor this thought with their tagline "The LOUD Speaker Company"). The slim profile CVHD 5.1 system and hi-tech looks complement many decors and more importantly the expectations of what home theater speakers should look like in many consumers' minds. For $1000, there are a lot of speaker sets out there that are better (but probably don't have as good a sub) but I've seen this set on sale online for as little as $550. For $550, they are a very good deal. The sub is going to destroy any HTiB "bass module" it comes across and you can pump enough sound through the satellites to fill a large room without frying your amp. While they have their limitations, for the right person, at the right price, they could be the right set.

Confused about what AV Gear to buy or how to set it up? Join our Exclusive Audioholics E-Book Membership Program!
Recent Forum Posts:
phuklok1 posts on October 10, 2007 12:38
Just received the cvhd system last week. To my ear, they sounded a little bright at first, but after some tweaking at the receiver and a little break in, these really sound great. Nice full sound and excellent imaging. The sub does a good job – considering has to cover a fairly wide range, I am pleasantly surprised at how really well integrated the system is. I think the system represents a great value (and also gave me back a great deal of space in my living room… LOL - although they are not your typical tiny satellite speakers).
jacquescas posts on September 27, 2007 04:36
Well i just ordered a pair online. $500.00 with delivery fee i think for a 5.1 you cant beat that quality for the price for 6 speakers.

i had some samsung HTIB speakers before so this should be a significant upgrade, i can't wait
Audioholics posts on August 08, 2007 08:56
We have no problems with Cerwin Vega and actually met a couple of the guys one year at CEDIA (when it was in Denver). We gave them a copy of the review to technically peer and didn't get a timely response (still no response in fact).
tom10i posts on August 08, 2007 00:07
RE Cerwin Vega Tech Support

You are certainly right. I has been rare in the forty or so years that I have been listening to components that a manufacturer has been so forthcoming and immediately willing to offer solutions to my problems as was Cerwin Vega. They were willing to work with me in any way that would make me a satisfied customer and that really impressed me very much. Just try to do that with several of the large mass market manufacturers located in the New Jersey area (you can easily guess who I mean.) It's impossible to even get through to tech support with them most of the time. Companies such a Cerwin Vega or Oppo are really the exceptions and I would hope that Audioholics would give them a chance, despite my experience and that of the reviewer.
STRONGBADF1 posts on August 07, 2007 20:53
Clint DeBoer, post: 293016
So there seems to be a some sort of quality control issue as well then. That should certainly be noted - this thread should do.
Not A fan?
Post Reply