Audioengine 5+ Powered Speakers Preview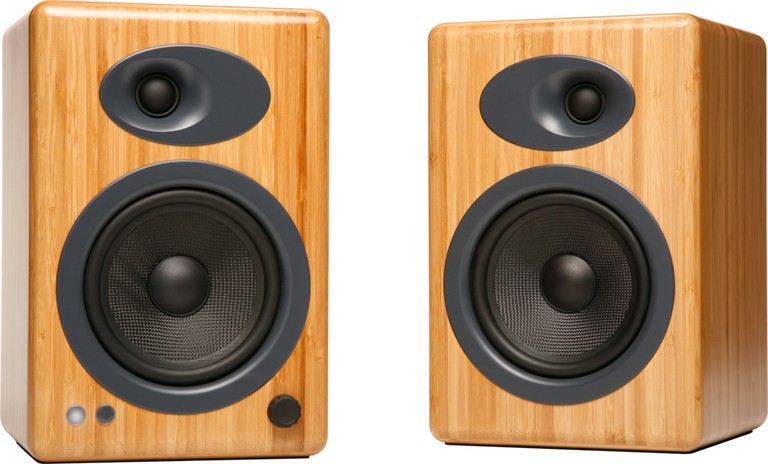 Audioengine 5+
Summary
Type: 2.0 powered (active) bookshelf-style speaker system
Power Output: 150W peak power total (50W RMS / 75W peak per channel), AES
Inputs: 1/8" (3.5mm) stereo mini-jack, RCA L/R
Outputs: RCA L/R audio (full-range, adjustable), USB Type A (power/charging)
Voltages: 115/240V, 50/60Hz manually switchable
Amplifier Type: Dual Class AB monolithic
Drivers: 5" Kevlar woofers, 20mm silk dome tweeters
Signal-to-noise: >95dB (typical A-weighted)
THD: <0.05% at all power settings
Crosstalk: <50db
Frequency response: 50Hz-22kHz +/-1.5dB
Input impedance: 10K ohms unbalanced
Protection: Output current limiting, thermal over-temperature, power on/off transient protection, replaceable external main fuse
Dimensions (each speaker HWD): 10.75" (27cm) x 7" (18cm) x 7.75" (20cm)

Weight (LEFT speaker): 15.4 lbs (7 kg)
Weight (RIGHT speaker): 9.6 lbs (4.4 kg)
Shipping weight: 31 lbs (14 kg)
Shipping box dims: 15" (38cm) x 22" (56cm) x 11.5" (29cm)
Finish options: Satin Black, Hi-Gloss White, Solid Carbonized Bamboo
Power Consumption: Idle: 10W, Mute: 6W, Sleep: 4W
Environmental Requirements: Operating temperature: 32° to 95° F, Non-operating temperature: -4° to 113° F, Relative humidity: 5% to 95% non-condensing
Materials and Construction: 25mm thick MDF cabinets, 20mm silk dome tweeters with neodymium magnets, 5" Kevlar woofers with advanced voice coils, Torroidal power transformer


Included Accessories:

Remote control
Speaker wire (16AWG), 3.75 meters (~12.3ft)
Detachable power cord
Mini-jack audio cable, 2 meters (~6.5ft)
RCA to RCA audio cable, 2 meters (~6.5ft)
Cloth speaker bags
Cloth cable bag
Setup Guide
Product line brochure
Executive Overview
As more and more people become interested in home theater and high-end audio, they start to become less tolerant of terrible sound. If you need an example of terrible sound, look no further than many of the speaker systems that come packaged with computers. Even the add-on ones that supposedly have a subwoofer with two small cubed speakers are generally awful. The fact is that physics can't be tricked, no matter the claims of some companies. A real speaker needs internal volume.
The Audioengine 5 speakers were a big hit with people looking for good sound for their offices. The price was right as was the audio quality. Audioengine is building upon that solid foundation with their new 5+ speakers (A5+). Like the previous A5 speakers, the A5+ speakers are self-powered with an internal class AB 150 watt amp in the left speaker. The right speaker is connected to the amp by normal speaker wire.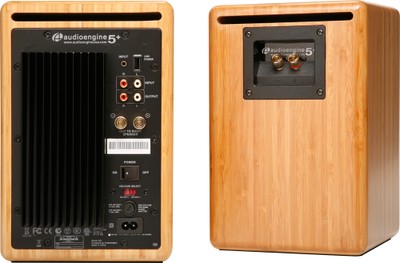 You can easily connect your computer to the 3.5mm stereo mini-jack or the red/white RCA connections. The speakers are rear ported from a slot port near the top of the speakers. There are red/white RCA (full-range, adjustable) outputs as well as a USB Type A connection for power/charging, a potentially useful add-on.
Flipping the speakers around, you'll notice a 20mm (.79") silk-dome tweeter with neodymium magnets. The 5" Kevlar woofers should provide plenty of bass. The speakers are rated down to 50Hz which Audioengine claims "the low end from the A5+ is real bass, very near to the originally-recorded music." The cabinets are crafted out of 1" thick MDF and finished in Satin Black, Hi-Gloss White, or Solid Carbonized Bamboo. Audioengine has also conveniently located the volume on the front of the left speaker rather than on the back.
If you are wondering what the difference are from the A5 to the A5+, Audioengine was nice enough to list them for you:
advance tuned cabinet with rear-ported waveguide

improved thermal management

upgraded speaker connector binding posts

remote control

variable preamp line out

RCA and mini-jack inputs

new stand-mount 1/4" threaded inserts
The 1/4" threaded inserts are located on the bottom of the speaker and are a nice feature. An office can be a much more active area than a home theater. It is far too easy to knock over a speaker on a stand when trying to plug in a new piece of gear or device. The A5+ speakers are a space-saving 7" wide by 7.75" deep giving you big sound in a reasonably sized box.
The rear port on the A5+ speakers is a bit concerning as office speakers often are placed near a wall. A front port would have been preferable. Also, there is no way to adjust the balance from the amp. While speakers on a desk are usually placed equidistant from the listener, it isn't always the case. We'd prefer if they each had individual volume controls or if there was a balance knob. Lastly, while we understand that you can use the 3.5mm connection for your iDevice and the USB port to charge at the same time, it seems like the next version of these speakers should allow a direct USB connection.
Conclusion
There is no doubt that the Audioengine A5+ speakers are going to be a hit. At $400, you are getting a lot of speaker for not a lot of money. With other speakers available offering a fraction of the performance and convenience for near the same amount of money, we can't see why you wouldn't put these on your short list. Multiple connections, the ability to charge your USB powered devices, and a front mounted volume control makes the A5+ very attractive. Add to that 1" MDF construction, a 22mm soft-dome tweeter paired with a 5" Kevlar woofer, and a response down to 50Hz and the A5+ hits all the right notes. Including a threaded insert to connect them directly to stands for safety means desk space isn't even a concern any longer.
For more information, please visit www.audioengineusa.com.

Confused about what AV Gear to buy or how to set it up? Join our Exclusive Audioholics E-Book Membership Program!
Recent Forum Posts:
agarwalro posts on November 18, 2012 17:59
In the junkyard of "lifestyle" products, these seem half decent for the price. The natural bamboo version certainly looks the part.

I wonder how they compare to similar offerings like, NHT SuperZero powered, Audessy Lower East Side, Emotiva Airmotive 4, and stack up against a proper Active Studio Monitors from JBL, KRK, Behringer, Adam, etc.
Valicious posts on November 18, 2012 06:28
These look awesome
bikemig posts on November 10, 2012 14:13
I just picked up a pair of open box audioengine A-5+ at a deep, deep discount from Vanns. I was going to buy a mini stereo system for my office originally but then I found the A5+ speakers on sale and bought them on an impulse. I am using them with the HRT music streamer II dac and my computer as a source. I have a decent sized office (around 15' by 24') and the speakers do a great job of filling up the room with music. Plus they go down reasonably deep for bookshelf speakers so I don't feel like I need or want a sub. And they look sharp.

The A5+ speakers are very forgiving in terms of room placement (I have them sitting on a shelf but pulled reasonably far off the back wall) and so will work well in different environments. They will not work well, though, I think, in a nearfield set up.
Post Reply