BenQ W1500 Wireless Projector Preview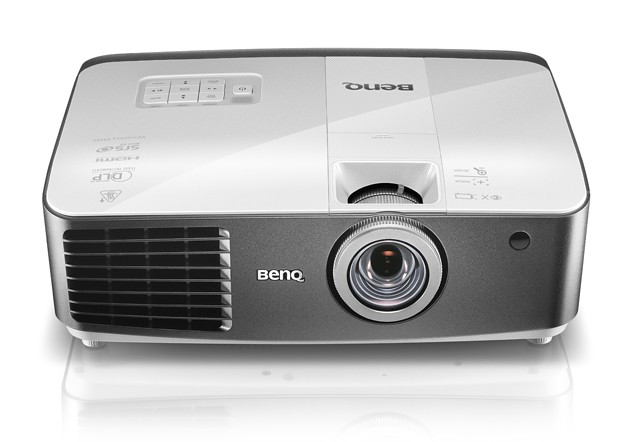 BenQ W1500 Wireless Projector
Summary
Projection System Single 0.65' DC3 DLP DMD
Native Resolution 1080p (1920 x 1080)
Brightness* 2200 ANSI lumens
Contrast Ratio 10000:1
Display Color 1.07 Billion Colors
Lens F=2.45-3.07 , f=15.78-25.12mm
Aspect Ratio Native 16:9 (5 aspect ratio selectable)
Throw Ratio 1.07-1.71 (84"@2M)
Image Size (Diagonal) 40"-300"
Zoom Ratio 1.6:1
Lamp Type 240W
Lamp (Normal/Economic Mode)* 3500/5000/6000 hours
Keystone Adjustment 1D, Vertical ± 10 degrees
Projection Offset 110%~130%
Resolution Support up to WUXGA
Horizontal Frequency 15K-102KHz
Vertical Scan Rate 23-120Hz
Lens Shift Vertical 110%-130%±5%
Interface Computer in (D-sub 15pin) x 1
HDMI (v1.4a) x 2
Composite Video in (RCA) x 1
S-Video in (Mini DIN 4pin) x 1
Component Video in x 1
Audio in (Mini Jack) x 1
Audio L/R in (RCA) x 1
Audio out (Mini Jack) x 1
DC 12V Trigger (3.5mm Jack) x 1
Audio L/R in (RCA) x 1
Speaker 10W x 2
RS232 (DB-9pin) x 1
HDTV Compatibility 480i, 480p, 576i, 567p, 720p, 1080i, 1080p
Video Compatibility NTSC, PAL, SECAM, SDTV(480i/576i),
EDTV (480p/576p, HDTV (720p, 1080i/p 60Hz)
Accessories (Standard) Remote Control w/ Battery (full type, RCV011)
Carry bag
Power Cord (by region)
User Manual CD (24L)
Quick Start Guide (28L)
Warranty Card (by region)
Lens cover
VGA (D-sub 15pin) Cable
WHDI Wireless Dongle Kit box
Accessories (Optional) 3D Glasses P/N: 5J.J7K25.011
Spare Lamp Kit P/N: 5J.J9E05.001
Ceiling Mounting Kit P/N: 5J.J4N10.001
3D Support and Compatibility Frame Sequential: Up to 480i
Frame Packing: Up to 24 Hz 1080p
Side by Side: Up to 60Hz 1080i
Top Bottom: Up to 24Hz 1080p
It is easy to convince people of the value of a projector. For the same (or similar) price as a large flatscreen TV, a projector will provide two or three times the image size. That's just simple math. Now, add to that the other things projectors bring to the table. Projectors have the sort of wow factor that really elevates a home theater. Many would argue that a home theater isn't a theater at all until a projector is present. Before that, it is just a TV room.
But the inevitable problem you run into with projectors is wiring. Getting power is one thing. Many can figure that out. But it is the dreaded HDMI cable that really stumps most. For convenience, most people put their gear near the front of the room - where the TV usually lives. Take that projector and place it at the back of the room and suddenly you're looking at a very long HDMI run. It is either that or move the gear to the back of the room and, of course, you run into having to get your speaker cables for three different speakers (at least) back to the front of the room.
It is a dilemma. BenQ has come up with a solution. 
The BenQ W1500 is the first projector to come equipped with WHDI. Wireless Home Digital Interface is a wireless solution that operates over the 5GHz band to send high definition content. This isn't some scaled down "technically we can call it HD" content. This is full, uncompressed, Blu-ray quality 1080p and 3D. The WHDI solution isn't line of sight and isn't short range either. The BenQ W1500 can be placed up to 65 feet from the transmitter!

The BenQ W1500 isn't limited to a wireless connection. It has two HDMI inputs, PC, component, s-video, and composite video inputs. The BenQ W1500 has built-in speakers for use on the go (though we don't really see much of that happening to be honest) and has RCA analogue and a 3.5mm audio inputs, and even an audio out (mini-jack). There is a mini-USB input though we don't know if that can be used for streaming content or if it is just for firmware updates. For installers, RS-232 is available as is a 12 volt trigger.
The BenQ W1500 has a DLP solution with 2200 ANSI lumens, Rec. 709 color gamut, and DarkChip3 DLP technology. It brags a six-segment color wheel with a claimed 1 billion colors with their Colorific solution. BenQ has included their new SmartEco technology for longer lamp life. SmartEco has a number of ways to stretch the lamp life out to a maximum of 6,000 hours. It automatically adjusts lamp power based on input content, providing optimal contrast and brightness output while saving energy. If you enable the "Eco Blank" mode, the projector blanks out the screen whenever projection isn't needed, saving up to 70 percent of lamp power while a "No Source Detected" mode automatically lowers brightness to 30 percent when no display has been detected for more than three minutes.
If you want to spring for the 3D glasses (optional and active), the BenQ W1500 has NVDIA 3DTV play and 2D to 3D conversion. It has vertical lens shift (but no horizontal), 1.6x zoom, and a short-throw ratio of 84" at 6 feet. The W1500 is ISFccc-certified and has two preset ISF modes - Night and Day. 
The BenQ press release on the W1500 suggests that the projector supports wireless connectivity to any mobile device. We searched their manual but couldn't find any reference to how or if this works. There are no streaming options and Lord knows if it could connect to the Internet it would be able to stream Netflix. Everything else does. We'll be curious to see how this works when the projector starts shipping.
Conclusion
The BenQ W1500 has a ton of features. With a wireless high definition streaming solution, 3D, ISF certification, 6000 hour lamp life, and much more, there is a lot to like here. At $2300, there better be. While it might be cheaper to buy a similarly featured projector and hire someone to run wires for you, that may not be possible for many. The only thing we can find left off the feature list is horizontal lens shift. For many, that's not even close to a deal breaker and the WHDI wireless streaming more than makes up for it. If you need a wireless projector, the BenQ W1500 should be on your list. We can't wait to see how well it performs.
For more information, please visit www.benq.us.

Unless otherwise indicated, this is a preview article for the featured product. A formal review may or may not follow in the future.