Atlona Technologies HDAiR USB to HDMI Wirelessly Preview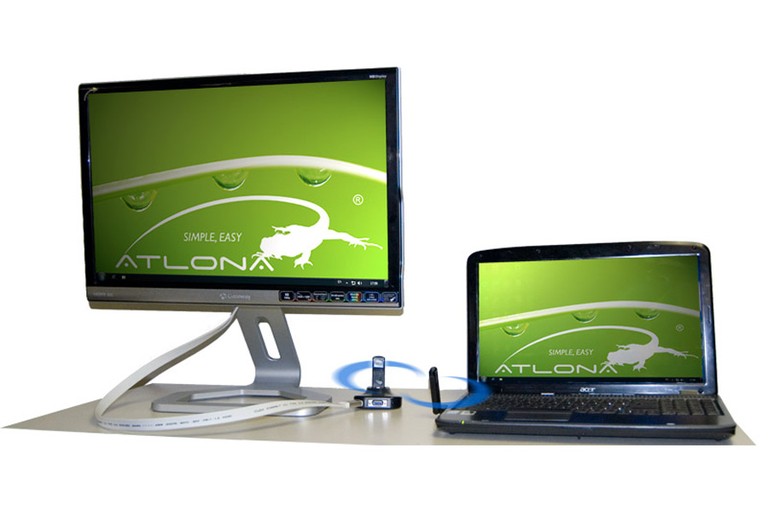 Atlona Technologies HDAiR
Summary
HD TV or Projector Compatible
High Resolutions up to 1440x1050 or 720p
Extend computer from the display up to 30ft (10m)
Capable of Mirroring or Extending Display, Atlona suggests to use Extended mode for video playback
Standard and wide-screen aspect ratios (4:3 or 16:9)
Full room coverage with line of site and non-line of site
VGA & HDMI connectivity (DVI with additional adapter), both outputs are active at the same time to provide signal to up to 2 displays simultaneously
32-bit True Color depth for high quality images
Compatible with Windows Vista and XP
Quick and easy installation
Executive Overview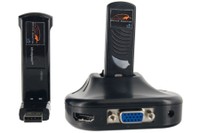 People are trying more and more to figure out ways of getting new and interesting features without having to completely upgrade their gear. In economic times like these, you can't help but be reluctant to spend money but that doesn't stop you from wanting new features. As more and more devices are coming equipped with networking ability or ability to stream particular services, many out there are tempted to upgrade. But when you've just purchased a Blu-ray player or display, you can't really justify a new purchase just for Netflix streaming. So what is an Audioholic to do?
Atlona Technologies is introducing a product that may help you out without breaking the bank. The HDAiR is a wireless USB to HDMI or VGA adapter designed to bring your computer content directly to your home theater without the hassle of wires. The HDAiR is capable of transmitting up to 720p resolutions 30 ft via a UWB signal. UWB (short for Ultra Wide Band) is a radio technology that is useful for short-range high-bandwidth communications by using a large portion of the radio spectrum. This type of wireless signal is much less susceptible to interference that your more traditional wireless solutions. While 30 feet is the maximum range of the HDAiR, expect things such as walls, interference, and other factors to play a roll in actual performance.
What you will need to take advantage of the HDAiR is a XP or Vista PC (no Mac support), a USB 2.0 port, 512mb of ram, a Pentium 4 processor, and 30 megabytes of free disk space. The transmitter plugs into your PC with the receiver near your display or projector (though there is no reason you couldn't plug it into a receiver). You have HDMI or VGA output options with the Atlona Tech HDAiR though understand that HDMI audio is not supported. This seriously hampers the device's functionality at this time. What we basically have is a device that is very useful for getting picture from your PC to your home theater without wires. Unfortunately you'll need some sort of wired connection if you want sound.
The most obvious application of this device is in a professional setting for presentation purposes. As both HDMI and VGA ports are active simultaneously, you could theoretically feed two different displays at the same time. In an HTPC setup where you are using either a laptop or an older PC (not too old with the system requirements) you could maybe use this if conditions were just right. This would be especially useful when you had a PC without a high resolution output (who really wants to run a VGA cable to their projector) or a laptop that you wanted to be able to insert and take out of your system with ease. At $200, it may be cheaper to just run the cable but for those that don't want to (or can't), it's a possible solution.
Conclusion
While the HDAiR is really built for professional settings, we are only an audio feed away from a killer home theater app. At $200, we only really see this device useful if you have very specific requirements. Personally, Atlona's commitment to bringing more UWB devices to the market is encouraging and we hope to see something similar (with audio and 1080p support) in the near future.
For more information, please visit www.atlona.com.

Unless otherwise indicated, this is a preview article for the featured product. A formal review may or may not follow in the future.
Confused about what AV Gear to buy or how to set it up? Join our Exclusive Audioholics E-Book Membership Program!