Boston Acoustics MicroSystem CD Review
Boston Acoustics MicroSystem CD Review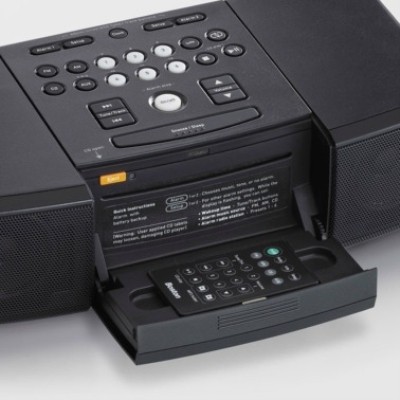 Boston Acoustics MicroSystem CD
Features:
Legendary Boston Sound quality with unique BassTrac® circuitry
High-sensitivity digital tuner locks in distant AM and FM stations
For your convenience, the MicroSystem CD can be operated either by its credit card size remote or the simple controls on top
12 FM and 12 AM presets
Slot-loading CD player
CD, MP3, WMA, and CD-R playback
Three auxiliary inputs, including a front-panel jack ideal for iPod or other MP3 players
Two easy-to-use alarms can be set to music, beeper, or both
Stereo headphone jack
Easy-to-read display automatically dims in dark environments
Illuminated on/off button
Battery backup saves presets and alarm settings
Alarm operates even in a power failure, so you'll never miss the big meeting
Go to sleep to one station and wake up to another
Wake up to CD
Dimensions:
4.5 x 14 x 8.5" (113.9 x 355 x 216.8mm)
Weight:
Finishes:
Pros
Sounds great for its size
Lots of bass
Fills up a room with sound
Tons of alarm options
Multiple inputs for connecting additional devices
Selectable output configuration for different applications
Cons
Pricey
Refuses to let you sleep in
Tiny sweet spot for stereo imaging
Introduction
When one gets used to great audio, it is hard to stomach little else. After spending thousands on a home theater setup, a two channel rig, a decent pair of cans (headphones) and a headphone amp… well, perhaps your finely tuned ears are just too delicate for a simple Wal-Mart special clock radio. You need something a little more… refined. The Boston Acoustics MicroSystem CD is much more than just a clock radio, this unit purposes to be able to take "tabletop performance to the next level, with big, rich sound you never thought possible in a system this size." Gee, I think I've heard this one before… but where? Hmm… Well, we'll deal with that later. What is most important here is 1) how it sounds, 2) How it looks and 3) how well it works.

muellerguy posts on January 02, 2008 17:25
Boston acoustics microsystem cd Problem with storing radio presets

I'm having difficulty storing radio stations into 7 thru to 12 using the buttons on the unit. The instructions say to tap twice on 1 thru 6 holding on the second tap to store desired stations. Maybe it's me but it doesn't work using the buttons on the main unit but it does work using the remote buttons.
Has anyone else had the same problem or is it something I'm doing wrong when pressing the buttons?

Thanks
fmw posts on January 01, 2008 10:22
I agree with Stratman. One Wave radio was more than I ever thought the market needed. I never listen to music in bed and I haven't used an alarm clock in the past 25 years. To me it is a solution looking for a problem. Since the Wave radio has been successful, however, not everyone feels like I do.
muellerguy posts on January 01, 2008 09:41
Jvc FS 7000 vs Boston Acoustics microsystem cd

Yes it was a JVC FS 7000 and yes the cd lid on mine also needed assistance, the odd time, to open. I've been told that was a common problem.The cd player eventually failed and the unit developed a few other problems so I sold it as is on Ebay . Then my search began for a replacement so after an extensive search and reading reviews I purchased the Boston.
Since my last post I've had a few more days to explore and test out the Boston and I must admit it's impressive. The display dimmer problem is actually working out to be a plus for me since it allows me to manually set the display bright or dim. Since it's in a bedroom it's kept always dimmed. The sound quality is stunning and I'm presently running a cd changer and double cassette player through it.
Being able to detach the speaker grills is a nice feature to allow cleaning the dust off the speakers if needed.
Of course I'm still waiting for a reply from BA USA addressing the issues I've stated in my previous post. The Canadian BA distributor has been very quick with replies and helpful plus they let me speak to their tech who told me how to perform an easy to do systems check and reset.I would suggest that BA owners find out how to perform these before returning it or having it serviced.
My present opinion is the JVC was better in certain regards but I'm becoming more and more attached to the BA and what it can do so the verdict is still out which one's the best.
Seth=L posts on December 30, 2007 14:10
muellerguy, post: 349586
It sounds good but not as good as a JVC FX7000 micro system I previously owned.

You mean the JVC FS-7000?
Those systems are very nice, I really liked mine. Unfortunately it had a few of its own problems. The mechanical CD drawer had some issues getting open and required I help it up most of the time.
muellerguy posts on December 30, 2007 13:49
Boston Acoustics Micro cd

Retailing at $600 cad I expected much more. New out the box mine was defective. The auto display dimmer doesn't work. Boston Acoustics(I called them) tells me some of the latest units have this defect so mine isn't the unusual lemon. Where's quality control? For this money every unit should perform 100%. Also the Aux 3 and Headphone jack line levels are so low I have to crank the volume to 50 in order to have acceptable volume.I'm waiting to hear from a tech to see if this also a defect or can be adjusted.
It sounds good but not as good as a JVC FX7000 micro system I previously owned.
No toll free # for BA and online support hasn't yet responded to my questions.
I was given a 30 day trial period plus a hefty price discount/refund after I told the dealer I bought it from about the dimmer problem but I'm still not convinced it's worth keeping.I have 27days to decide.
Polk Audio's microsystem appears to be a better buy with more features though it's $100 more.
The pros….it's not cheap looking, good compact size , great bass and I like the function buttons on both the unit and remote. The cds I've tried all play without problems and the aux 1& 2 inputs work well. FM stations are easily received even with the supplied wire antenna.
Despite the problems it's still a very high quality unit which I'd recommend to those who need a compact unit and are fussy about sound .
Post Reply
Confused about what AV Gear to buy or how to set it up? Join our Exclusive Audioholics E-Book Membership Program!