Yamaha RX-A3010 9.2 AVENTAGE Receiver Preview

Yamaha RX-A3010 AVENTAGE Receiver
Summary
Extensive Connection
Multi-Channel Input
8ch
Amplifier Section
Rated Output Power (20Hz-20kHz, 2ch driven)
150W (8ohms, 0.06% THD) x 9 channels

Surround Sound Processing
Compressed Music Enhancer
Yes
SILENT CINEMA / Virtual CINEMA DSP
Yes
Dolby Pro Logic IIx
Yes
Audio Features
Bi-amp capability
Yes
192kHz/24-bit DACs for all channels
Yes (Burr-Brown)
Video Features
Component upconversion
Yes
Extensive Connection
HDMI Input/Output
8 (front 1) / 2 (Simultaneous)
Network Port
Access to Pandora, Rhapsody, SIRIUS Internet Radio, Napster and vTuner Internet Radio services. Also DLNA 1.5 and Win 7 Compatible.
Front AV Input
HDMI, USB, Analog Audio, Optical, Composite and S-video
Digital Audio Input/Output: Optical
4 (front 1) / 1
Component Video Input/Output
4 / 1
Preout
11.2ch
Headphone Output
1
Amplifier Section
Rated Output Power (1kHz, 2ch driven)
165W (8ohms, 0.9% THD)
Dynamic Power per Channel (8/6/4/2 ohms)
175/220/295/410 W
Surround Sound Processing
Virtual Presence Speaker
Yes
Dolby TrueHD
Yes
DTS-HD Master Audio
Yes
Audio Features
Adaptive DRC (Dynamic Range Control)
Yes
Video Features
HDMI 3D passthrough
Yes
HDMI upscaling
Yes (Analog to HDMI / HDMI to HDMI)
Extensive Connection
HDMI CEC
Yes (SCENE, Device control)
USB Input
iPod/iPhone, USB Memory, Portable Audio Player
Dock Port
1 (for optional YDS-12, YID-W10 or YBA-10)
Digital Audio Input/Output: Coaxial
3 / 0
Analog Audio Input/Output
10 (front 1) / 1
Composite Video Input/Output
5 (front 1) / 1
Tuner Section
FM/AM Tuner
Yes
SIRIUS Satellite Radio Ready
Yes
User Interface
On-screen display
Advanced Graphical User Interface with Status
Amplifier Section
Channel
9.2
Surround Sound Processing
CINEMA DSP
Yes (HD3)
DSP Programs
23
Dialogue Lift
Yes
Dolby Digital Plus
Yes
Audio Features
Pure Direct
Yes
Initial Volume & Maximum Volume Setting
Yes
Audio Delay
Yes (0-250 ms)
Video Features
HDMI Audio Return Channel
Yes
Deep Color/x.v.Color/24Hz Refresh Rate /Auto Lip-Sync
Yes
User Interface
SCENE
SCENE PLUS (12 sets)
iPhone App Control
Yes
Web Browser Control
Yes
Remote Control Unit
Yes (Preset, Learning, Macro, LED Back Light)
Zone Control
Zone 2 Audio Output
Preout
Powered Zone
Zone 2/3 (Zone 4 Optical)
+12V Trigger Output
2
Remote (IR) Input/Output
2 / 2
General
Dimensions (W x H x D)
17-1/8" x 7-1/2" x 18-3/8"
Weight
40.1 lbs.
Standby Power Consumption (IR only)
0.3 W
Audio Features
YPAO multi-point measurement
Yes with RSC (Reflected Sound Control) and Angle measurement
A.R.T. Wedge
Yes
Video Features
Video adjustment
Yes with variable parameters
Extensive Connection
Phono Input
Yes
S-Video Input/Output
5 (front 1) / 1
Tuner Section
HD Radio Compatibility
Yes
User Interface
Sub Remote Control Unit
Yes
Zone Control
Zone 3 Audio Output
Preout
Zone 4 Audio Output
Optical Output
Zone Video Output
Component/S/Composite
Zone GUI
Yes
RS-232C Interface
Yes
Party Mode
Yes
General
Auto Power Down
Yes
Shipping Dimensions (W x H x D)
21-3/8" x 11-3/4" x 22-1/8"
Shipping Weight (lbs.)
47.4 lbs.
Executive Overview
The new AVENTAGE line of receivers from Yamaha have been getting a lot of attention of late. Sure, new lines always grab attention but, in the case of the AVENTAGE line, it is well deserved. We're seeing some very exciting features at some pretty remarkable price points. The new RX-A3010 adds only $100 to the MSRP of the RX-A3000 (check out our video review) but you get some significant upgrades. In fact, if you look at the (now getting long in the tooth) RX-Z11 receiver, aside from a couple of amps, the RX-A3010 has almost the same features. Of course, the RX-Z11 retails for $5500 (rather than the $2000 of the RX-A3010). What a difference a couple of years make, huh?
First, let's start off with the basics. The Yamaha RX-A3010 is a 9.2 channel receiver sporting 150 watts 20Hz-20kHz (2ch driven).   The RX-A3010 power rating is up 10wpc compared to the RX-A3000 likely due to the larger power supply needed to power the extra two channels.  That's right, The RX-A3010 has two more powered channels than the RX-A3000 and, most would agree, the extra amps alone justify the price increase. This is especially true since you can now do a full 9.2 system using just one box or power a 7.2 system and feed a zone2 pair of speakers simultaneously.  The Yamaha sports A.R.T. (Anti-Resonance Technology) Wedge and symmetrical power amplifier layout. The A.R.T. is a fifth foot designed to dampen vibrations from the power transformer, power transistors, and heat sinks as well as vibrations that might be caused by the connected loudspeakers. The symmetrical power amp layout places the amp boards and heat sinks on the sides of the receiver case with the transformer in the center. This both physically and electrically separates the left and right channels. Perhaps it would make sense to also put the center amp between the two as well, but that isn't the case. The RX-A3010 has eight HDMI 1.4a inputs and two (simultaneous) outputs (only one supports Audio Return Channel, both support 3D). One of those inputs is front-mounted for easy integration of transient gear (like your buddy's HD camcorder or your kid's friend's Xbox).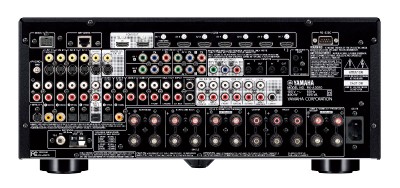 As you can see, the back of the RX-A3010 is quite busy. There are two extra pairs of five-way binding posts for easy configuration switching without rewiring. There are analogue outputs for 11.2 channels (front and back subs are specified, as are rear and front presence channels). Analogue inputs are also included for integrating legacy gear (7.1). The RX-A3010 supports up to four zones of audio (preouts for all except Zone 4 which is digital optical only). There is even video output to one zone (composite/S-video/component). A secondary remote is included for these zones. There are a slew of composite/S-video and four component video inputs along with tons of digital and analogue audio inputs.
The RX-A3010 will upconvert all your analogue video signals to HDMI, plus it will scale them to 1080p using its HQV Vida chipset. This chipset supports not only SD scaling but also HD (HDMI to HDMI) allowing you to take the less-than-stellar picture from your less-than-stellar cable box and make it look as good as possible. All the latest HD audio codecs are supported, though you won't see the height/width speaker solutions that other receivers might have. That's because Yamaha has been doing "Presence" speakers (and doing them well) long before any one else. Their proprietary solution now supports both front and rear presence channels.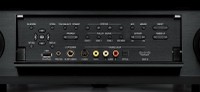 Networking is practically mandatory these days and the Yamaha RX-A3010 has it in spades. It is 'Made for iPhone' certified and can be controlled from an app (an Android app is on the way and should be ready when this receiver ships in September). There is a front USB port (under the cover) for connecting your iDevice, USB drive, or MP3 player. The RX-A3010 is DLNA 1.5 and Window 7 certified and can stream Pandora, Rhapsody, SIRIUS Internet Radio, Napster and vTuner Internet Radio services, and files off your networked devices. The only streaming feature that is really missing here is Apple's AirPlay. It does, however, have an HD radio tuner with iTunes tagging.
For room correction, Yamaha has included their proprietary YPAO solution with the new R.S.C. upgrade. R.S.C. (Reflected Sound Control) is obviously a byproduct of their hugely successful surround-bar products. It allows the room correction to control reflected sound and even measure speaker angle. In this way, you can correct for speakers that aren't lined up parallel with each other along side and rear walls. The RX-A3010 weighs in at 40.1 lbs (2.6 lbs heavier than the RX-A3000) and measures 17-1/8" x 7-1/2" x 18-3/8" (about the same size as the former model except about 1.5" deeper). It has a industry-leading low stand-by power consumption (<0.3W) and only consumes 2W in HDMI Standby Pass-through mode (which allows you to switch HDMI inputs and pass audio/video while the receiver's amplifiers are off). It has an Auto Power Down function with 4, 6, 8, or 12 hours settings.
Conclusion
Is this the receiver to beat all receivers? That's unclear at this point. We won't know until we do our next receiver comparison article. If Yamaha had included Apple's AirPlay, we probably couldn't have thought of a feature that they could have included that they should have (excluding stuff like Audyssey and ProLogic IIz which they'll never use). This is the sort of receiver that you can grow old with. Just like the RX-Z11, when you buy this, you may be tempted to upgrade in a few years, but you certainly won't need to. At under $2000, that's pretty awesome bang for your buck in our opinion.
For more information, please visit www.yamaha.com.
You can pre-order the Yamaha RX-A3010 at the Audioholics Store among other places.

Unless otherwise indicated, this is a preview article for the featured product. A formal review may or may not follow in the future.
Rowdy S13 posts on May 20, 2012 14:17
I have to agree that my only "complaint" about this receiver is the single HDMI out. Very surprising to see that there is no ability to output two different HDMI signals to two zones. I don't think that is a deal breaker for me, but it makes me keep looking at others for sure. If they had this feature, it would be no question on where I would spend my money.

I have been bouncing around between the top three Yamaha's for a while now (RX-A1010, 2010, and 3010) and I leaning heavy to the RX-A2010. However, I want to buy a receiver (especially if I am spending this much money) that is as future proof as possible. When I bought my last receiver I made the mistake of jumping the gun and not making sure it had the features important to me. I have regretted it (in some ways) ever since. While it is still a great receiver it is really just an amplifier at this point. Because of that when I get my next one, I want to try and get EVERYTHING I think I will need to last me a long time.

So no separate HDMI out to a second zone just kind of bugs me. I cant say I have an immediate need for video in a second zone, let alone having to have it come over HDMI. It is just something that is a little hard to get past for some reason. In reality I think I could pick any of the three and be prerfectly happy for a LONG time though. I would like to see a proper review of the 1010 and the 2010 though

Sean
Bryceo posts on May 19, 2012 23:50
Verey good amps do need to be bench tested we allready know it's good it has a Yamaha badge
steveproxy04 posts on May 19, 2012 10:08
If you evaluate Yamaha and HK AVRs in the same budget you will find that in common Yamaha versions have healthier amplifiers while their materials are more or less equivalent. I certainly observed small information never observed before. Stumbled across several website for review lately found recommendable review OnAudio Solutions website and of course on audioholics.
ichigo posts on December 20, 2011 05:05
Now that we have a 1010 review, let's hope for a 3010 review
Downtowner posts on December 19, 2011 10:15
Big fan of YPAO

It all comes down to the sound. For my ears, YPAO has it all over the big-name room correction algorithms. To me it improves the clarity and richness of the sound without adding any kind of character or color. Yamaha understands their philosophy and integrates it beautifully into their hardware. This is a very exciting time to be a receiver-holic!
Post Reply
Confused about what AV Gear to buy or how to set it up? Join our Exclusive Audioholics E-Book Membership Program!