Rotel RSX-1560 Surround Sound Receiver Preview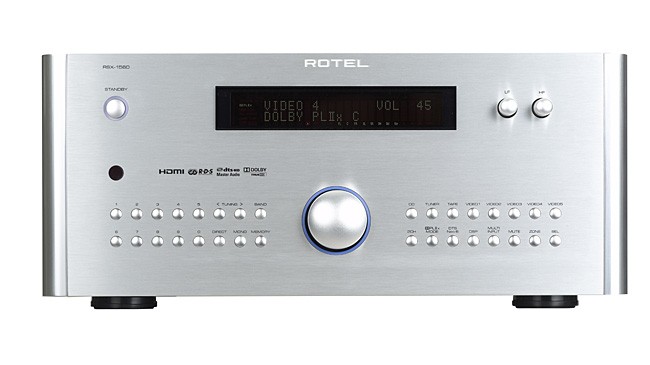 Rotel RSX-1560
Summary
Power Output
All channels driven
100 watts x 7/ch (20-20kHz, <0.03% THD, 8 ohms)
200 watts x 7/ch (20-20kHz, <0.03% THD, 4 ohms)
THD (20-20,000Hz) 8 ohms, all channels driven
<0.9%
IM Distortion
<0.5%
Analog Bypass
95 dB
Digital Input
92 dB
Input Sens./Impedance
Line Level : 200 mV/100k ohms
Contour (LF/HF)
+/- 6 dB at 50 Hz / 15 kHz
Preamp Output Levels
1.0V / 1K ohm
Decodable Digital Input Signal
Dolby Digital, Dolby Digital EX, Dolby Pro Logic IIX, DTS, DTS_ES, DTS96/24, LPCM (up to 192k), Dolby TrueHD and DTS HD Master Audio
Frequency Response
3 Hz - 10 MHz, +/-3 dB (Composite, S-Video)
3 Hz - 100 MHz, +/-3 dB (Component Video)
S/N Ratio
45 dB
Input Impedance
75 ohms
Output Impedance
75 ohms
Output Level
1.0 Volt
Usable Sensitivity
14.2 dBf
Signal/Noise Ratio (at 65dBf)
70dBf
Harmonic Distortion (at 65dBf)
0.03%
Stereo Separation (1 Hz)
45 dB
Output Level
1 V
Antenna Input
75 ohms unbalanced
Sensitivity
500 uV/m
Signal to Noise Ratio
40dB
Output Level
500 mV
Antenna Input
Loop Antenna
Power Consumption
450 watts
100 watts, Idling
4.7 watts, standby
Power Requirements USA
115 volts, 60 Hz
Power Requirements CE
230 volts, 50 Hz
Dimensions (W x H x D) mm
431 x 163 x 435 mm
Dimensions (W x H x D) in.
17" x 7-3/8" x 16-5/8 in.
Weight (net)
17 kg / 38 lbs.
Front Panel Height
150 mm / 5.9 in.
Executive Overview
There are a lot of people out there that are huge Rotel fans. They have a reputation for high end quality at the bottom range of high end prices. When one is looking to get into esoterica, this is often their entry-level purchase. Aesthetics alone push the Rotel offerings above the likes of the larger receiver manufacturers. One place where smaller manufacturers usually fall behind is in keeping up with the latest technology. While the Denons, and Yamahas of the world can put out a new receiver every 9-12 months, brands like Rotel have to make sure when they upgrade, they are building a product they can stand behind for a long time. Enter the RSX-1560 Surround Sound Receiver.
The Rotel RSX-1560 certainly has a lot of bells and whistles for a more esoteric brand. To start with, as has been the case with recent Rotel offerings, the amps are of a Class D design. Class D, often mislabeled "Digital" amps, offer very efficient power in a very small package. Popularized by Bang & Olufsen, the Class D amps used in the RSX-1560 are a heavily modified version (dubbed "audiophile quality") and push 100 watts into 8 ohms or 200 watts into 4 ohms x 7 channels (all channels driven). Rotel is known for their amps and they have been putting out both B&O powered Class D amps as well as those with their own design for a couple of years now.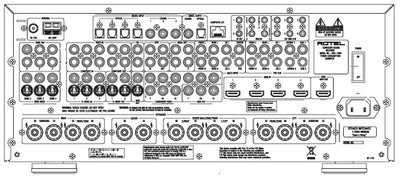 The Rotel RSX-1560 has four HDMI inputs and one output all of which are HDMI 1.3a. The receiver can internally decode all the major audio formats including the newest HD ones like Dolby TrueHD and DTS HD Master Audio. Video processing has not be left out with Faroudja handling the duties. This centralizes your video upconversion allowing you to get the best possible picture even with older, legacy gear. The RSX-1560 is 1080p/24Hz compliant which means that with the correct sources and display, video processing can be completely sidestepped.
The RSX-1560 has seven internal channels of amplification but does give you some options. You can run a 5.1 system while assigning the two extra amps for bi-amping the main speakers or powering a second zone. In fact, the RSX-1560 has analogue stereo and either composite or s-video output for three additional zones. The receiver is really built for custom installation as it has not only a RS-232 port for home automation control but also multiple IR triggers (six) for controlling other devices.
One of the features that we liked about the Rotel RSX-1560 was that not only did it have dual subwoofer outputs but also dual center channel outputs. While you'd need amps to power the center channels, people with large screen front projection systems often find that they need to run two center channels to keep up with the (generally) larger mains. While the subwoofers and centers are not independently adjustable (dual mono output from what we can tell), it is a step in the right direction and certainly features that Rotel owners will like to see.
The only glaring downside of the Rotel RSX-1560 is the lack of balanced outputs. At $2600, the RSX-1560 definitely should support a fully balanced system especially considering users that are upgrading certainly own amps with balanced inputs. Also, there is no room correction system for the receiver - something that has become common even on entry level offerings from the larger manufacturers. For those with a large SACD collection a word of warning - the RSX-1560 does not support native SACD DSD over HDMI so you'll have to either set your DVD/ Blu-ray player to LPCM or continue to use the analogue inputs.
Conclusion
Is the Rotel RSX-1560 a perfect receiver? Well, that remains to be seen. The aesthetics certainly are nice (with either a silver or black finish and an extremely industrial design that should appeal to many), the power consumption minimal, and the feature list long. While there are a few omissions that may turn off the potential buyer, for most, we guess, the RSX-1560 will be a tempting choice. Compared to many other esoteric offerings, the RSX-1560 positively overflows with features. The question that needs to be answered is whether or not the RSX-1560 does what you need.
For more information, please visit www.rotel.com.

Confused about what AV Gear to buy or how to set it up? Join our Exclusive Audioholics E-Book Membership Program!
Recent Forum Posts:
Chatta posts on February 01, 2010 11:47
Very interesting article, regarding the Rotel RSX-1560, it provides a top-level performance while incorporating all the features you would expect from a prestigious brand, is able to fill your living room or movie with a dynamic and powerful cinematic effects.
Post Reply