iCreation speeCup Portable Bluetooth Speaker and Dock in a Cup Review
iCreation speeCup Portable Bluetooth Speaker and Dock in a Cup Review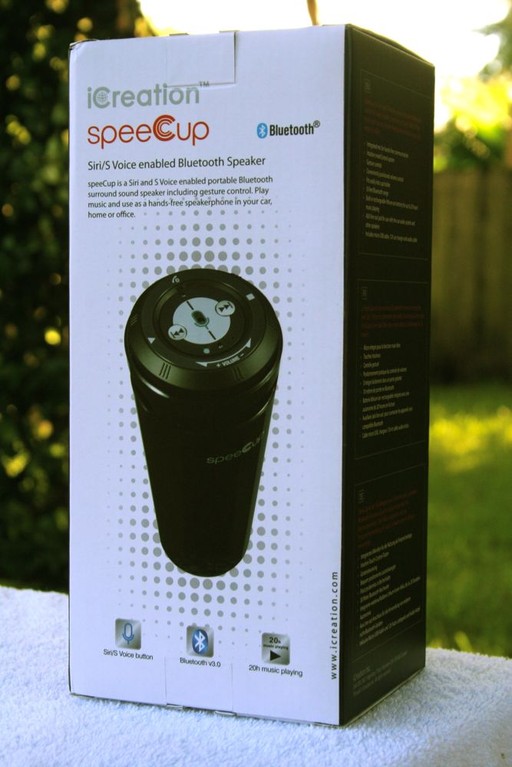 speeCup
Integrated noise canceling microphone for hands-free communication
Intuitive top mounted smartControl includes Gesture control
Bluetooth range up to 30 feet
Built-in rechargeable lithium ion battery for up to 20 hours of use
Aux line-out jack for Bluetooth streaming audio to car and home audio systems
Pros
Great Bluetooth implementation
Voice control works with Android and Siri
Aux out makes the speeCup an alternative to a Bluetooth dock
Long battery life
Cons
Mediocre sound quality
Gesture control works in theory only
Control ring too sensitive
Sensitivity to heat may reduce lifespan
iCreation speeCup Introduction
I never asked for the the iCreation speeCup. I didn't even know it existed. But, while waiting for a set of headphones to arrive for review, the marketing rep asked if I would be interested in the speeCup. Interested? Sure. But what the heck is it?
I didn't know. At the time, I didn't care. I had been waiting for a number of products for review and nothing had shown up. I needed a fix of new tech like most people need coffee in the morning. So I said, "Yeah, send it. I'll take a look at it." And then, because I'm me, I totally forgot about it.
When the speeCup showed up, I thought, "My, that looks an awful lot like a Venti Latte from Starbucks." And for this reason, and this reason alone, every comparison I make in this review will be coffee related. Let the roast begin!
speeCup First Impressions
"It's a speaker in a cup. A speeCup. Get it?" I told my wife. She didn't get it and frankly, at first, I didn't either. A speaker in a coffee cup? What are you supposed to do? Put it in your cup holder?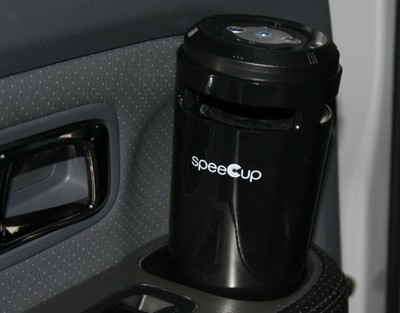 Yes. Exactly.
In an increasingly mobile world, people are looking for ways to stay moving. Drive through coffee shops, drive through doughnut shops, and portable speakers in a cup. Taking your music with you is easy - playing it back can sometimes be a chore. You don't want to use shot-glass speakers when you could have a grande. The speeCup enclosure is ported and plastic. While it is light, it seems very sturdy. It comes in three colors - coffee black, cream white, and stirrer red. The review sample came in black. 
There is an on/off switch on the bottom and all of the controls are on the top. Also on the bottom is a ring that can be used for induction charging on a base that speeCup is currently developing. On one side there are ports for power and an Aux-out plus a bass port for a little extra bass. The driver is near the top of the cup and fires upwards into a convex plate. This sort of driver setup is very common in speakers that are used to spread sound in all directions. Since the speeCup is a mono solution, this is a very apt configuration.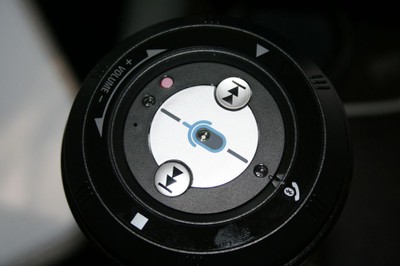 Of course, the first thing that happened when I started using the speeCup is that I dropped it. It seems to have just the right weight to ruggedness ratio that it didn't shatter and spill its guts all over the floor. I have to say I was relieved as I hadn't had much time to play with it at this point and I was thirsty to find out what it could do.
In a world full of wireless solutions, the most universal is Bluetooth. I've got phones that predate the iPhone by quite a few years with Bluetooth. If you have a wireless device, or a newer computer or laptop for that matter, you've got access to Bluetooth. PS3 controllers connect via Bluetooth. All those wireless headsets that make you look like one of the Borg collective are Bluetooth. Heck, you can even get a cup of Joe over Bluetooth. But what you normally can't get is any sort of confidence in connectivity. Bluetooth has been historically fickle and one thing that, like a coffee from a mini-mart, has a lot of promise but usually fails in the execution.
The speeCup came well packaged with a small user manual, a cigarette lighter charger for your car (do they call these cigarette lighters any more?), and a couple of cables. I was impressed at the quality of the cables. They were flat rather than round and seemed very supple. I'm used to getting the same throwaway cables with every device. These seemed to be a step up. There was a micro-USB cable for charging and a 3.5mm cable for the Aux-out. I expected the first cable, I didn't the second.

Confused about what AV Gear to buy or how to set it up? Join our Exclusive Audioholics E-Book Membership Program!
Recent Forum Posts: