Onkyo PR-SC5508 THX Certified Processor First Look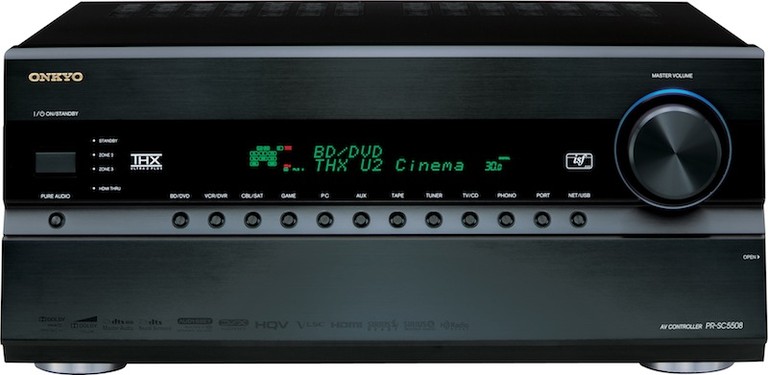 Onkyo PR-SC5508
Summary
THX® Ultra2 Plus™ Certified
DTS-HD Master Audio™, DTS-HD High Resolution Audio™, Dolby® TrueHD, and Dolby® Digital Plus Decoding
8 in/2 out HDMI™ Version 1.4a

HDMI Video Upscaling to 1080p with HQV Reon-VX
DSD Direct for Super Audio CD
Audio and 1080p Video Processing via HDMI (1 Front/7 Rear Inputs and 2 Outputs [Main/Sub])
Burr-Brown 192 kHz/32-Bit DACs (PCM1795 x 6) for All Channels
Ultra-Low-Jitter PLL (Phase Locked Loop) Circuitry to Improve Audio Quality
Three TI (Aureus™) 32-Bit DSP Chips (DA830 x 1, DA788 x 2) for Advanced Processing
VLSC™ (Vector Linear Shaping Circuitry) for All Channels
ISF (Imaging Science Foundation) Video Calibration
Network Capability for Streaming Audio Files (MP3, WMA, WMA Lossless, FLAC, WAV, Ogg Vorbis, AAC, LPCM)
Internet Radio Connectivity (Last.fm* and vTuner)
Certified with Windows 7 and DLNA Version 1.5

Audyssey DSX™ and Dolby® Pro Logic® IIz for New Surround Channels
Audyssey MultEQ XT32 to Correct Room Acoustic Problems and to Calibrate Speakers
Audyssey Dynamic Volume™ to Maintain Optimal Listening Level and Dynamic Range
Audyssey Dynamic EQ™ for Loudness Correction
Dolby® Volume for Reference-Quality Listening Experience at Any Volume
Bi-Amping Capability
Zone 2 and Zone 3 for Playback of Separate Sources in Other Rooms
Zone 2 Monitor Outputs (Component and Composite) and Zone 2/3 Subwoofer Pre Outs
D-sub (15 pin) Input for PC or Analog RGB
Universal Port for Single-Cable Connection of Optional Onkyo Dock for the iPod or HD Radio Tuner
4 DSP Modes for Gaming: Rock, Sports, Action, and RPG (Role Playing Game)
2 Independent Subwoofer Pre Outs
Executive Overview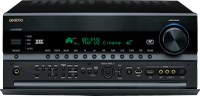 If you've been paying attention you might have known that Onkyo released a Pre/Pro in the UK about a year ago. If you wanted one here in the states, you were out of luck as it never made the jump across the pond. Your only option was to get the Integra DHC-80.1 which was similar product geared toward installers from Onkyo's sister company. We can only surmise that Onkyo didn't think we were ready for it yet. Well, apparently something has changed over at Onkyo HQ as we not only rate the import of the Pre/Pro but we're getting an upgraded version.
The PR-SC5507 was already a pretty impressive piece of machinery. The PR-SC5508 ups the ante by swapping out the HDMI 1.3a connectors for the more recent 1.4a versions ensuring compatibility with all the current 3D formats. We imagine that Audio Return Channel and CEC will be supported as well though that has not been officially announced by Onkyo yet. The other big change is from the standard Audyssey MultEQ XT room correction to the newer MultEQ XT32. The new Audyssey version includes 32x's the filter resolution plus correction for subwoofers making integrating both the supported subs much easier.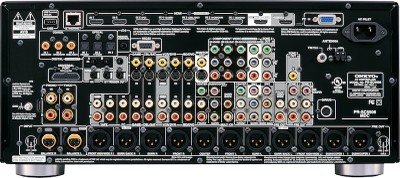 The PR-SC5508 is a flagship product so expect it to come stuffed full of features. Onkyo's budget offerings have been impressing us lately with the number and quality of the features and the PR-SC5508 is no different. To start with, it has THX-Ultra 2 Plus certification, it is network-capable, and supports 9.2 channels of audio. There are RCA and XLR outputs for all channels plus a pair of XLR inputs for integrating high quality two channel gear. There are two USB inputs (one in the front and one on the back) that support audio only. If you want to integrate the video from your iPod, you'll need to buy the extra dock and connect it to the "Universal" port. One thing we really liked seeing was not only Pre-outs for Zones 2 and 3, but dedicated subwoofer outputs for each. Zone 2 also has Component and Composite video output and there are two HDMI outputs. A front mounted HDMI input makes testing out new gear or streaming from one of many HDMI capable hand-held devices much more convenient.
You can't expect a networked receiver only to stream from your networked computers (it can easily with DLNA 1.5 and Windows 7 certification) and the PR-SC5508 doesn't disappoint. The system is configured for Pandora, Rhapsody, Mediafly, Slacker, Napster, VTuner, and Sirius Internet Radio as well as PC audio and Internet radio. If video processing is your thing, the PR-SC5508 has the top-of-the-line HQV Reon-VX chipset for 1080p upscaling plus individual ISF calibration capability for all video sources. If you've ever tried to dial in the video for more than one source, you know how important individual calibration settings can be. If not, you are forced to calibrate at the source, add a video switch, or use different inputs on your display for each source. This single feature can save you money or headaches in universal remote programing. 
While Onkyo doesn't have the full specs on their site yet, you can bet that a lot of what made the PR-SC5507 popular will stick around. Expect support for all the major audio formats including DTS-HD Master Audio, DTS-HD High Resolution Audio, Dolby TrueHD, and Dolby Digital Plus not to mention the newest DSPs such as Audyssey's DSX and Dolby's ProLogic IIz. The Burr-Brown 192 kHz/32-Bit DACs (PCM1795 x 6) for all channels will probably be around as will the Ultra-Low-Jitter PLL (Phase Locked Loop) Circuitry, the three TI (Aureus) 32-Bit DSP Chips for advanced processing, and the VLSC (Vector Linear Shaping Circuitry) for all channels.
Conclusion
Is the Onkyo PR-SC5508 the processor for you? Well, it sort of depends. While the price tag of just under $2200 is fairly reasonable in the realm of separates, it is by no means the cheapest. Does the PR-SC5508 have everything you need? Probably. As we'd expect from Onkyo, they've managed to shoehorn just about every feature on the market into this new pre/pro. The HDMI 1.4a inputs means you won't have to worry about 3D integration (at least for now), the multiple zone support including video output for Zone 2 means the processor can grow with you, and the Audyssey MultEQ XT32 room correction means you'll get the best sound you can from your speakers and room. THX Ultra 2 Plus certification, a host of network features, and both XLR and RCA outputs ensures flexibility and compatibility. We may have had to wait a year for Onkyo's pre/pro, but at least it came with a few upgrades.
For more information, please visit www.onkyousa.com.

Confused about what AV Gear to buy or how to set it up? Join our Exclusive Audioholics E-Book Membership Program!
Recent Forum Posts:
surveyor posts on June 09, 2011 06:55
I purchased the Integra DHC-80.2. It is extremely similar but with a different face or front- the back is identical. I just ordered it. I hope it performs well!

ZeGhostbear posts on March 21, 2011 18:21
tjf120, post: 801618
That is an odd strategy. I called a couple of the approved online dealers from their Onkyo USA page…no one had any in stock….
I called
Hi-Fi Heaven
where I bought mine and they have one in stock.
tjf120 posts on March 21, 2011 12:09
That is an odd strategy. I called a couple of the approved online dealers from their Onkyo USA page…no one had any in stock….
ZeGhostbear posts on March 20, 2011 22:50
tjf120, post: 801412
Are these on 'national backorder' right now? I've been looking for one, can't find one online…..
I don't think it is on backorder. Onkyo is using a more restrictive distribution channel strategy with the 5508 compared to lower models, the 3008 for example. Not sure what they are hoping this will achieve besides higher margins, but I was not able to find this through the usual online channels. I do not think this will help the brand. Almost as bad as trying to buy the sister brand Integra or Onkyo Pro. You will have to get in touch with dealers directly.
PENG posts on March 20, 2011 22:41
zildjian, post: 791515
Did anyone here ever buy one of these or look into them greatly? The back panel looks impressive. I have been hoping for a Marantz AV8005 to be announced since the AV7005 seems to have buzzing problems according to adk's experiences he's shared with us, and I'd like to have a pre-pro with balanced inputs to use with my Oppo BDP-95. I had a stereo analog only Onkyo receiver around 20 years ago. It's still in the basement somewhere! Maybe this unit would be worth reconsidering Onkyo once again.
The AV7005 is selling so well that many dealers are having hard time keeping any in stock, with that many sales within a short time frame, there bound to be some trouble reports on forums. So far I have read about a few that are related to power frequency hums. Mine is as quiet as my 4308 and my other amps. If you want balanced inputs for the Oppo 95 you could get an AV8003 now for about the same price as the AV7005. To me, unless you must use long runs of interconnects there is no benefits in using XLR connections. In fact, for some unknown reasons, every professional reviews with lab measurements show better cross talks and S/N numbers for unbalanced connections.
Post Reply