Krix Phoenix Floorstanding Speaker Review
Krix Phoenix Floorstanding Speaker Review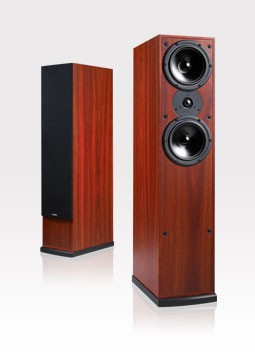 Krix Phoenix Floorstanding Speakers
Frequency Range: 35Hz - 20kHz in room response
Power Handling: Maximum 150 watts RMS amplifier power into 4 ohms
Sensitivity: 90dB for 2.83 volts at 1 metre
Configuration: Point source dual 6½ inch 2 way bi-wirable / bi-ampable
Bass Driver(s): Fibre reinforced moulded polymer baskets with 2 x 165mm (6½") doped paper cones. 25mm (1") vented magnet, voice coil wound on high temperature aluminium former
Tweeter: 28mm (1") doped fabric dome. Ferro fluid cooled. Double magnet shielded
Crossover Points: 1.9kHz
Impedance: Nominally 4 ohms
Enclosure Type: Bass reflex, rear vented with internal / external flaring
Dimensions: 935mm high x 205mm wide x 320 deep
Material: 17mm MDF, heavily braced
Finish: Vinyl or lacquered timber veneer
Volume: 39 litres internal
Weight: 19kg each
Pros
Deep bass
Small form factor for a floorstander
Wide soundstage/good off-axis response
Cons
Limited dynamic range
Bright highs
Recessed mids at normal seated position
Highest fidelity convergence too low for tradition seating
Introduction
If you've been around as long as I have, it is rare that someone mentions a major speaker manufacturer and you don't recognize their name. I'm embarrassed to admit that this was the case with Krix. Their consumer line of speakers has been slowly crossing national borders and being distributed all over the world. The new Phoenix speakers are an MTM design and retail for $1700 a pair. If you are all about the bass, the unplugged Krix will be for you. While they could shake my room, they did so at the unfortunate expense of overall fidelity and accurate music reproduction.

Confused about what AV Gear to buy or how to set it up? Join our Exclusive Audioholics E-Book Membership Program!
WmAx posts on October 28, 2008 11:35
Another 'pro', is that with that large super resonant cabinet, if you lose your bonga drums, you can simply use these as a temporary substitute.

That ever-rising treble should compensate nicely for 75+ year old men with severe hearing loss. The Krix seems to have been designed with such people in mind!

-Chris
fmw posts on October 28, 2008 08:53
I remember when krix were for kids. Maybe that was trix.
davidtwotrees posts on October 28, 2008 07:35
Nice review. Man, for 1700 clams you'd want more performance. Are these speakers geared towards rap, hip hop and bass heads in general? I'd also be interested in the BeoLab test disc………it isn't offered on the B & O website……it'd be nice to see you review the B&O speaks that the audio critic raved about, too……….
Epetrone posts on October 27, 2008 20:26
Sound of Perfection

I have read a few times where people use this CD to test thier setup. Where can I find it. I search on Yahoo does not return any results for a CD.

Thanks in advance.
gliz posts on October 27, 2008 15:20
the "cons" list is a tad long for $1700, but the look great
Post Reply