Velodyne Mic-5 Add-on Supplementary Review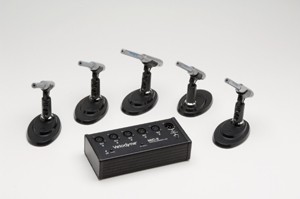 Velodyne Mic-5 Kit
The proprietary Velodyne subwoofer correction system is included in all the higher end Velodyne subs as well as a standalone unit called the SMS-1. But the SMS-1 has one major drawback – no way of taking multiple measurements in order to get a more representative response across a large area. No longer. The Mic-5 add-on allows the user to take into account multiple simultaneous measurement positions (up to five, obviously) and adjust their SMS-1 to get the smoothest bass response over a greater number of seating positions by averaging the measured response envelop.
Tom Andry posts on April 09, 2007 19:17
Yep, all it does is expand your single mic input to include multiple mics. Anything that is SMS capable (which is the system that the DD's use) can use the Mic-5.
j_garcia posts on April 09, 2007 18:32
Ahhh, I see. That is cool then. Just need to find enough friends with SMS Does it work with the DD- subs then, that have SMS built in?
Tom Andry posts on April 09, 2007 17:56
Umm.. no. The SMS-1 can't be split. The Mic-5 add-on can. If a couple of friends all have SMS-1's (or Velo DD's) and want to go in together for the Mic-5, it certainly can be used by all to calibrate for multiple seating areas.
j_garcia posts on April 09, 2007 13:26
You can't split it among friends, as you need to have it plugged in as EQ data is stored in the unit and must be installed in the system and "on" for the curve to be applied, just like the SMS.
Tom Andry posts on April 09, 2007 13:22
While cool, I'm not sure this is really for a single user - definite must for installers or if you have a couple of friends to split the cost. If you have the money, though, it is a pretty nifty little upgrade.
Post Reply