Cambridge Audio 751BD Universal 3D Blu-ray Player Preview
Cambridge Audio azur 751BD BD Player
Summary
Universal media support – Blu-ray discs (including those with 3D content),CD, HDCD, DVD-Video, DVD-Audio, Super Audio CD

Marvell QDEO video processor

Anagram Technologies Q5 192 kHZ upsampling – as featured in Cambridge Audio DacMagic

On-board decoding of lossless Dolby True HD, Dolby Digital Plus, DTS-HD Master Audio and DTS-HD High Resolution Audio in Stereo, 5.1 or 7.1 CODECs.

7.1 multi channel and dedicated Stereo analogue outputs

5 x Wolfson WM8740 24bit/192kHz DACs for superior audio performance

Choice of digital filters – linear phase/minimum phase/steep filter

Pure Audio Mode prevents any audio signal interference or degradation

1GB internal storage plus 2 x USB 2.0 and 1 x eSATA sockets for external drive connection

New simple-to-operate color OSD (On Screen Display) and set-up menus

Lightning quick power-up and loading speed

New, low energy standby circuit – consumes <0.5Watt in Standby

Supports Profile 2.0 – (BD-Live and BonusView) – Ethernet or wireless connection (supplied with 802.11 b/g/n wireless dongle)

Navigator style Azur remote which also controls:

All current, forthcoming and most legacy Cambridge Audio AVRs and Amplifiers

Discrete commands for custom install use

All metal wrap-around casework with substantially thicker front panel and an ultra rigid, acoustically dampened chassis

Fully controllable over RS232

Clear Vacuum Fluorescent Display (VFD)

Available in black or silver

3.3 x 16.9 x 12.3'' with feet
11.0lbs
Executive Overview
I've seen a lot of products come to market over my time in the AV world. Let's be honest, at this point, "jaded" might be a bit of an understatement when it comes to my attitude. Sure, I'm surprised from time to time. Those are magical moments. But they are few and far between. So, when a company releases yet another Blu-ray player, I can't help but yawn in response.
But Cambridge Audio has gotten my attention with the 751BD. This Blu-ray player seems to have many of the bells and whistles that people worried about video and audio quality are concerned with. First, let's talk about video. The 751BD has the requisite HDMI 1.4 compatible outputs and can play 3D discs. It has dual HDMI outputs to support either a display and audio separately (convenient if your receiver and projector are located far apart) or dual displays (perfect for when you have a projector for night viewing with a flatscreen for daytime). The Cambridge Audio 751BD sports Marvell QDEO (DE2750) video processing to upconvert your non-HD video to 1080p.

On the audio side, there are both 7.1 channel analogue outputs for integration with legacy receivers and stereo output for those that are just looking for a high quality stereo experience. Of course, the 751BD can decode all the latest HD audio codecs but also it is compatible with both SACD and DVD-A. There are five Wolfson WM8740 24 bit/192kHz DACs and Anagram Technologies Q5 192kHz upsampling to all ten channels. Outputs include component and composite video, optical and coaxial digital audio, and, if you believe the marketing material, an S-video output, but we believe that's a typo. I'm not seeing it on the back panel, nor is there any indication that it is on the front.
You can't do Blu-ray properly without a connection to the Internet for Profile 2.0 (BD-Live and BonusView) features. What caught my eye is not only the Ethernet connection (which everyone has) but the included wireless dongle. This 802.11 b/g/n dongle allows the 751BD to connect to your network wirelessly for not only BD features but also to stream content from any UPnP server (PC with Media 7, Apple with Twonky, EyE Connect, or NAS Drive). The player also has two USB ports (front and back) plus a e-SATA external hard-drive connection to augment its own one gigabyte internal memory. This player is clearly based on the BDP-93 (just look at the back panel) but this is most certainly not a clone. I repeat, this is NOT an Oppo BDP-93. How do we know? Well, Cambridge Audio has made some significant changes, both internally and externally. Take a look at the insides:
this (the BD751 above) is not this: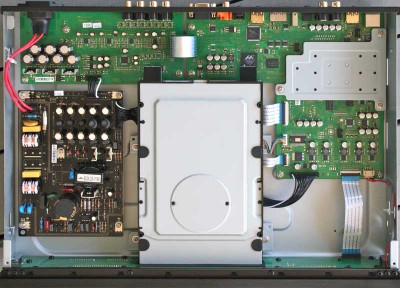 BDP-93 (note the differences in the power supply, the audio board, even the chassis)
Kudos to Cambridge Audio for modifying a decent platform and making improvements. The company is catering to its core users and appears to have really tweaked the heck out of the BDP-93 to bend it to their will. The improvements certainly LOOK impressive, and we'd bet the target demographic will claim plenty of sonic benefits as well.
What you are not seeing with the Cambridge Audio 751BD is any of the myriad of streaming services that seem to be popping up these days. They've included the Marvell QDEO scaler, as mentioned, but only on the main HDMI output (not uncommon). Whenever a new Blu-ray player comes out, they are inevitably compared to Oppo's offerings. Unlike many of the others, the Cambridge Audio holds up pretty well and differentiates itself, even though it uses the same basic platform as a starting point (and honestly, why reinvent the wheel?) It has a feature set (minus the streaming services) somewhere between the Oppo BDP-95 ($1k) and the BDP-93 ($500). The price of the Cambridge, however, is $1250, an amount that the company is undoubtedly better will be perceived as a reasonable exchange for the Cambridge name, and their particular engineering tweaks. Cambridge has a reputation for knowing its stuff - and their engineering efforts into this product should result in some tasty audio results.
Conclusion
We're sure this player is going to find an audience. While it does share some technology with players less than half its MSRP, there do seem to be plenty of upgrades (mostly on the audio, chassis, and power supply side) from the competition. The price may seem a little high for some but, since their target clients are unlikely to buy from an online-only manufacturer, that probably won't matter - and dealers will find this product a great solution to match other offerings from Cambridge. Compared to some of the "high end" universal Blu-ray players that have hit the market, the Cambridge Audio 751BD is a solid offering.
For more information, please visit www.cambridgeaudio.com.

Confused about what AV Gear to buy or how to set it up? Join our Exclusive Audioholics E-Book Membership Program!
Recent Forum Posts:
lovinthehd posts on April 04, 2017 00:16
For anyone interested in Tito's message, here's the Google translate version:

I bought this equipment Because the gringos (OPPO) tend to color the sound with a little bass, I know because I had a McIntosh that sounded very good, but when comparing the sound with the Cambridge this last sounded more pure and real, The same with the OPPO 105, they tend to color the sound, besides the guarantee and service is much better
Tito Zenteno posts on April 03, 2017 19:07
Yo compre Este equipo Por Que los gringos (OPPO) tienden a colorar el sonido con un poco de graves, lo se por que tuve un McIntosh que sonaba muy bien, pero al comparar el sonido con el Cambridge este ultimo sonaba mas puro y real, lo mismo con el OPPO 105, tienden a colorar el sonido, ademas la garantia y servicio es mucho mejor.
cpp posts on March 28, 2012 08:42
The 751BD and the Oppo are similar because they are made in the very same factory. Good read at 6Moons.
"Nobody taking a glance at the back plate or a peek inside will need to be told that this deck is built in the same factory which manufactures for Oppo, one of the biggest specialists for multi-format players. Any Internet search eventually identifies the actual manufacturing plant as Winbase. The 751BD is actually a kind of premium version of the BDP-93EU which Oppo manufactures in China. According to Adam Shaw-Cotterill, head of marketing for Cambridge Audio, all their previous DVD players and one BD were manufactured there. Later CA bought from their Chinese partner certain projects which are made on a different production line because the British company specified certain changes to Oppo's core platform. The most important of these is the large audio PCB. In the Oppo signal processing for all channels is handled by a single CS4382 chip without prior DSP. Cambridge runs individual Wolfson stereo chips for each output pair."
6moons audio reviews: Cambridge Audio 751BD
Also Oppo doesn't make the platform it comes from Mediatek from which their universal players are based ( also Midiatek provides the decoding chip MT8530HEFG, the Mediatek MT8520 SOC . Mediatek, an o.e.m company that still happens to provide Cambridge Audio it's platform. Mediatek happens to reside in Taiwan. So it appears like a lot of parts come from Mediatek and no doubt Oppo and Cambridge change a few things and then these players are assembled in China.
I've heard both players side by side and I couldn't hear the difference so I got the Oppo
PS: this player the 'Primare BD32' is pretty much the same as the Oppo and the Cambridge but cost $5000 for a different audio stage, upgraded power supplies and a few user and input functions. Just get a good NAS, a nice DAC and be done.
luka3rd posts on March 28, 2012 06:49
Power supply…?

Well, what is the difference to OPPO-93 in power supply other than Cambridge GLUED some piece of plastic over the top!? It's still switching and catastrophicaly small for the money!
If someone has the photo of it without the plastic over it, it would be nice to see it!
motogp34 posts on June 20, 2011 21:59
How does it compare to the 95 ?
I think the oppo might have it beat…
Post Reply