Denon S-5BD BD/Receiver Integrated Preview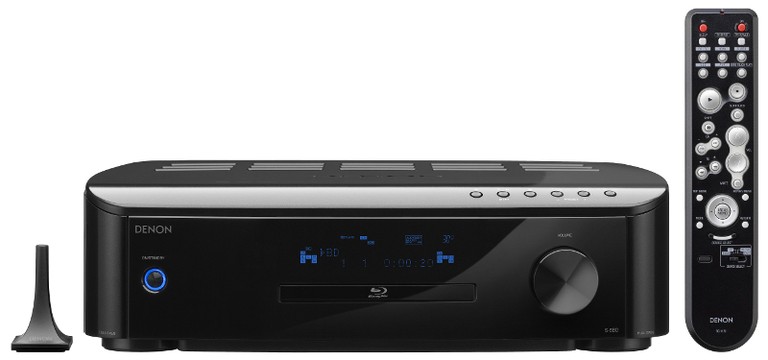 Denon S-5BD BD/Receiver
Summary
Executive Overview
We expect interesting announcements from the electronics giants and Denon didn't let us down. Aside from some interesting partnerships and upgrades, their big announcement is the S-5BD. Don't be confused by Denon's new receiver/blu-ray integrated, this is no Home Theater in a Box. The Denon S-5BD is an audiophile grade 5.1 channel surround sound receiver with advanced Profile 2.0 Blu-ray player.
So, what does "audiophile-grade" mean? To Denon it means mating a Profile 2.0 Blu-ray Disc Player, complete with 1080p/24p video output, DVD video scaling up to 1080p, plus network interconnectivity and advanced interactivity with BD-Live to a receiver with convenient front-panel HDMI (3 inputs/1 output, all certified for HDMI 1.4) and SD card inputs, as well as iPod direct connectivity via the USB port (with connectivity for Denon's Networked Control Dock for iPod as well). This is one of the first devices we've seen released with the new HDMI 1.4 spec ports.

The receiver portion of the S-5BD sports five pairs of high end five-way binding posts, three HDMI ports (one front-mounted), assignable coax digital audio input, an input with analogue audio, optical digital audio, and S-video, and a second input with all the same except for the S-video. Essentially, the S-5BD has two non-HDMI inputs, only one with video. Outputs are limited to a single HDMI output for the main zone and a composite video/stereo analogue audio output for zone 2. As required by Blu-ray Profile 2.0 there is an Ethernet port (also handy for firmware updates) plus a 12 volt trigger, IR in/out, RS-232C control, dock control, and terrestrial tuners connections. While the unit is limited to 5.1, there are two dedicated outputs for surround back speakers that would require amplification. This means the S-5BD can be expanded to 7.1. On the front, aside from the HDMI input, there is a USB port, an SD reader, and two 3.5mm ports - one for the setup mic, the second for headphones.
The aesthetics of the S-5BD are beyond reproach with front center readout that will be very familiar to Denon users. We have always appreciated how the Denon units show not only the speakers being outputted to, but what the incoming signal is carrying. The disc tray is located just below the display with the power button on the left and the volume knob on the right. As a huge departure from what we expect in a receiver these days, Denon has opted to hide the extra ports on the front corners behind retractable covers. This gives the unit a very high tech and futuristic look. Manual controls for Blu-ray player are on the top right edge of the S-5BD.

As you'd expect from Denon, the S-5BD is packed with all the latest technology. Aside from the HDMI 1.4 ports already mentioned the S-5BD includes support of Dolby Pro Logic IIz front height effects channels (you'll need to use the pre-outs for the surround back speakers for this feature). Onboard decoding of Dolby TrueHD and DTS-HD Master Audio is practically a given these days and it would make no sense for an integrated unit like the S-5BD not to have it. Denon's AL24 Processing, a high-grade analog waveform reproduction technology that, according to Denon, "dramatically enhances the music listening experience by improving the player's ability to reproduce moments when music quietly fades away or starts following complete silence" is included as well. Of course, the guts of the S-5BD integrated are all up to Denon's exacting standards.
While there is two zone support to separate amps, in an unexpected move Denon has actually made the surround speaker terminals assignable to Zone 2 if you wish. This means that you can run a 3.1 system in your main room with stereo in a second room - all without having to buy extra amps. While most Audioholics may find that idea to be anathema, more than one audiophile would suggest that they have one extra channel left over. 
These days it almost wouldn't be a Denon receiver without Audyssey and the S-5BD is no different. No mid-tier Audyssey for the S-5BD, the unit sports the near top of the line MultEQ featuring Dynamic EQ and Dynamic Volume. While we've had mixed results with the Dynamic EQ, it is necessary for the Dynamic Volume - a system that keeps volume constant over time. This is the perfect solution for late night viewing or just for those that hate how commercials will peak 10dB louder than the show.
Conclusion

The Denon S-5BD BD/Receiver is scheduled for availability in March 2010 with a suggested retail price of $1,799. If nothing else spells "audiophile," the price does. This is certainly not marketed to the HTiB crowd. Instead, look for this in high end installations where space is a premium and needs are very specific. The only thing this unit is really missing is name-brand video processing and perhaps Audyssey DSX height channels.

Unless otherwise indicated, this is a preview article for the featured product. A formal review may or may not follow in the future.
abolibibelot posts on July 24, 2012 09:38
I'm looking for a simple yet good quality solution to play CD's as well as "dematerialized" music (mostly FLAC), and if the same unit is able to play movies as well it's even better. I have an opportunity to buy this unit used for 600€ : would it be a good choice, considering I currently have a Cambridge 540R v2 6.1 amplifier, a Harman/Kardon HD970 CD player (very good reputation for its price level – and I bought it used for 100€ – but quite picky when it comes to CD quality) and an entry level Marantz DVD player, all connected to a set of 5 JMLab Chorus speakers and a Sidney AR12 subwoofer ? Is it true that it takes a long time before it actually reads an audio CD ? What other similar solutions could you suggest ? Is it on the same league, sound quality wise, as, say, an Arcam Solo at least ? (I read a not so enthusiastic review on TechRadar, saying that for the same price buying separate Denon devices would provide much better quality.) I'm quite open, I could go for an all-in-one or separates, a strictly stereo system to complete my current multichannel setup or a better multichannel one to replace it, I even considered active speakers (like the Dynaudio BM6) directly connected to my computer, or through a DAC. The ability to use two channels in stereo in another room (apparently a rarity) is a great plus for me.
RyanNL posts on May 24, 2010 04:15
just bought it

the network stuff seems to require the ipod docking station judiging by the manuals.

something else: the system takes 4ever to play a audio cd.
also it doesn't recognise avi fles on the usb stick.
no folder structure on the front dispaly (since i've got it connected to my beamer i dislike the idea of having to turn on the projector just to browse a usb stick to get to the correct directory).

on the other hand:id3tags and file info of the track are correctly displayed on the front display

Beautiful system, great image and good sound, just the advanced features are not as advanced as expected
RyanNL posts on April 28, 2010 10:50
Experiences/Network?

anyone some hands-on epxerience with this model on netwroking or anything lese matter of fact?

I am seriously considdeing buying this beauty but when i did some more research the Denon website stated it needed the add-on Ipod dock for network radio and other connectivity.

Tis can't be right, why put a ethernet port on a unit if you still need anoteher network compnent to connect to the network.
davidtwotrees posts on January 07, 2010 14:33
At first glance I was ready to dismiss this as another overpriced, overcomplicated modern day gizmo. But then I read the article and saw how simple the back of the unit was and I said, "aaaahaaa". Denon almost has it right……..I still think the unit is (typically) loaded with way too many bells and whistles, but nonetheless, it is simple by today's receiver standards. A 5.1 unit is more than enough. And the suggestion that it could be 3.1 with a stereo zone two is not anathema to me. I want simple. I crave simple. I'm tired of the gadgetry and endless menus. Form follows function and modern gear to me represents the asian fascination with complicated gadgetry.
Even though I am heading towards active, I like this unit. I say simplify further, but this is a good start. I would like to see streaming of netflix and pandora, which might be more complicated but I would trade all the codecs and tweaks for these features.
So, I am giving this TwoTrees up……….
Post Reply
Confused about what AV Gear to buy or how to set it up? Join our Exclusive Audioholics E-Book Membership Program!