Samsung HT-BD3252 Home Theater System with Blu-ray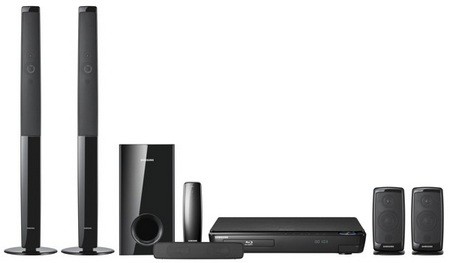 Samsung HT-BD3252 home theater system
Summary
Power

1000 Watts total output power

Audio

5.1-Channel
Smart Volume
Dolby Digital®, Dolby Pro-Logic II®, Dolby Digital Plus™, Dolby Digital True HD™, DTS-HD Master Audio®
Rear Wireless Included

Connectivity

Wi-Fi capable with included USB dongle (802.11b/g/n)
1 USB 2.0 port with USB HOST functionality
Made for iPod®/iPhone® with included cradle, onscreen display support, and remote control navigation
1 HDMI-CEC output
1 Composite output
2 HDMI-CEC inputs
1 Optical input
1 Ethernet port

Other Features

Crystal Amplifier
Bio Kelp Speaker Cones
Energy Star® compliant
BD Wise
BD Profile 2.0-compliant (BD-Live™)
Plays Netflix SD/HD streaming content (subscription required)
Plays Pandora streaming audio (subscription required)
Plays BLOCKBUSTER OnDemand streaming content (via firmware upgrade available in Fall 2009)
Auto Sound Calibration (ASC) with included microphone
Wired / wireless PC Streaming of select audio and photo files

Estimated Selling Price
Availability
Executive Overview
Home theaters in a box (HTiBs) are often the first entry a person has into the world of home theater. The allure of the one purchase solution with all the wires and speakers and components you need is just too enticing for some people to pass up. Of course, while the box might promise a setup as easy as 1-2-3, it often neglects to mention that you'll need extra HDMI cables or that your legacy CRT won't work with their DVD/receiver combo device. This is definitely the case here.

Samsung has done what we all knew would be coming, they've added a Blu-ray player to their lineup of HTiBs with the addition of the HT-BD3252. While this is not the first package from the electronics giant with a Blu-ray player, it is the first that includes wireless connectivity and "wireless" rear speakers. Unlike the other Blu-ray offering from Samsung, the BD1250, the BD3252 sports floorstanding speakers for the mains. The rest of the speakers look to be identical to the BD1250 offering. The drivers are constructed from Bio Kelp (we had to read that twice to make sure we weren't hallucinating it) which, according to Samsung, will allow "consumers to enjoy improved audio detail and dynamics." While we are not sure the difference between regular kelp and bio kelp, we're reminded that Bruce Lee advised us to be "like the nature of water." So perhaps Samsung is on to something here.
The Blu-ray capabilities are complete with BD-Live functionality either through a wired Ethernet connection or through the wireless USB dongle. Netflix and Pandora access is included and Blockbuster OnDemand is predicted via a firmware update in the fall. Streaming is available from a networked PC or from the USB port (if you are not using it for WiFi). You can connect devices such as USB keys, cameras, or even portable drives to the USB port. All the latest audio formats are supported including DTS-HD and Dolby TrueHD.

The BD3252s real selling point (other than WiFi) is their "wireless" rear speakers. We've added the quotes as we know that all speakers need to be powered in some way and the BD3252s are no different. You'll have to plug them into a wall at the very least. For those with iPods, the HT-BD3252 comes with a iPod cradle. You can browse and control your iPod via the remote and on-screen display.

Disappointingly, the number of connections is extremely limited. While Samsung has obviously designed the HT-BD3252 as an all-in-one device, there is limited expandability. There are two HDMI-CEC inputs and one output, one optical input, and one composite output. This really limits how many additional devices you can connect to the BD3252. While we could find no other information about inputs, it looks like if you're not connecting via HDMI, you're out of luck.

Conclusion
Samsung is definitely looking for a specific customer with the HT-BD3252. With limited inputs and outputs, we're betting this package will be a great add-on to a display sale. Since you've only got HDMI output (composite doesn't count) and just enough HDMI inputs for a HD cable/satellite box and one other device, this is not for the enthusiast. The WiFi, streaming, iPod support, and auto calibration should make your first time buyer (providing they have the right display) very happy. At least until they hear a real subwoofer.


Unless otherwise indicated, this is a preview article for the featured product. A formal review may or may not follow in the future.
Jaynsooz posts on August 18, 2012 22:35
HDMI port not working

Recently our HD-BD3252 HDMI ports stopped working, we have tried all other configurations making sure our cable and othe devices we working. No we have a unit that we can play dvd's and music through but can't get our cable through it so missing out on the surround sound. Has anyone else had this problem? Is it an easy repair? Is it possible to get a different unit and use the same speakers?

Although we had some teething issues when we first purchased this we have found it suitable for our needs, especially the "wireless" rear speakers!
carrilar posts on January 08, 2012 17:57
need help!
jumpster72, post: 615527
This is a fantastic deal for HTiB. The streaming feature sets it apart from others. It not only plays Divx, but also all my VLC's. External drive (USB devices) can also be plugged in the front with a flip down easy access panel. Great sound, huge multi functionality. 2 X HDMI, 2 X componet, plenty of extra's—-Lightening got my Bose LifeStyle 28/35 (3,000$ in 2002)—bang for the buck and more functionality hands down I am not missing my overpriced Bose. Very user friendly, set up your AP (accesspoint) stream— Mp3's , View photos, watch downloaded movies, great up-convert, great sound—-You will not be disappointed—-I am not. If you need any help with the setup look me up.—————Love this unit!!!!!
I have this unit for 3 years and I haven't been able to set up the streamline feature (to watch, pandora, netflix, you tube etc)….any help with the ACCES POINT?
Thank you
TotalControlApp posts on January 28, 2010 11:29
i don't recommend them for anything else usually but BOSE has some good HTIB. we usually use them for apartment setups.


_________________________________________
totalcontrolapp.com
mobile phone applications
cctv - android, blackberry, iphone/itouch, winmo
zwave home automation - iphone
IR remote - iphone
gobigblu posts on January 10, 2010 11:23
I just bought this unit (my first 5.1 system) and I'm having some installation/performance issues. I would love to discuss this with you to try to get a handle on whether or not I have a hookup issue, the wrong expectations, or a faulty unit. I don't know if/when you will get this message, but I'd love to give you a call to discuss. I'm in Washington DC.
uffllaa posts on December 03, 2009 22:23
like it but…

newbie to surround and blue ray, so im pretty pleased with the picture and sound from this unit - and its simplicity actually works to my favor as Im not too good with complex installs….
however, 2 issues - Im getting occassional static/flickers when I play DVD's - I switched the receiver already, so I know it's not that. The unit is wired only with an HDMI to my HDTV, but Im not sure how to get rid of the occassional flickers that Im getting - anyone have any ideas.

second issue is that I can't get rear sound when I plug and play my IPOD through the unit - Any ideas on that one?

If I can resolve those issues, then I'll be very happy with the unit - at least until something better comes out next year…

Thx
Post Reply
Confused about what AV Gear to buy or how to set it up? Join our Exclusive Audioholics E-Book Membership Program!