Polk Audio SurroundBar 500CHT First Look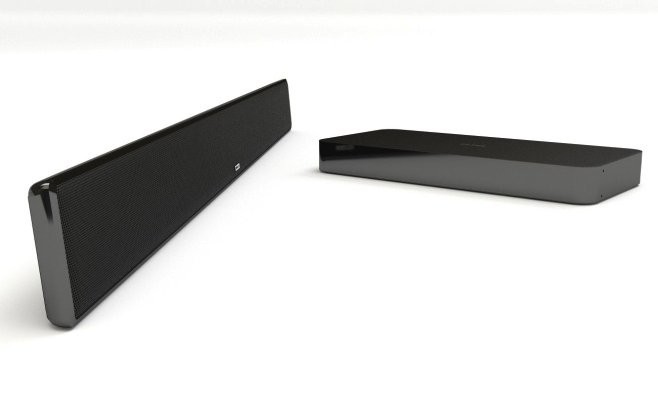 Polk Audio SurroundBar 500CHT
Summary
Compatible with 7.1 sources
.75" ring radiator tweeters
Proprietary Polk 3.25" Starfield anodized aluminum dome mid-woofers diameter with.9" depth
1.5" deep and 49" long
Extruded aluminum case
Wall mountable with included mounts
Included cabinet stands
SDA Control Module
15' connection cable
Executive Overview
One thing that surround bars have against them is, well, the lack of speakers. While the idea is to surround the listener with the musical or movie content to create a believable 3D image, it's hard to do without the rear speakers. There are two main ways of creating a pseudo surround effect - bounce the sound off the walls, ceiling, and anything else to get the sound behind the listener or to use phase to trick the ear into thinking the sound is coming from somewhere other than the front of the room. Polk Audio has generally gone for the latter, a solution that tends to work best in open spaces where bouncing the sound isn't possible where the listeners can sit on axis with the speaker.
Polk already has a number of surround bars in their stable but the popularity of these solutions mean that they have to keep innovating to retain the consumer's attention and also to take advantage of newer technologies. The Polk SurroundBar CHT500 is their newest foray into the surround bar market with a two piece solution. First, a bit about the bar.
As you'd expect with a surround bar, it is a thin and wall-mountable solution that is just 1.5" deep and 49" long in a black extruded aluminum case. This should blend in well with the 50" or larger screens (since, in the world of AV, black is the new... well... black). For those looking for that "clean" look, the CHT500 may actually be thinner than your flat panel. There is nothing like giving your new display a complex. That said, we don't know exactly how far off the wall the included wall brackets hold the speaker. Since the speaker is so thin, there is also a set of two shelf cradles for those that are still using furniture in their home theaters.
The Polk Audio SurroundBar CHT500 represents the new flagship in the Polk surround bar line. It sports their .75" ring radiator tweeters — found only in their top-of-the-line floor standing, bookshelf and in-wall/in-ceiling products. Plus, they've included nine proprietary Polk Starfield anodized aluminum dome mid-woofers, measuring 3.25" diameter with super-shallow .9" depth. The Starfield driver's 1.5" voice coil, according to Polk, ensures high power handling and, in tandem with its coupler, helps provide an extra-rigid platform across the entire surface of the dome. In addition, Polk claims, the Starfield pattern of the indentations and bumps eliminate resonances on the dome's surface for a smooth frequency response.
The second component in the Polk SurroundBar CHT500 solution is the SDA Control Module which includes all of the system's crossover components as well as Polk's proprietary SDA (Stereo Dimension Array) surround technologies. The SDA basically uses DSP and acoustical geometry to create the pseudo surround experience. 
Setting up the Polk Audio SurroundBar CHT500 seems to be fairly easy. There is an included proprietary 15' cable that connects the SDA Control Module to the speaker. You connect your receiver to the SDA Control Module via the receiver's seven or five channel speaker outputs. We're unclear if this is the speaker terminals (probably not) or some combination of digital/analogue outputs (more likely). We were surprised that a receiver was mentioned specifically as it indicates that there are not multiple inputs for devices. Usually, which and external (and many times internal) control module, you can forgo the receiver and connect your sources directly to your surround bar setup. That doesn't seem to be the case here.
With the Polk Audio SurroundBar CHT500, they are specifically marketing the 7.1 channel compatibility. Many consumers may mistakenly read into this that the surround experience will be more enveloping. Instead, you should realize that they are touting compatibility with 7.1 sources. This doesn't mean the surround effect will be any more convincing. We've often found that where you are sitting and the size/shape of your room has a huge effect on how well these surround bars work. If you have no other recourse, there is no harm in trying one out. Still, remember surround bars attempt to do something that actual speakers can do naturally.
Conclusion
While we've never been huge fans of the surround bar revolution, we have to admit that they have their uses. Polk Audio has put some of their best drivers into their SurroundBar CHT500. While being forced to be paired with a receiver instead of providing input switching in the SDA Control Module seems limiting to us, there is very little information out there on this product. It honestly sounds from the press release that you use the internal amps of your receiver which sounds fishy to us. We're also not fond of proprietary cables, even included ones. What if you don't need 15 feet (or worse, need more)? You're at Polk's mercy and we all know how overpriced cables can be.
At $999, it isn't a cheap solution compared to the competition and requiring the extra purchase of a receiver makes it even less so. Polk suggests pairing it with one of their wireless subs (they only have one with an MSRP of $450 but a retail price of half that) which again adds to the price. If the audio quality is there with the SurroundBar CHT500, it may all be worth it. Especially if the surround really does surround you. For us, we'd have to hear it first.
For more information, please visit www.polkaudio.com.

Unless otherwise indicated, this is a preview article for the featured product. A formal review may or may not follow in the future.
Confused about what AV Gear to buy or how to set it up? Join our Exclusive Audioholics E-Book Membership Program!