DVDO AIR WirelessHD HDMI Connection System Preview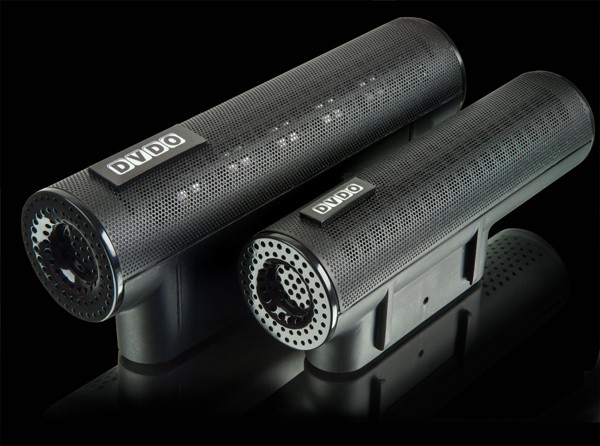 DVDO Air WirelessHD HDMI Connection System
Summary
Connects any HDMI source (Blu-ray, cable or satellite box, notebook PC, Audio/Video receiver, DVR) to any HDTV without any wires between them.
Full HDMI compliance includes 3D and Consumer Electronics Control (CEC), which enables the TV remote to control the source device. HDCP compliant too.
60-GHz wireless technology provides bandwidth for full HDMI (uncompressed video) with 7.1 Surround Sound.
Easy installation. Just connect transmitter to source, and receiver to an HDMI input on the HDTV.
No interference with other wireless devices, which use much lower frequencies.
Exclusive DVDO AIR receiver mounting clip attaches to wall or to top of HDTV, maximizing range and making installation easy.
Part of DVDO's tightly integrated home theater component line including Input Switching, which ensure full HDMI compliance.
For as long as there have been wires, people have been trying to figure out a way around them. About the same time that wireless transmission really became feasible for home theater, HDMI cables came on the scene. Now, we didn't just have a cable transmitting audio or video, but both. And then came 1080p, 3D, and HDMI CEC. Not to mention some of the newer HDMI 1.4a features that almost no one is taking advantage of. Yes, it's a sad day for wireless.
Or is it?
DVDO is best known for their video scaling and upconverting processing, switching, and connectivity solutions. But it makes sense that they might take a step in a wireless direction. At the very least to make sure that there is a wireless solution, something their customers are likely to want, that will work well with their video processors.
The DVDO AIR WirelessHD HDMI Connection System (an unwieldy name for sure) operates on 60GHz to minimize interference from existing devices. We've used many 2.4GHz wireless solutions and we've run into problems with kitchen appliances (microwaves in particular), cell phones, and even other devices. The 60GHz operating frequency looks to avoid all this by operating far above most wireless electronics.
The DVDO AIR consists of a transmitter and a receiver unit. While we don't have any idea of scale (the only dimension stats we could find listed 9.5" by 8" by 3" which, we have to believe, is the packaging since there is no way either of those is both 9.5" AND 8"), we assume they are very small. Each unit requires power from an included AC adapter and DVDO packages wall/TV mounts for the receiver unit.
While the DVDO AIR units look like little cannons, the 60GHz operating frequency indicates that they don't need to be pointed at each other. The DVDO AIR promises full 1080p uncompressed and 3D video and 7.1 audio. We're wondering if lossless audio is assumed or if it wasn't specified because it isn't supported. The DVDO AIR is fully HDCP compliant which means it should work with any HDMI device on the market.
One aspect that DVDO is touting is the HDMI CEC compatibility. While we think that some of the other HDMI features are a little bit more useful (or, perhaps, utilized is the better word), Audio Return Channel (ARC) and Ethernet are probably not something we're going to see in a wireless solution. Honestly, ARC shouldn't be needed for a display that needs a wireless video/audio connection, though Ethernet would probably be useful with many of the newer Internet-enabled displays.
Lastly, DVDO has built the AIR to work flawlessly with their Duo and EDGE Green home theater component line. Making sure that HDCP worked properly probably did most of the work toward this end. We really would have been impressed if DVDO had made it so that their home theater components could negate the need for power cords, though that would only be applicable on the transmitter end. Future iterations of the DVDO AIR that could be USB powered (or by some other means that could leech off the display) would be very intriguing.
Conclusion
At $399, the DVDO AIR isn't the cheapest wireless option out there, but it is surely in the lower half of the market. On top of that, it has size (we think, exact dimensions haven't been provided yet) going for it. With uncompressed 1080p and 3D plus 7.1 surround sound transmitting over 60GHz, the DVDO AIR looks to be a good, interference-free, solution for those that absolutely can't run a wire. The DVDO AIR is shipping now and looks to be a very competitive solution to your wireless HDMI needs.
For more information, please visit www.dvdo.com.

Unless otherwise indicated, this is a preview article for the featured product. A formal review may or may not follow in the future.