Aperion Audio Intimus 4BP Bipole Surround Speaker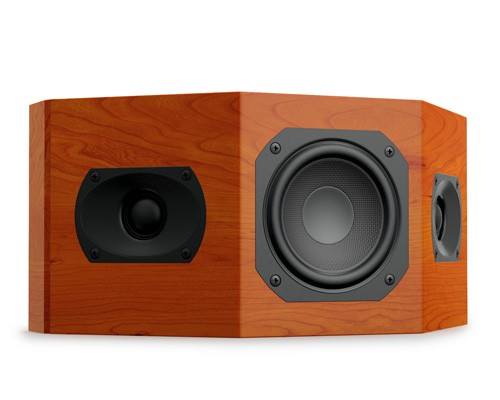 Aperion Audio 4BP
Summary
| | |
| --- | --- |
| Frequency Response | (+/- 3dB) 100-15,000 Hz -- (+/- 6dB) 80-18,000 Hz |
| Impedance | 8 Ohms |
| Sensitivity | 87 dB |
| Recommended Power | 25-200 Watts |
| Tweeter | Dual 1" Silk Dome Tweeters |
| Midrange | 4" Fiberglass Cone Mid-woofer |
| Driver Configuration | 2-Way |
| Enclosure Type | 3/4" HDF |
| Dimensions | 5" H x 12.5" W x 5.8" D |
| Weight | 8 lbs |
Executive Overview
There are a number of different kinds of surround speakers. When you are shopping for yours, you'll often run across terms like Direct Radiating, Dipole, and Bipole. There are plenty more out there as well. Aperion Audio has placed themselves in the more music-focused Bipole camp. This is a speaker with all of the drivers firing in phase. For the uninitiated, this means that when one of the drivers is pushing out, so is the other (in a Dipole configuration, one driver would push out while the other is in).
The Intimus 4BP uses the same drivers found in the entire Intimus 4 line. These consist of a 1" audiophile-grade silk dome tweeter and a 4" woven fiberglass woofer. This will allow the Intimus 4BP to be voice matched to the entire Intimus 4 line. Aperion also recommends a match with the Intimus 5 series of speakers that sport a 5.25" woofer. They even have a package deal:
New 5.1 Systems Featuring the Intimus 4BP Bipole Surround Speaker
For buyer convenience, Aperion has created two preconfigured 5.1 home theater speaker systems that feature popular customer picks plus the Intimus 4BP. The Intimus 4T-CB Hybrid SD system (retailing at $1,897) blends popular 4 and 5 series speakers by including two Intimus 4T Tower Speakers, an Intimus 5C Center Channel, two Intimus 4BP's and a Bravus 8D Powered Subwoofer. The Intimus 4B-BP Fusion SA system ($1,137) features two Intimus 4B Bookshelf Speakers, an Intimus 4C Center Channel Speaker, two Intimus 4BP's and a Bravus 8A Powered Subwoofer.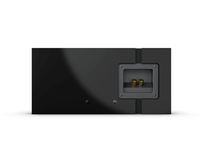 There is a lot to be interested in with this speaker. As seems to be the trend lately, Aperion has incorporated a seamless magnetic grill system. We've seen a number of these magnetic grills and when they work, they really work. Unfortunately, when they don't, they can rattle and everything. Aperion has included powerful neodymium magnets recessed into the cabinet to preserve the smooth look on the finished surface. Each grill itself has recessed metal connection points for the magnets that are covered in black felt in order to eliminate vibrations. The Intimus 4BP comes in gloss black (which seems to be the defacto finish for most speakers these days) and cherry. Aperion gives their speakers a furniture-grade finish and include a mounting bracket. The build quality of the 4BP seems to be very high. At this price point, we'd expect 5/8" MDF but Aperion has given you 3/4" HDF! At 8-ohms it should present an easy load and allow the 4BP to play well with most receivers, but the 87dB sensitivity would probably benefit from a more robust amp section of your higher end receivers or external amplification.
Unfortunately, the -3dB range of the 4BP is from 100Hz to 15kHz with the speaker's -6dB point reaching down to 80Hz. This means you might have to cross the speaker over a bit higher than the THX recommended 80Hz or risk losing a bit of upper bass. As you might expect, inset five-way binding posts are included with a channel for running wires either up or down. Shipping is included in the $199 price tag. At just shy of $400 a pair, these are not the cheapest speakers you'll find. But if you factor in the Bipole configuration and the size, you're getting a lot for your money. The size, in particular, impressed us. At only 5" high and only a bit more than that deep, the speaker should be fairly easy to place. Often, the problem is not the width, but fitting the speaker between existing decor or getting the speaker as far from the ceiling as possible. We love the fact that the speaker is so short and know of quite a few installations where a shorter speaker would have made all the difference.
Conclusion
The Aperion Audio Intimus 4BP speaker looks to be a very good addition to the Intimus line. Along with the Intimus 5DB (a Di/Bipole speaker costing $345 each with the larger 5.25" woofer) and the 4B and 5B bookshelf speakers, there is now something for everyone in the Aperion line. The magnetic grill and choice of finishes will attract some, but what will probably really draw in consumers is their size. When space is limited, finding the right sized speaker can be a challenge. Unfortunately, Aperion seems to have sacrificed a bit of extension at the altar of aesthetics. Add to the fairly reasonably asking price the high quality enclosures and attention to detail of the finish, and Aperion probably has another winner on their hands.
For more information, please visit www.aperionaudio.com.

Confused about what AV Gear to buy or how to set it up? Join our Exclusive Audioholics E-Book Membership Program!
Recent Forum Posts: