Alienware High Definition Media Server Preview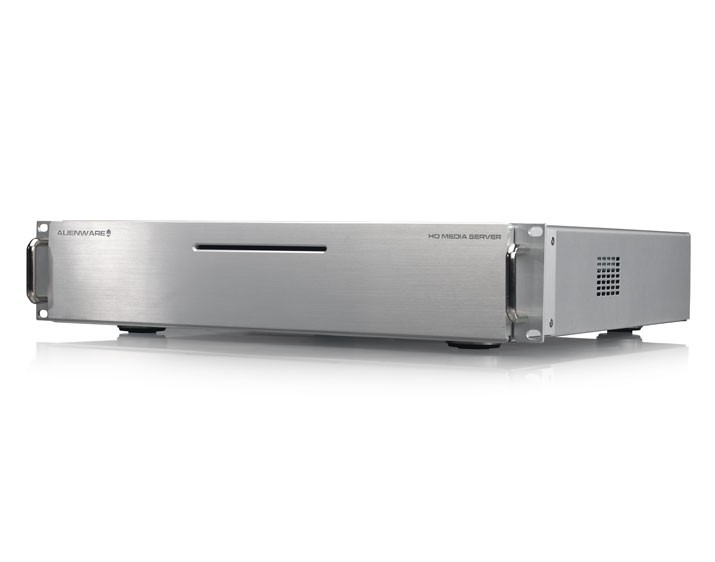 Alienware High Definition Media Server
Summary
Product Name:

High Definition Media Server

Manufacturer:

Alienware

Review Date:

February 04, 2008 00:00

MSRP: $TBA
First Impression:

Pretty Cool
Operating Systems
Windows Vista Home Premium
Optional Windows Vista Ultimate - required to support 4 CableCARDs

Processors, Chipset & Memory
Intel Core 2 Quad 45 Nanometer Processors
Intel X38 chipset
Up to 4GB Low Latency DDR3 at 1333MHz

Graphics & Video

Standard: ATI® 2400 HD Graphics with DVI to HDMI Adapter (1080p)

Video out Standard:
DVI/HDMI Video
VGA
S-Video
Component Video Out
Component video out with S-Video to Component adapter
Dual Cable Card Internal Combo Tuners (OCUR)
Up to 4 Cable Card Tuners (2 External OCUR)

Storage
Standard 250GB x 4 with 250GB Reserved for OS partition in RAID 5
Optional 4TB with 1TB Reserved for OS partition in RAID 5

Optical Drives
8x DVD-ROM/CD-RW
Optional Dual Layer Blu-Ray/DVD±R/W/CD-RW Burner

Wired Connectivity
Dual Gigabit Ethernet LAN with Load Balancing

Audio
7.1 Channel Digital Preamp Output
Analog Audio in
Optical Audio out
Coaxial Audio out

Peripheral Connections
RS232 Control
6x USB 2.0
IEEE 1394a (4-pin) port
2 eSATA ports
External CMOS Switch
IR in
2x IR out
RF connect switch

Case & Chassis
Height: 3.5" without feet and 4.0" with feet.
Width: 16.93" without rack mount and 18.9" with rack mount
Depth: 18.3"
Weight: 29 lbs
Executive Overview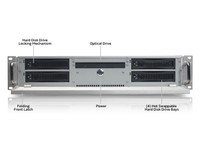 The just announced Alienware High Definition Media Server got our attention for a number of reasons. Sure, it's Alienware which has long been associated with high (priced) quality computer builds, but also because of the hot-swappable RAID 5 drive bays. It was when we took a closer look that we really started to get excited. While it boasts HDMI output, it is really only a DVI port with an HDMI adapter. Why is that important? Well, it negates audio output (but you'll still get a 1080p picture).
Disappointed, we were about to move on when we noticed the 7.1 analogue outputs. This means that (theoretically) the Alienware HD Media Server could provide output for all those high definition audio formats. With the optional Blu-ray read/write drive, the audio will almost certainly be available. The HD Media Server come standard with 250GB x 4 but can be ungraded all the way to 4TBs. That's a lot of storage. With an upgrade to Vista Ultimate the unit can control up to four TV tuners (two cable card slots are available with a second pair needing to be external. Lastly, the HD Media Server will allow you to access your files remotely with nothing but an Internet connection and Windows or Windows Mobile device. Sounds interesting. At this time no pricing has been announced but we expect it to be very expensive. We'll give it this - it is probably one of the best looking media servers we've ever seen - we just wonder how loud it is.
For more information, visit www.alienware.com.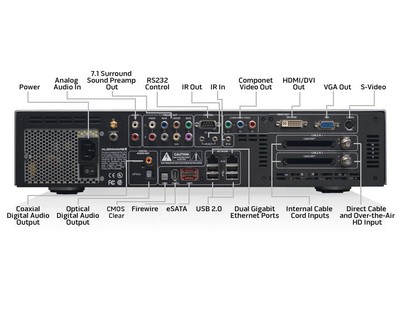 Unless otherwise indicated, this is a preview article for the featured product. A formal review may or may not follow in the future.
Djizasse posts on February 04, 2008 22:24
Thanks, now i see it :o When i first clicked on the link to alienware i could just find the other system. Nicer specs.

That thing has got to make some noise. It belongs in the basement or in a closed ventilated rack. But it seems an easy solution for those that don't wan't to make their own Media Server.
gus6464 posts on February 04, 2008 21:10
Djizasse posts on February 04, 2008 21:04
Could you point me to some review or specs about it?
gus6464 posts on February 04, 2008 20:43
Djizasse, post: 370273
I don't know. 4 x HDDs; included audio amplifier, CPU, cards… in such a small enclosure, working double time to decompress and stream 1080p? Two words: hot and noisy

Here's a "pseudo-review":
https://computershopper.com/reviews/alienware_hangar18_hd_entertainment_center_desktop_computer_review

This model is good looking and with more features (the HD version):
https://www.engadget.com/tag/Hangar18/

I'm a little confused here, the HTPC (the ugly one with the display) was reviewed in July 2007. But only now is avaiable for public? With specs that are so last year. 5.1 amplifier? AMD x2 4400?
But there's also that other silver beauty with 7.1 sound and a revised back panel. But i think is a future model. Not avaiable yet.

Anyway, no real specs on their site. But if you go to the customization page, you can have a few laughs, just check the processor upgrade lol
And if you don't like the iluminated logo, just ask them to permanentely turn it off…

I'll wait to see a tech-site get one unit and open it. Till then this just seems an unfinished product.
The Hangar18 that you linked and this model are not the same thing. This model is aimed at professional HT installations. And this model has Intel Core 2 Quad and not AMD.
Warpdrv posts on February 04, 2008 20:22
Well I have to say, that thing looks cool, but I'm still pretty keen on my setup.
I have modded Xbox 1's running XBMC and just bought a
DLink DNS-323
with dual 1000gb HD's that are stored quietly in my basement. Storage is great, and the XBMC can stream through my gigabit network from it perfectly. Now I know its not a HDMI this or 1080p that, but until things get more mainstream, I have always been able to rely on this setup, and have so for the last 5 years now… it still ouputs 1080i and can play any type of media you throw at it.
I wish they made something that could compete with it, so until then I'll just stick with it…
Post Reply
Confused about what AV Gear to buy or how to set it up? Join our Exclusive Audioholics E-Book Membership Program!