IOGEAR GWHDMS52 Wireless 5x2 Matrix Switcher Preview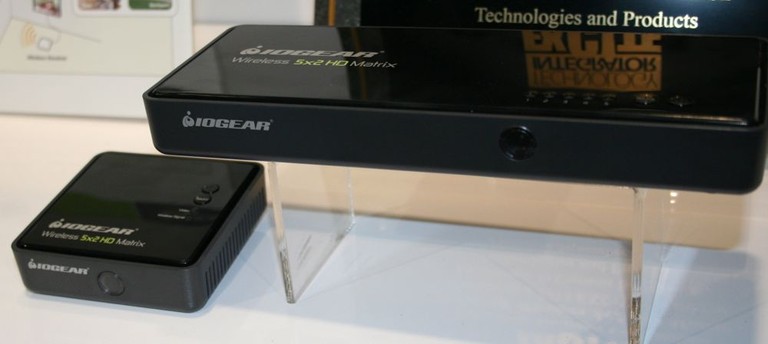 IOGEAR GWHDMS52 Wireless 5x2 Matrix Switcher
Summary
Wireless fully uncompressed HD video up to 100 feet through standard home walls for 2 HDTV's
Built in 5 x 2 Matrix - Allows you to switch and independently select any of 5 sources between 2 HDTVs

Watch cable TV in the living room while the bedroom watches a Blu-ray movie wirelessly at the same time

Supports 2 HDTVs - Delivers separate content to 2 locations at the same time:

Living room HDTV can connect to transmitters loop-through (local) port
Bedroom HDTV can receive content from wireless receiver

Connect and wirelessly transmit content from your Blu-ray / DVD player, DVR / Cable box, Game console, Computer / laptop and VCR
Supports Full uncompressed HD 1080p, 3D content, and 5.1 channel digital audio
Video Resolutions:

480p, 720p, 1080i, 1080p and 3D (24 / 30 / 60fps)

HDMI® Inputs / Outputs :

Transmitter:
4 x HDMI in
1 x Component in
1 x USB in
1 x HDMI out (local port)
Receiver
1 x HDMI output
1 x USB out

USB port on Transmitter and Receiver enable a wireless keyboard connectivity to control the attached computer / laptop
Home Theater Projectors

Easy Projector Set-up; No more running long wires

Keep home theater electronic devices neatly out of sight
Based on WHDI™ Technology
HDCP 2.0 Compliant
Built-in Infrared (IR) pass-through with 2 IR blaster cables allows user control over their source devices that are hidden away in a different location
Includes 2 remotes for convenient switching in both locations No software or driver installation needed
Executive Overview
Today at CEDIA 2013 we visited IOGEAR's booth and they had a very interesting new wireless switching solution. The IOGEAR GWHDMS52 Wireless 5x2 HD Matrix allows individuals and families to create the custom viewing experiences that fit their needs.  A home user can keep the cable box, Blu-ray player, game console or media server in one room with a HDTV accessing content and send separate content wirelessly to another HDTV in any room up to 100 feet away. This means parents can watch their weekly TV dramas, while the kids enjoy their favorite Blu-ray movies in another room. The wireless connectivity does not require a line of sight, so home theater devices can be stored neatly away in one location, and wirelessly send content though walls to another room within the home.  The applications are nearly limitless, such as setting up TVs in a bedroom, kitchen, den, patio or game rooms.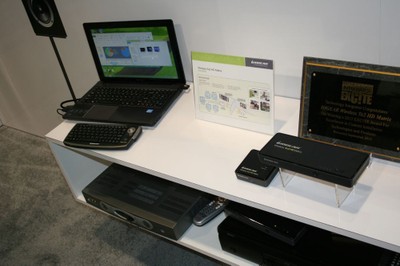 Beyond the home, the Wireless 5x2 HD Matrix provides reliable, high quality video for work environments. Business users will now be able to wirelessly stream the same presentation to dual displays or projectors in a conference room. Two conference rooms can be equipped to easily access different content from shared devices. For companies with lobbies, video commercials or ads can be streamed there while a training video is played simultaneously in a conference room. With the Wireless 5x2 HD Matrix, businesses can eliminate the need for a second Blu-ray, cable box, game console or VCR and help streamline costs and space for equipment.
The Wireless 5x2 HD Matrix will be available online at www.iogear.com and through major distribution channels in spring 2013.
On Site Reaction
We were really impressed with GWHDMS52 5x2 HD Matrix switcher. It has the ability to send not only HD video but 60 fps 3D. One thing that they showed off that might have applications in the home is the ability to plug a computer into the GWHDMS52 via USB. You can then connect a wireless keyboard (shown in the above picture) to use your main home theater display as your computer screen. It might have more applications for businesses but cord cutters will quickly see how this could be used in conjunction with services that are free with your computer but charge to stream to one of their apps. It has IR pass through and two IR blasters are included. There are two remotes as well. We're looking forward to getting a chance to review a 5x3 HD Matrix switcher soon.
For more information, please visit www.iogear.com.

Confused about what AV Gear to buy or how to set it up? Join our Exclusive Audioholics E-Book Membership Program!