Epson MovieMate 85HD Projector First Look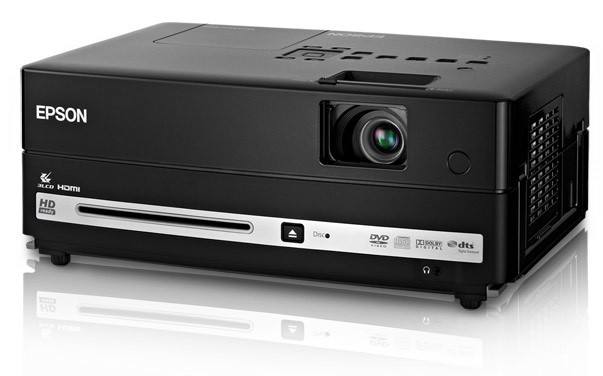 Epson MovieMate 85HD Projector
Summary
Projection System: Epson 3LCD, 3-chip optical engine
Driving Method: Epson Poly-silicon TFT Active Matrix
White Light Output: 2500 lumens (ISO 21118 Standard)
Color Light Ouput: 2500 lumens
Aspect Ratio: Native 16:9 widescreen (4:3 resize) Compatible with 4:3 and 2.35:1 video formats with Normal, Full or Zoom Modes
Native Resolution: Widescreen 720p (1280 x 800)
Lamp Type: E-TORL 200 W UHE
Lamp Life: Up to 5000 hours
Size (projected distance): 33" – 318" wide: 3' – 29' (16:10 image)
Keystone Correction: Vertical: ±30 degrees
Contrast Ratio: 3000:1

Speaker: Integrated 10 W stereo speakers

DVD Unit: Built-in DVD player

Audio: DTS Digital Surround and Dolby® Digital

Media Format: DVD Video, DVD-R/RW, DVD+ R/RW, DVD Audio, CD-R/RW, DVD-VR (without CPRM), Audio CD, MP3 (CD/DVD), WMA (CD/DVD), JPEG, DualDisk

Fan Noise: 28 dB – 33dB
Input Signal:
DVD Region Code 1
NTSC / NTSC4.43 / PAL / M-PAL / N-PAL / PAL60 / SECAM / HDTV
HDTV: 720P, 1080i / SDTV: 525i, 525p, 625i, 625p)
HD-DVD and Blu-ray™ (external source only)
Terminal Inputs:
1 RCA (composite)
1 RCA (component)
2 RCA (audio L/R) stereo
1 VGA D-sub 15 pin (computer input)
USB Type A
USB Type B (service only)
HDMI
Mic input
Terminal Outputs:
1 headphone stereo jack
1 digital coaxial audio out
Computer Compatibility: WXGA, SXGA, XGA, SVGA, VGA, Mac
Dimensions:
Including feet: 13.2" x 9.4" x 5.4" (W x D x H)
Excluding feet: 13.2" x 9.4" x 5.0" (W x D x H)
Weight: 9.3 lbs
Executive Overview
After a while in this industry, you can't help but develop biases. It's just a fact of life. Some of us love and swear by open headphones while others wouldn't accept anything other than a closed back pair. Some use and love ear-buds (high end ones of course, not the crap they include with the iPods), which others haven't been able to find a pair they like regardless of price. Some are only interested in large flat panel displays while others wouldn't we able to live without their front projection systems. There are those that would love a wall of subs while others are more interested in a little additive bass from a small box. We've all got our things.
One thing many of us agree on is that we don't get the "all in one" projection systems. These are products that include the projector, speakers, and usually a DVD player all in a single box. The fact is that they keep releasing more of them. This means either they are selling or some of the larger projector manufacturers need a loss on the books for tax purposes. We're guessing it's the former.
Epson has been putting out these all-in-one projectors for quite some time. They are portable, easy to use, and seem to be geared towards gamers and kids. The new MovieMate 85HD is the new flagship in this product line sporting a 3-chip, 3LCD optical engine. With a 720p (1280x800) native resolution, built in 10 watt speakers, and an integrated DVD player, the MovieMate 85D needs only a wall to aim at.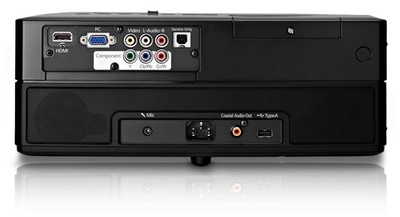 Glancing at the rear of the unit you'll find a host of inputs including HDMI, PC, composite and component video, stereo analogue audio, USB, and mic. There is a coaxial digital output in the case you'd want to connect the MovieMate 85D to a real speaker system. The unit sports two rear firing 10 watt "Dolby Digital" speakers with Digital DTS Surround via coaxial digital output. The projector is obviously meant to be placed in front of the viewing position. If you turn the unit around, you'll find a left mounted lens with a focal length of 16.9 mm and a manual 1.2x zoom (controlled from the top. There is a slot-loading DVD player. There are IR receivers on the front and back (just in case) and full controls on the top. 
The MovieMate 85D includes a glow-in-the-dark remote and an integrated carrying handle on the left (lens side) of the unit. A padded carrying case is provided as well, which is good, since these bulbs are typically sensitive enough that you can't just sling it around like a suitcase. The unit is less that 10 lbs (not including the case) and just over 13" wide, 9.4" deep, and 5.4" tall. This makes for a pretty compact and easy to transport solution.
The Epson MovieMate 85D is designed not only to be a standalone unit, but to play nice with other devices. The included USB port will work with iPods and other MP3 players, plus it has enough inputs so that you can connect a Blu-ray player (HDMI) and a gaming system (component or composite) up at the same time (you could add more, but audio for the analogue inputs is shared). The HD15 PC input could be used for an HTPC or even for business applications, which is nice for dual-purpose use. While, when we see a mic input on a device, we automatically think of room correction, in the case of the Epson MovieMate 85D, it's designed with Karaoke in mind. 
The MoveMate 85D claims 2500 lumens with a lamp life up to 5000 hours. Auto keystoning is on-board but there is no lens shift. Given the portable nature of the product, lens shift omission isn't exactly surprising - you want to lock down the glass and LCD assembly as best you can when you're designing a projector that can be moved around. The fan is a respectable 28-33dB. While the projector will accept just about every broadcast format available, the DVD player is Region 1 locked. It is, however, capable of most of the DVD formats including DVD Video, DVD-R/RW, DVD+ R/RW, DVD Audio, CD-R/RW, DVD-VR (without CPRM), Audio CD, MP3 (CD/DVD), WMA (CD/DVD), JPEG, and DualDisk. Just remember that it is a 720p projector - and don't stick a Blu-ray disc into that drive expecting it to play.
Conclusion
With an obvious focus on gaming and parties, the big draw of the Epson MovieMate 85D is the price. At a penny under $900, it is practically an impulse buy - especially this time of year. While you can get cheaper versions of this type of product, they won't have HD (usually) or a 3-chip LCD optical system. While the integrated speakers are sure to be unsatisfying, Epson has included a coaxial digital audio output for integration with a real audio system. At 720p native, it may not have all the bells and whistles you may want in your home theater projector, but it does have more than enough for a projector to take to a friend's or perhaps on a business trip (though it's a bit bulky for that given what's available today). HDMI and component video inputs as well as a USB port that supports iPod means you'll be ready for whatever your friends show up with. With a mic input specifically designed for Karaoke, you're only a few tequila shots away from embarrassing yourself in front of your friends and colleagues.
For more information, please visit www.epson.com.

Confused about what AV Gear to buy or how to set it up? Join our Exclusive Audioholics E-Book Membership Program!
Recent Forum Posts: