Onkyo PA-MC5500 9 Channel THX Amplifier First Look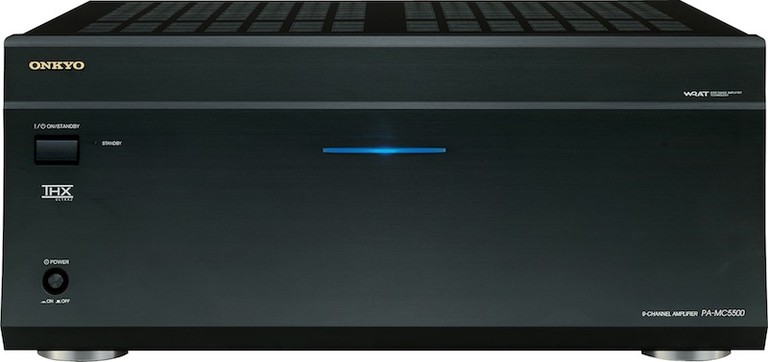 Onkyo PA-MC5500 9-channel Amplifier
Summary
220 W/Ch (6 Ohms, 1 kHz, 1 Channel Driven, IEC)
WRAT (Wide Range Amplifier Technology)
Push-Pull Amplification Design with Three-Stage Inverted Darlington Circuitry to Remove Distortion
All Discrete Output Stage Circuitry
Massive Toroidal Transformer
Two Large, Customized, 22,000 µF Capacitors for Effective Power Supply
Audio-Tuned Reference Capacitors for Each Channel
Large, Custom-Designed Power Transistors to Drive High Currents
Low-Impedance, Copper Bus Plates for Perfect Ground Potential
High-Current, Low-Impedance Circuit Boards with Thick Copper Foil (70 µm)
Flat, High-Rigidity, Anti-Resonant Chassis
Gold-Plated XLR Inputs
Machined Solid Brass RCA Inputs
Gold-Plated, Color-Coded, Banana Plug-Compatible, Transparent Speaker Posts
Multi-Zone Capability (up to Zone 3)*
Bi-Amping Capability*
12 V Trigger Input
Auto Power Down Function
Aluminum Front Panel
*Depending on A/V Controller
Executive Overview
If you are a manufacturer with a pre/pro to release, the last thing you're going to do is let someone else pair an amp with it. Let's be honest, the pre/pro is the hard part. Amps can be outsourced and rebadged without anyone batting an eye. It happens so frequently that it is hardly even news any more - users sort of expect it. As long as your rebadged amp either around the same price or matches your pre/pro much better (and generally is better looking), then you can practically guarantee a sale. As long as the price and the performance are similar, even we can understand why someone would want matching gear. In a separates solution, it even makes more sense to us.
But Onkyo isn't just some garage/basement fly-by-night Internet fad organization. They have the infrastructure, the know-how, and the resources to build an amp from the ground up. They don't need to rebadge anything. When they released their PR-SC5508 THX Certified Processor, they didn't have to ask someone to build them an amp, they just designed and pumped one out on their own. And what an amp! From an aesthetic point of view alone, the PA-MC5500 is a head turner. If you are in to clean lines and a vaguely "Cylon" like look, the PA-MC5500 is going to appeal. While it has the traditional blue light (instead of the Cylon red), the single front light and slightly curved face has undeniable, "I might rise up and take over the world" feel. The front of the unit has everything you need on an amp - an on/off power button, a standby button, and a power indicator (aforementioned light). We sort of wish the light would turn red when you over-drove the amp (Editor's note: yeah, and then slowly glided left-to-right, back and forth) but there is a small light by the standby button that does that.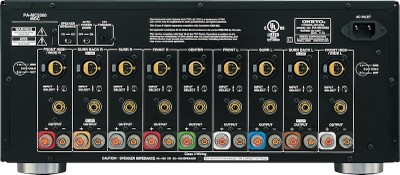 The first thing we noticed about the back of Onkyo's PA-MC5500 is that they decided to go with a two-prong power cord. While you can make any power supply and grounding system work well, this method typically yields less ground loops in our experience. The PA-MC5500 has nine channels of amplification rated at 150 watts each at 8 ohms. You'll notice in the specs above that the amp is rated at 6 ohms to 220 watts. This is because the PA-MC5500 hasn't made it to the US Onkyo site yet and we pulled the specs from the UK version. Yes, this amp has been out for a little while,  but here in the states we haven't had a chance at it yet. We can take the UK specs as a guide, though, as a the reported dynamic power into 3 ohms is similar.
It seems that Onkyo has rated their amp driving a single channel into 1kHz. While this isn't exactly an invalid measure, it is one of the easier tests. The amp has a massive power supply consisting of a large toroidal power transformer and two 22,000 µF storage capacitors and utilizes Onkyo's proprietary WRAT (Wide Range Amplifier Technology) architecture. WRAT focuses on low negative feedback, low distortion, extended frequency response, and a power supply with high instantaneous-current capability. To achieve all this, the PA-MC5500 uses large, custom output transistors in push-pull configuration. It also has a three-stage inverted Darlington circuit to remove distortion. 
As you can see from the back panel, the PA-MC5500 has gold-plated inputs and outputs including professional-style balanced line-level XLR inputs. There is a 3.5mm jack for 12volt control and a 6 or 4 ohm selector switch. We would have thought they'd change that to an 8 ohm/4 ohm switch for the US market (and UL) but apparently not. There is an Auto On/Off switch which allows you to let the amp power itself down if it doesn't receive a signal for a while. There are two things we like about this function on the PA-MC5500. First, the 12 volt trigger completely defeats it. Second, the power light will flash for 10 seconds before it automatically goes into standby mode. This gives you a heads up in the case of a problem. Onkyo admits in its manual that, "Depending on some sources, the auto power-down function may activate during playback." Umm... OK. At least they're upfront about it. While the size and number of channels might suggest that the PA-MC5500 is a digital amp, it isn't. It's an all-analogue solution which is confirmed by its 51 lb weight. While not heavy by some amp standards, it does suggest that the extra bracing for their "rigid, anti-resonant chassis" is in place.
Conclusion
It may easy for some to dismiss the PA-MC5500 based on its less-than-rigorous power ratings. Don't be dissuaded. At a paltry $1699 MSRP (and a street price sure to be somewhat less), the PA-MC5500 has plenty of power for most systems. Add to that the convenience of having all nine channels in a single box, the piece of mind that THX certification brings, and the matching aesthetics to the new PR-SC5508 and you've got more than one consumer interested. We could only find one review and it was in German. Since the translate function in Google comes up with such gems as, "the devil System 9 has excellent passive and more from devil-boxes would get out the still," we're still not sure how it fared. We'd be happy to give it a shot on our test bench, though our reference speakers might scare the devil out of it. And everyone knows you can't have enough devil-boxes in your system.
For more information, please visit www.onkyousa.com.

Confused about what AV Gear to buy or how to set it up? Join our Exclusive Audioholics E-Book Membership Program!
Recent Forum Posts:
dapack69 posts on September 15, 2010 18:33
kevon27, post: 751408
This amp is for people who like to match their gear. If you have the newest onkyo pre/pro, you will get this amp to match. Now smart people will just go Emotiva and be done.
I have to agree with you there.
kevon27 posts on September 15, 2010 15:35
This amp is for people who like to match their gear. If you have the newest onkyo pre/pro, you will get this amp to match. Now smart people will just go Emotiva and be done.
3db posts on September 13, 2010 11:23
I'm not impressed by this amp and I think one can do much better else where. Personally, I would have liked to see more than 22000uF of capacitance on a 9 channel power amp. The other thing I find suspecty is their power rating at 1KHz. Why would they suddenly adopt this rating when their AVRs mention full audio bandwidth? The jury is out until thoroughly tested.
AcuDefTechGuy posts on September 13, 2010 09:13
I think it looks great aesthetically, and 9 channels of amp is very cool.

It would have been nice if the power output is 150WPC x 9ch from 20Hz-20kHz @ < 1% THD.
dapack69 posts on September 13, 2010 04:12
Basically they just took the amp section from the 5007 and threw it into its own shell.
Post Reply