Sony HAP-Z1ES 1TB Hi-Res Music Player System Preview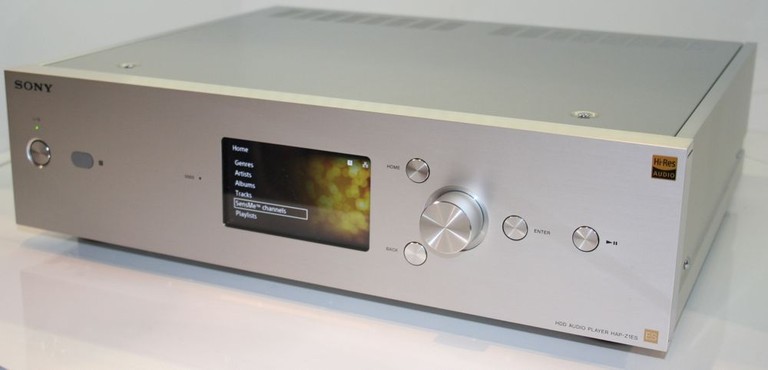 Sony HAP-Z1ES
Summary
HAP-Z1ES
Stores, plays back and decodes virtually all Hi-Res audio formats

Built-in 1TB hard drive with expandable storage

Front panel LCD and HDD Audio Remote mobile app (Android and iOS) for browsing and playback

Supports virtually all Hi-Res formats including: PCM (44.1kHz/ 48kHz/ 88.2kHz/ 96kHz/ 176.4kHz /192kHz in 24 bit depth); DSD (DSF, DSDIFF); MP3, WAV, WMA, AAC, FLAC, ALAC, ATRAC, ATRAC ADVANCED LOSSLESS, AIFF

DSD Re-mastering Engine upscale music files to DSD (5.6MHz) quality

DSEE restores missing data from compressed files

HAP Music Transfer software compatible with both Windows and Mac computers for automatic copy of music files to HDD when new files are added on computer

Available Fall 2013 for $1,999 in silver
HAP-S1

Stores, plays back and decodes virtually all Hi-Res audio formats
Built-in 500GB hard drive with expandable storage
Front panel LCD and Mobile apps (Android and iOS) for browsing and playback
2-channel Class AB amplifier (40 Watts x 2)
Supports virtually all Hi-Res formats including: PCM (44.1kHz/ 48kHz/ 88.2kHz/ 96kHz/ 176.4kHz /192kHz in 24 bit depth); DSD (DSF, DSDIFF); MP3, WAV, WMA, AAC, FLAC, ALAC, ATRAC, ATRAC ADVANCED LOSSLESS, AIFF
DSD Re-mastering Engine upscale music files to DSD(5.6) quality
DSEE restores missing data from compressed files
HAP Music Transfer software compatible with both Windows and Mac computers for automatic copy of music files to HDD when new files are added on computer
Available Fall 2013 for $999 in black or silver
UDA-1

Allows enjoyment of Hi-Res music as well as conventional compressed music restored by DSEE technology
2-channel 20 amplifier (20 Watts x 2)
Supports virtually all Hi-Res formats including PCM (44.1kHz/ 48kHz/ 88.2kHz/ 96kHz/ 176.4kHz /192kHz in 24 bit depth); DSD (DSF, DSDIFF); MP3, WAV, WMA, AAC, FLAC, ALAC, ATRAC, ATRAC ADVANCED LOSSLESS, AIFF
Compatible with virtually every PC music player application, including iTunes, Windows Media Player, KORG Audio Gate, and Media Go
USB connectivity to PC (USB-A x 1 and USB-B x 1)
Multiple connection terminals include Optical in, Coax in, and Analog RCA in, with RCA analog out and Headphone out
Available Fall 2013 for $799 in black or silver
Executive Overview
Sony has been talking a lot of a new foray into hi-rez audio and now they've released three products to take advantage of this new commitment. The flagship of the line is the HAP-Z1ES. This silvery box is about as simple as you can get with a networked device. It has a small remote, balanced and unbalanced stereo outputs for adding a needed amp, an Ethernet connection, IR out, and USB in. The front has an LCD panel for album art and other information. Inside, however, is where it is at. There is a built-in 1 TB drive with expandable storage (via a USB port). It supports virtually all Hi-Res formats at any resolution you could want. Of course you have to connect it to your computer (via the network) to get your music (there is no drive). Afterwards, however, you can set it to automatically update its hard drive when you download new music. It has a DSD engine to upscale music file to DSD (5.6MHz) quality and a DSEE DSP to "restore" compressed music. The HAP-Z1ES will run you $2000.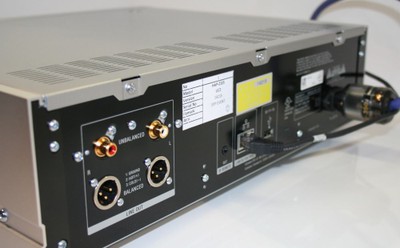 The next in the line is the HAP-S1 is the consumer level (comparatively speaking here) DSD machine from Sony. This one is a full grand less ($999 MSRP) and has internal amps (40 watts x 2). The HAP-Z1ES has all the same capabilities and LCD screen as the HAP-Z1ES but it loses the balanced outputs and only has a 500 gig hard drive (you can still increase the storage with the USB port). All the upscaling and DSPs are the same but you also gain two stereo analogue (RCA) inputs, a coaxial digital audio input, and an optical digital audio input. If you ever needed an example of how audiophiles will pay a premium to have LESS features, this is it.
Last in the line is the UDA-1. This is the first in the line that allows a direct connection to your computer with a USB-B port. The UDA-1 has all the same functionality as the HAP-S1 except that it loses the LCD screen and but it no longer has unbalanced outputs for adding an external amp. All the new models can be controlled with an iOS or Android app. While the HAP models (both of them) can update their libraries automatically, the UDA-1 claims no such capabilities. Sony does specify that the UDA-1 is compatible with virtually every PC music player application, including iTunes, Windows Media Player, KORG Audio Gate, and Media GO. The others specify both Mac and PC compatibility but no specific programs. We'll see how it all shakes out in the end. The UDA-1 will run you $799.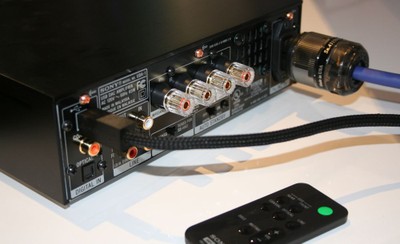 For more information, please visit www.sony.com.

Unless otherwise indicated, this is a preview article for the featured product. A formal review may or may not follow in the future.