2partsfusion DMS-701 Media Server HTPC Review
2partsfusion DMS-701 Media Server HTPC Review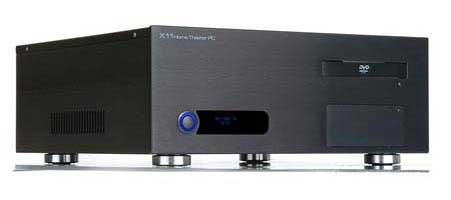 Product Name: DMS-701
Manufacturer: 2partsfusion
Performance Rating:
Value Rating:
Review Date: March 27, 2006 18:00
MSRP: $ 2199.99 - $4894.99 (as tested $2840.99)
Processor AMD Athlon 64 3500+, Socket 939, 90nm process, "Cool 'n' Quiet" enabled
Processor Cooling Zalman CNPS-7000B-AlCu
Memory 1GB Dual Channel DDR PC-3200 at 400MHz (2x512MB)
Motherboard NVIDIA nForce 4
Graphics Card Silently cooled Gigabyte NVIDIA GeForce 6600 128MB DDR, PCI-Express x16
Hard Drive 1 80GB Serial ATA 7200 RPM w/8MB Cache
Hard Drive 2 250GB Serial ATA 7200 RPM w/8MB Cache
DVD Drive Dual-layer DVD-/+RW (16x max single-layer, 4x dual-layer)
Personal Video Recorder Card Hauppauge PVR-500MCE PCI TV/FM Dual-Tuner with hardware MPEG-2 encoder
High Definition Card Single ATSC over-the-air high definition TV tuner
Sound 7.1 channel analog audio and digital S/PDIF output
Case OrigenAE X11
Case Cooling 2x 80mm fan, rear
Front I/O Ports (2) USB 2.0, (1) IEEE 1394a
Power Supply SilverStone 400 watt
Keyboard and Mouse Gyration Wireless Keyboard and Mouse
Remote Microsoft MCE Remote kit
Networking On-board NVIDIA 10/100/1000 LAN with Firewall
Rear I/O Ports (1) PS/2 Keyboard, (1) PS/2 Mouse, (1) Parallel Port, (1) Serial Port, (1) RJ45 LAN, (5) 3.5mm analog audio jacks, (1) coaxial S/PDIF output, (4) USB 2.0, (1) DVI-I, (1) VGA, (1) S-video output, (1) composite video output, (1) component (Y/Pb/Pr) video output, (1) TV coax in (internally split to two), (1) FM coax in, (2) S-video input, (2) composite video input, (2) sets of R/L stereo audio inputs
Internal I/O Ports (1) PCI Express x16, (1) PCI Express x1, (3) PCI slots, (2) ATA133 with NVRAID, (4) SATA with NVRAID
Dimensions 17.1 inch (W) x 6.3 inch (H) x 16.5 inch (D)
Pros
Fully customizable and upgradeable
Can do almost anything you need and many things you don't
Fantastic customer service
Extremely quiet operation
Cons
Acts like a PC
New technology + unanticipated conflicts = random odd behaviors
Graininess and ghosting on Standard Definition content
DVD player a bit loud
2partsfusion DMS-701 Introduction
I received an email on 2/1/06 saying that construction on the review unit was commencing and another on 2/16/06 saying that it had shipped. It arrived on 2/20/06. When they asked, my only requirement was for wireless networking capability. According to 2partsfusion, the system was pre-configured with the standard build components and included the new HDA X-plosion card 7.1 with DTS connect and Dolby Digital Live, as well as a wireless card, but eliminated the HDTV card as there were only so many available PCI slots on the motherboard for my unit. Other motherboards offered by 2partsfusion have more slots. Mine was configured such because of the passive cooling capability of the unit.
The box that showed up at my doorstep was much larger than I had expected, though it was light for its size. Once I got it open, I quickly saw why - a sea of pink packing peanuts. Luckily my son was asleep and didn't have a chance to get into them before I hid the box away. Still, I was finding them in the oddest places for days afterward.
Confused about what AV Gear to buy or how to set it up? Join our Exclusive Audioholics E-Book Membership Program!