Atlantic Technology WA-5030 Wireless Transmitter/Amp System Preview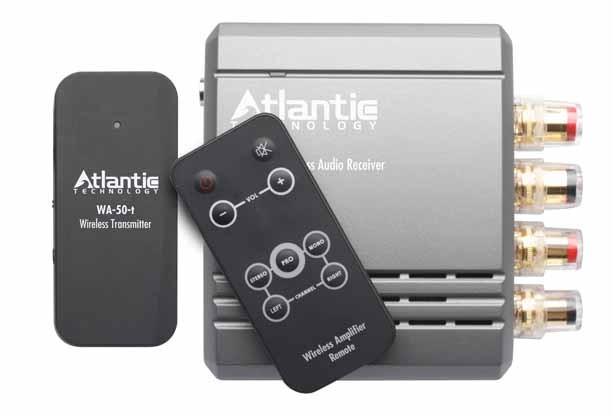 Atlantic Technology WA-5030 Wireles Transmitter/Amp System
Summary
Dimensions (WxHxD)

Transmitter: 1½ x 3¼ x ¾"
Receiver: 3½ (+1" for terminals) x 4½ x 1½"
Remote: 1½ x 3 3⁄8 x ¼"
Features

Wireless full CD quality sound
Robust and dedicated network for your audio
Easy setup, get wireless music in seconds
Wireless range up to 150 ft (50m); line of sight, 300 ft (100m)
No interference or delays
Time delay max 10ms
Works with both Mac & PC
Plug'n play - No software needed
Flexible multi-zone functionality
RF band: 2.4GHz
Dedicated proprietary protocol
USB 2.0 interface
SNR: 93dB
2 x 30 Watts/ch, 1 kHz 8Ω
Not to long ago, Atlantic Tech released their WA-50 wireless system. This system was interesting in that it allowed not only high quality audio streaming over a reasonable distance, but up to three zones and not only an RCA connection but USB. This gives users and (most likely) installers a lot of flexibility when it comes to use. Of course, the first question dealers had when they starting using the new WA-50 was, "When are you going to come out with one with an amp?"
Enter the WA-5030.
The Atlantic Tech WA-5030 is basically a WA-50 with a stereo 30 watt amp built into the receiving unit. Sporting high quality five way binding posts (they types usually reserved for multi-thousand dollar speakers), the WA-5030 is truly plug and play.
Operating on the 2.4GHz frequency, the WA-5030 can transmit up to 150 feet or 300 feet with line of sight. Given that many devices operate (or put out interference) in this same band, you can expect real world performance to be less. The transmitting unit has three zones and can broadcast lossless, uncompressed CD-quality digital audio with a 48kHz sample rate. A three position switch selects the zone which allows up to three transmitters to be operated in close proximity, a handy feature for complicated installs. In addition, multiple receivers can be used with a single transmitter making distributed audio a breeze.
The Atlantic Technology WA-5030 has a IR remote for volume and mute control at the receiving end (great for integration into a universal remote control system). The WA-5030 can even be programmed to driver speakers in bi-amp mode. The 30 watts per channel stereo amplifiers are rated into 8 ohms. 
On the transmitter side, the Atlantic TechnologyWA-5030 can accept RCA stereo analogue or USB inputs. There are no drivers needed and the system is plug-in-play ready. Atlantic Technology says that there is no data drop issues and essentially no time delay. Their spec sheet, however shows a maximum delay of 10ms.
The question with wireless systems is typically price. For the price of one of these systems, you can often pay a professional to run a wire and still have money leftover for a nice lunch at Five Guys. But, when running that wire is really impossible, wireless is your only solution. We like that you can pair not only additional WA-50 receivers (without amps) but the WA-5030 receivers (with amps) with your transmitter, gives you a lot of options. While one set full WA-5030 kit, including a transmitter, receiver, remote control, USB Cable, and RCA input cables, will set you back $400. That's a bit pricy. The WA-5030 receivers (with amps) will run you $200 a pop and the WA-50 receiver (sans amps) $89. The USB connection is nice though and a standout feature in a sea of devices that have analogue audio only.
We run into problems when we start looking at the math. For the Atlantic Technology WA-50 system, the entire thing retails for $200 with additional receivers retailing for $90. That's $110 for the transmitter and all the wires. On the other side, the WA-5030 retails for $400 with the receiver/amp combo retailing for $200. This gives us $200 for the transmitters and the wires. Unless we are wrong, these are the same transmitters (they look the same in the pictures, even the model number on the top is the same). So, unless they are taking a loss on the receivers when they selling them separately (we doubt that), you are better off buying the Atlantic Technology WA-50 kit with one WA-5030 receiver. This will run you the same $400 but you get an extra (non-amplified) receiver to boot.
Conclusion
Is the Atlantic Technology WA-5030 worth $400? With a complete wireless solution including stereo 30 watt amps, we're guessing that a lot of people will say yes. But if you think you might need an additional Atlantic Technology WA-50 receiver (without the amps) sometime down the line, you are better off buying the Atlantic Technology WA-50 set with an additional Atlantic Technology WA-5030 receiver (with amps) for the same price. Either way, you are getting uncompressed, CD-quality audio streamed digitally up to 300 feet. That's pretty impressive.
For more information, please visit www.atlantictechnology.com.

Unless otherwise indicated, this is a preview article for the featured product. A formal review may or may not follow in the future.