Audio-Technica SonicSport Headphones Preview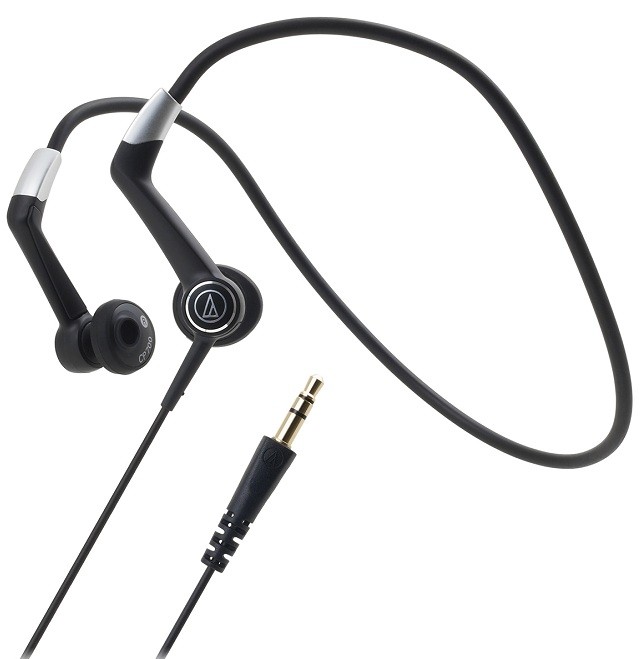 ATH-CP700BK headphones
Summary
ATH-CP700BK
Type Dynamic
Driver Diameter 13.5 mm
Frequency Response 20 - 22,000 Hz
Maximum Input Power 100 mW
Sensitivity 105 dB
Impedance 16 ohms
Weight 12 g
Cable 0.6 m (2')
Connector 3.5 mm (1/8") mini-stereo
Accessories Included Pouch, 0.6 m (2') extension cord, 0.6 m (2') extension cord with remote and mic for Smartphones, conversion cord, cord clip
Type (Microphone) Condenser
Sensitivity (Microphone) -44dB (0dB = 1V/Pa, 1kHz)
Frequency Response (Microphone) 50 - 15,000 HzPolar Pattern (Microphone) Omnidirectional
ATH-CKP500
Type Dynamic
Driver Diameter 8.8 mm
Frequency Response 20 - 23,000 Hz
Maximum Input Power 40 mW
Sensitivity 100 dB/mW
Impedance 16 ohms
Weight 8 g
Cable 0.6 m (2'), U-type
Connector 3.5 mm (1/8") mini-stereo
Accessories Included C-tips (S/M/L), ear tips (XS/S/M/L), ridged ear tips (S/M/L), 0.6 m (2') extension cord, cord clip
ATH-CKP200
Type Dynamic
Driver Diameter 8.5 mm
Frequency Response 20 - 23,000 Hz
Maximum Input Power 200 mW
Sensitivity 100 dB/mW
Impedance 16 ohms
Weight 9 g
Cable 0.6 m (2'), U-type
Connector 3.5 mm (1/8") mini-stereo
Accessories Included Ear tips (XS/S/M/L), ridged ear tips (S/M/L), 0.6 m (2') extension cord, cord clip

Whether you're doing it or not, exercise is all the rage. It seems to be all they are talking about on TV, radio, and at the office. Just driving around, you can't help but see a gaggle of spandex-clad bicyclists, runners, or walkers. The one thing they many have in common is that they have a pair of earbuds shoved into their ear-holes. Far too often it is the stock earbuds that came with their iDevice which makes us wince just thinking about how bad that must sound. With them in your ears, you can't even run away from the poor sound.
Every ear is different, as is every head. There isn't a one-for-all earbud solution out there. Audio-Technica has remembered this when they created their new SonicSport line of headphones. These earbuds have the gamut of sport solutions covered. If you have a preferred way of wearing headphones, Audio-Technica has a headphone for you.
First, the ATH-CKP200 active-fit in-ear headphones have an over-ear loop to keep the earbuds in place even during vigorous activity. The ATH-CKP200 feature the normal, soft eartips (four sizes) which are naturally sound isolating. Audio-Technica has also included rigid eartips (three sizes) which allow sound in from the outside for use when outdoors. This makes them safer to use when you may have traffic or other ambient noise that you'd want to hear. One nice feature of the ATH-CKP200 is that they have IPX5 Waterproof Certification, allowing you to wash them after use (nice after a long workout on a hot summer's day).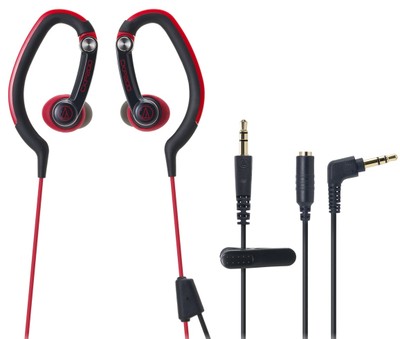 The ATK-CKP200 come in four colors (black, white, red, and blue). They are designed for active use (jogging) but are made to sound good as well. Audio-Technica rates them down to 20Hz with a 8.5mm dynamic driver. The cable is only two feet long (fine for those that use an arm-holder for their smartphone) but Audio-Technica has also included a two foot extension and a cord clip. The ATK-CKP200 will retail for $49.95
The ATK-CKP500 active-fit in-ear headphones have a C-shaped ear-tips that fit into your outer ear to keep the earbuds in place even during vigorous activity. They share a lot of the same features with the ATH-CKP200 except for the design. The drivers are also slightly larger at 8.8mm (rather than 8.5mm). The cord connections are angled so that the cord is naturally directed behind your back. The cable is asymmetrical to keep it out of the way and prevent tangles.
The ATH-CP700BK is the most expensive of the new SonicSport line from Audio-Technica. The ATH-CP700BK features a backband design that has a headband cord that wraps around the back of the head to keep the earphones in place. Unlike the other two SonicSport headphones, the ATH-CP700BK are not in-ear monitors, but instead sit just outside the ear canal (like many earbuds). But instead of a hard case that wedges uncomfortably into your ear, the ATH-CP700BK have a rubber surround that makes wearing them much more comfortable. Audio-Technica has also included a pivot joint to ensure that the ATH-CP700BK is directing the sound where you can hear it best. The out-of-ear-canal design means that you'll be able to hear more outside noise—a potential plus if you are using these while walking or running.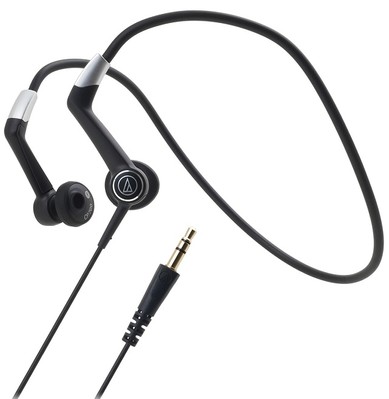 Unlike the other two SonicSport headphones, the ATH-CP700BK have a single, two-foot cable coming off the left earphone. Again, they have included a two-foot extension cable. Also, the ATH-CP700BK have in-line controls for your smartphone and a mic for answering calls. The outside the ear design means that Audio-Technica could include a larger driver. Now up to 13.5mm, the ATH-CP700BK are still rated down to 20Hz though we expect they sound better than the other two offerings. At $99.95, they cost more but they also include a lot more technology and features. They are still waterproof like the other so you won't have to worry about sweating them up when you exercise.
Conclusion
How do you like your headphones? In ear? In ear with a loop over your ear? Maybe more the earbud kind that sits in your ear but something more comfortable than the kind that came with your iDevice? Audio-Technica has a flavor of headphone for you. All you need to do is pick the type that you feel is most comfortable and start your morning run. We'll be waiting for you at the doughnut shop.
For more information, please visit www.audio-technica.com.

Unless otherwise indicated, this is a preview article for the featured product. A formal review may or may not follow in the future.