Onkyo Double Ought Receivers Preview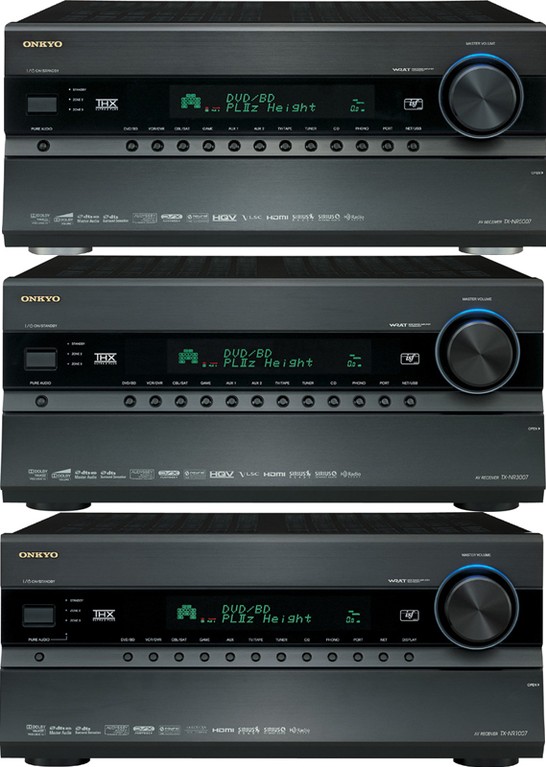 TX-NR5007, NR3007, NR1007
Summary
Executive Overview
It's one thing to support channels with a receiver. We've seen lots of offerings all up and down the line that will support multiple zones and extra speakers (over the standard 7 channels). Generally that "support" equates to pre-outs or, at best, sacrificing your surround back speakers for your second zone or bi-amping. If you want more channels than that, you're looking at an external amp or a VERY expensive receiver.
Onkyo is looking to change all that with their new Internet and network ready receivers.
Starting at only $1599, the double ought series will have 9 channels of amplification with two independent subwoofer outputs all with THX Ultra2 Plus and new Audyssey DSX processing. This is pretty impressive for the price point and even more so once you really get into the list of features. The 145 watt per channel TX-NR5007 is the top of the line and will retail for $2699. This will be followed by the 140 watt per channel TX-NR3007 for $2099 and the 135 watt per channel TX-NR1007 for $1599. The two top tier models feature HQV Reon-VX video processing for the some of the best scaling and upconversion on the market (the NR1007 has Faroudja DCDi Cinema processing). They also feature a front USB and HDMI port - a feature that we think will become more and more important and the new mini-HDMI ports become prevalent on portable devices. The NR5007 and NR3007 are the first Onkyo receivers to get Dolby Volume which equalizes the volume so that you aren't blasted out of your chair by commercials. While the amps can be assigned on all three receivers, with the top two, you can run them in bridged mode to give your front speakers the extra boost they may require. They also have separate power supply transformers for audio and video processing and reproduction.
TX-NR5007                                    TX-NR3007
TX-NR-1007
While the top of the line TX-NR5007 has the most features and inputs (8 HDMI 1.3 inputs vs 7 on the NR3007 and 6 on the NR1007), that doesn't mean that the rest of the line is left out in the cold. The entire line features Audyssey MultEQ processing for room correction and auto-setup, a full complement of audio decoders, and Burr Brown DACs (the 5007 does have the 32 bit versions though). As mentioned, all the receivers are Internet and network ready with a rear Ethernet port. They are out of the box ready to stream Pandora, Rhapsody, vTuner, and Sirius Internet Radio. They are all Window 7 compatible and have DNLA 1.5 certification for compatibility with other networked devices. Each receiver has dual parallel HDMI outputs, allowing for display of current programming on dual monitors, simultaneously or independently, for increased setup flexibility. For those worried about video calibartion, all three sport ISF Certified Calibration Controls (ISFccc) so that you can calibrate each source at the receiver to get the best possible picture from every source and still maintain the ease of a single connection to your display.
TX-NR5007                                    TX-NR3007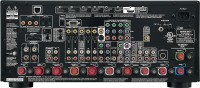 TX-NR-1007
So, what does 9 channels of amplification give you? Lots of flexibility. You can have a full 7.2 system with two channels for a Zone 2 or distributed audio. You can even run all 9 channels in one theater when employing Audyssey's DSX or Dolby Pro Logic IIz height channel processing. Since the subwoofers are independent (and not mono as we've seen in the past), they can be configured for left and right if you want. You could even run a 5.1 system with a zone 2 AND the mains bi-amped. With the NR5007, you can use the two channels for an additional pair of main speakers in a dedicated 2-channel room (or in the same room if you like to A/B speakers).
Conclusion
All three of these receivers, the TX-NR5007, TX-NR3007, and TX-NR1007 will be in stores by the end of September. We expect they won't be on the shelves for very long. With the feature sets and at these prices, they look to be a hard act to follow. Once again, Onkyo has shoehorned just about every feature on the market into their new offerings. Expect the buzz over these receivers to be huge. 
For more information, please visit www.onkyousa.com.

Unless otherwise indicated, this is a preview article for the featured product. A formal review may or may not follow in the future.
Kennydee posts on March 26, 2010 10:08
dalikon, post: 703277
hello there kennydee,

came across your thread, very interesting feedbacks.
Would greatly appreciate if you could share some info and experience on the Oppo BD83.
Iam thinking of getting a BD player soon possibly pairing with the ONkyo 3007.

Cheers!:
Hi Dalikon,
First, I truly am enjoying my Onkyo 3007. Got it set up on a 9.1 config and loving it. Did you already get yours or it's on your wish list? I sent an e-mail to the guys at Audioholics asking them to include the Onkyos X007 on their test list and I am hoping to see a full expert review of these units on their main site. Now as far as Blu-Ray and Oppo, I was going to purchase one a while back but that got sidetracked pretty fast when I talked to my wife about it. Her MAJOR renovation project was more important I guess than MY toy (so she says). So now that I have that out of the way I will be getting my Oppo very very soon (without consulting my wife). One of my friends just got an Onkyo 707 or 708 I think and he has the Oppo. I was blown away by the sound True-HD, DTS-HD and fast load time. I will get 1 or most probably 2 by June at the latest.
dalikon posts on March 26, 2010 00:11
Blu Ray player
Nomo, post: 617894
Hopefully they've found a way to integrate a barn fan into the chassis for cooling.
hello there kennydee,
came across your thread, very interesting feedbacks.
Would greatly appreciate if you could share some info and experience on the Oppo BD83.
Iam thinking of getting a BD player soon possibly pairing with the ONkyo 3007.
Cheers!:
marky12 posts on October 29, 2009 21:26
Kennydee, post: 639468
Thanks marky12,

I installed an Antec A/V cooler on top to keep it cool. I heard that some Onkyo models did run hot so I did not want to take a chance. However, after the movie I watched I placed my hand on the receiver and it was warm but not hot. The Antec cooler does the job very well. I should try without the A/V cooler to see though.

I was saving my cash for a Yamaha RX-Z11 before Onkyo introduced these 9.2 models. My retailer had one at $4600 C$ (B stock mind you). Got the Onkyo at less than half that taxes included. I agree with you.
I have the same cooler sitting on top of my 805 which everyone knows about its heat issue. Really, there seems to be two camps to this heat issue. Some say its a little on the warmer side and the other is that it is insanely hot. I think the truth is somewhere in the middle.
I envy you guys that have that kinna of budget for your toys. Given that technology is advancing every year, its hard to keep up. Every year its a new feature or a new gimmick. I really think that receivers should be design like computers. We can upgrade the video card, sound card, software, etc… But the argument will always be that the companies want to make a profit. I think it only takes one company to make the rest follow suit…
Marky
Lordoftherings posts on October 28, 2009 20:29
Kennydee posts on October 28, 2009 11:52
Onkyo after sales service and in general
dapack69, post: 640029
Onkyo now has firmware updates for the X007 models.
Howdy guys (and girls?),
I sent Onkyo a little note earlier about after sales service in general. The reason why I did is that if dapack69 would not have wrote about the firmware update on this forum I or other Onkyo x007 owners on this forum would not have known unless they visited their site and landed on the Support/download page out of curriossity. I've been in sales all my life and if I learned one thing is that whatever pricing you sell your stuff at compared to your competition, the level of service one provides to their customers is worth GOLD!!!
Here is what I wrote to Onkyo;
Hello, I am the proud owner of a TX-NR3007. I learned that there was a firmware update for my receiver on your site through a member of the Audioholics Home Theater Forums. I registered my receiver and I am now a member of Club Onkyo. There are 2 things I would like to point out to Onkyo.
1- I would have liked Onkyo to advise me through e-mail or by other means of communication that there was a firmware update for my receiver instead of finding out about it thanks to a Audio/Video forum member.
2- I would also appreciate you list the fixes or changes that this firmware update addresses on the download site for the models affected.
I can appreciate the updates but it would be good for the Onkyo owners to decide if the updates are of value to them before they undergo the update and have the opportunity to decide for themselves. Also on my first point, would it not be of service to your loyal customers to be advised by Onkyo that there are updates instead of finding out either by mistake or through other owners or discussion boards? Isn't what the Club Onkyo is and should be all about?
Thank you.
I am hoping that perhaps this little note could make a diferrence in the future.
Just thought I'd share this with the forum members.
Post Reply
Confused about what AV Gear to buy or how to set it up? Join our Exclusive Audioholics E-Book Membership Program!