Sanus Elements ELM4 Series HDMI 1.3B Pivoting Connector Cables Preview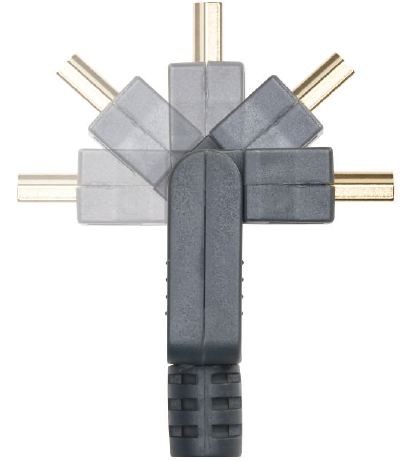 Full 180 Degree Rotation
Summary
Available in 2.5, 5, 10, 20, & 30 feet lengths
Inwall rated for 10 foot and longer
20 and 30 feet lengths built in amplification
Supports 10-bit, 12-bit, and 16-bit color depths
Gold plated connectors
Executive Overview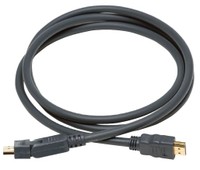 We love new tech. We love the way it looks, the way it performs (usually), and how cool it is. We love uber-flat displays, super high definition screens, and huge speakers. What we often don't love is how a new tech will come out and suddenly we run into problems that not only did we not expect, but there are few if any solutions to. For example hanging flat panels.
Oh yeah, we were all excited by our first flat panel. You know the kind - so flat you can barely see it from the side. We mated it with one of those very flush mounts so that we could get the panel as close to the wall as possible. All this turned out to be wasted when we "discovered" (we should have noticed it before but who would when you're busy staring at a brand new high def panel?) that the HDMI inputs are oriented so that the cables enter directly from behind. This limits the distance from the back of the panel to the wall by how tightly you can make the 90 degree turn with the cable. With some connectors and the stiffness of some cables, you're talking inches. Frustrating? Yep.
Of course, aftermarket 90 degree turn adapters quickly hit the market but those aren't always all they are cracked up to be. HDMI inputs will vary in their location and orientation from model to model much less between different manufacturers. This means you have to pay attention to the orientation of the HDMI cable and where the other inputs are that you'll need. If you buy a specific 90 degree bend and it works for your application (and that is easier to mess up than you'd think), it often won't work in the future.
Sanus Systems has the answer to your problem with their new Sanus Elements ELM4 series 1.3b HDMI cables. One end on every cable has full 180 degree swivel ability built in to the connector. This means that your cable not only will make the 90 degree turn without a problem, but can make lesser turns if necessary to allow access for other cables. The end of the connector is only an inch to the swivel hinge so you should have little problem getting that flat panel right up on the wall. The connectors are built into the cable so you won't have to worry about a display upgrade making your aftermarket 90 degree bends obsolete. You also won't have that extra connection with the notoriously fickle HDMI connector which many have found to be prone to detaching under the weight of the cable alone.
The Sanus HDMI cable has a few other advantages as well. Any of the cables 10 feet and over are in-wall rated. This is a great feature for those that plan on wall mounting their flat panels (and we all want to). Also, we feel it is a great decision not to worry about in-wall rating the shorter cables. For the most part, cables under 10 feet won't be run in wall anyhow. The Sanus cables come in lengths up to 30 feet (right now, they are only advertising the 2.5, 5, and 10 foot models on their site). The 20 and 30 foot lengths will include built in amplification and equalization (probably why those models are a bit delayed). You can view the complete press release here (warning, pdf download). This is a huge bonus for those longer runs. We know that longer runs are where HDMI cables start to break down. The amplification should eliminate that. 
Conclusion
We really like the look of these new Sanus Elements ELM4 series HDMI cables. The questions that remain are - when will they ship (we expect soon after CES), when will the longer cables arrive, and how robust is that swivel joint. The prices seem right for HDMI cables (2.5ft ELM402-GI - $30, 5ft ELM405-G1 - $40, 10ft ELM410-G1 $50) with aftermarket 90 degree adapters running from a few dollars to much more. Yes, we know you can find a HDMI/adapter solution for cheaper but you can also fine them for much more making the Sanus offerings very competitive. While we applaud the 180 degree swivel ability of the Sanus cables, there aree other solutions that do even more with a dual action or ball-in-socket joint. This gives give you free range of movement, allowing unlimited ability to position the cable exactly where you needed it to be.

Unless otherwise indicated, this is a preview article for the featured product. A formal review may or may not follow in the future.
Alex2507 posts on January 11, 2010 10:04
I don't trust that swivel. I like it though and would be happy to see that cable do well in one of those comparisons that BJC does so well in. I'm leaving the big words out of this post because I don't know any. :o
Post Reply
Confused about what AV Gear to buy or how to set it up? Join our Exclusive Audioholics E-Book Membership Program!