AVRant #83: The Formula for Suck
AVRant #83: The Formula for Suck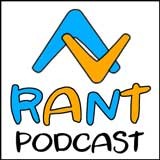 Soon I can watch low quality streaming movies with my xbox drive screaming in the background. What fun!
Tom's back and he's extra bitter. Tom was wrong, the number isn't on the site anymore. Somehow, it got deleted in one of our many updates. He's going to fix that soon. Dina thinks she's got Tom sold on an iPhone. She's wrong. A story about Tom's dad… it isn't as bad as it sounds at the beginning. Tom gets mad at Denon. Tom gets more disillusioned with Comcast. Is Wall-e having quality problems? According to our listenership - yes. Where are terrorists now? On World of Warcraft. Microsoft's E3 announcement - Tom doesn't have to worry about the Roku box anymore. Why Tom still isn't excited about it. There will be some very exciting news next week - stay tuned. Tom forgot to say that this was the last week for the tell a friend contest so you get an extra week. You're welcome. Thanks for listening and don't forget to vote for us at Podcast Alley.
Audioholics posts on July 22, 2008 20:28
We're toying with the idea of adding video… It's a matter of what's actually possible, not whether or not we want to (we do).
10010011 posts on July 22, 2008 11:43
Here is a formula for suck.

Audio only, no text version of the AVRants.

That sucks.
Tom Andry posts on July 22, 2008 09:15
Nope - same speed. Depending on when you last listened, I have started compressing it more at listeners' request.
Haoleb posts on July 21, 2008 21:32
You guys going for the movie trailer guys voice?

Havent listened in a while but it sounds different now. I think Tom is just trying to make himself seem manlier by playing with the EQ.

Actually… It sounds like its not playing at full speed. The music in the beginning seems slower.
Post Reply
Confused about what AV Gear to buy or how to set it up? Join our Exclusive Audioholics E-Book Membership Program!