Bheestie Bag Personal Electronic Water Removal System Review
Bheestie Bag Personal Electronic Water Removal System Review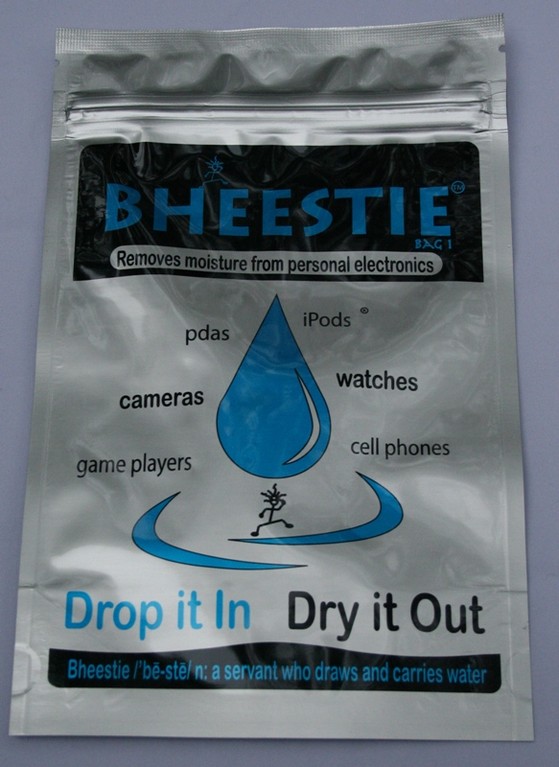 Bheestie Bag
It's a bag with a smaller bag of pellets in it.
Introduction
We've all had that sinking feeling when we hear the plop of an electrical device hitting the water. The Bheestie company decided to do something about this problem by inventing a bag with little pellets in it. This bag is compact enough to be taken nearly anywhere. The directions are simple - place waterlogged device in bag, seal tightly, wait. While they didn't add "pray" onto the end of that, you probably won't need to be reminded to do so (especially if it is your brand new iPhone).

Confused about what AV Gear to buy or how to set it up? Join our Exclusive Audioholics E-Book Membership Program!
Recent Forum Posts:
bheestie posts on January 17, 2010 19:36
Bheestie

Hi Tom and all,

We appreciate your reviewing the BHEESTIE Bag and also posting our response to your testing methods. BHEESTIE's value comes in its size and power of adsorption. When tested with an amount of water that is within its adsorption capacity BHEESTIE outperforms rice, kitty litter, and air. Now I will admit we haven't gone head to head with a pound of rice - because that doesn't fit the intent of our product, which is to be portable, convenient and effective. It does work very well, and has saved many of our own cameras, iPods and cellphones (more than once I sheepishly add ), not to mention our customers. Again, we appreciate you reviewing it and letting us explain our position on your testing methods. Cheers, the BHEESTIE bosses
mtrycrafts posts on January 15, 2010 16:39
Since this test was somewhat easy to do, I wonder what the cost of desiccant is and how that would compare?

Also, how would an oven at about 100F do? or perhaps 150F.

One could also test an old broken cellphone, how much water would it really pick up after a dunk, then test again.
mtrycrafts posts on January 15, 2010 16:35
Adam, post: 671735
…Anyway, there were more germs on cell phones than in toilets.
Oh, that is so wonderful to read after some posts saying it would be dead to them.
I wonder after this if they will ever use a cellphone again.
gonk posts on January 15, 2010 14:49
I would say that the manufacturer has a point about the actual application for which the product was made: a piece of electronics will retain much less water than a sponge, so providing a package that will absorb a ton of moisture is overkill. You had 16 times as much rice as you had of the desiccant pellets, and that extra mass provided at least 3.5 times as much absorption after three days (and three times as much after two days). The pellets would seem to be more efficient. A few other tests might be of value.

The first is to adjust the quantity of water involved. Find a broken (or breakable) device, weigh it, drop it in a bowl of water for a few minutes, shake it to get rid of the collected puddles, and then weight it again. How much water will tag along will depend on the device, but a test or two like this would give a good measure of how much water might be left to remove. Then you could re-run your sponge test to see how the two stack up and if the Bheestie Bag can eliminate the critical moisture in a timely fashion. The one possible wrinkle here is that the way the sponge is trapping moisture may not be the best parallel for how a device like a cell phone holds water.

Another test would be to try to create a rice-based equivalent to the Bheestie Bag: put around four to eight ounces of rice in a porous bag (maybe thin cloth or even the foot from some panty hose) and toss that into a zip-lock bag. If the rice can still absorb a useful amount of moisture while in the porous bag, then you avoid the one big pitfall of rice: getting it stuck in the device. It may be that a DIY package like that (with rice as the desiccant) could do a satisfactory job. It may also be, however, that rice isn't efficient enough a desiccant and doesn't get the moisture out as effectively when deprived of that "stuck in all the inner workings" contact or reduced to such a small quantity.

Of course, the best test would be to do all of the above and determine the optimal DIY solution, then take two actual devices and throw them in the drink.
Davemcc posts on January 09, 2010 10:11
Adam, post: 672183
innuendo.
I don't get it.
Back to the OP, if you save all the dessicant packs that come with all your electronics and put them in a plastic bag, would you not have a product the same as this product?
I'm going to have to read the whole article now to see if this has been addressed.
Edit…I guess the teaser is the whole article.
Post Reply