Optoma Neo-i iPod Dock and Pico Projector First Look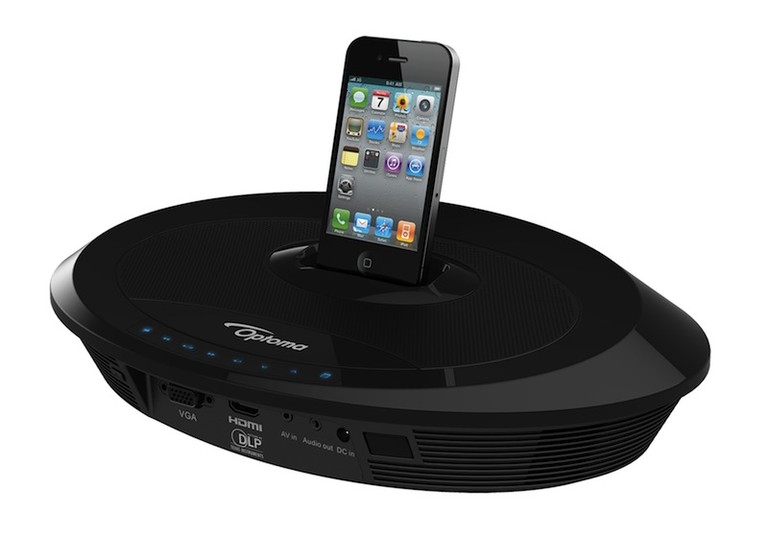 Optoma Neo-i iPod Dock and Pico Projector
Summary
General

Native Resolution: 854 X 480 (16:9)
Panel: 0.3" WVGA DLP
Brightness: 50 lumens Bright mode
Contrast Ratio: 2000:1
Uniformity: 60% (JBMA Standard)
LED / Life: RGB LED, >20,000hrs
Dimensions: 12.8" x 8.9" x 3.1"
Weight: < 2.5 lbs
Lens & Throw Distance
Image Size: 5"~120" (16:9 native)
Projection Lens: Fixed Focus Lens, F/1.8
Throw Ratio: 1.8
Off-set: 100%
Compatibility
Video/Audio In: 2.5 mm A/V jack, Composite
VGA CNNT: PC in (WXGA max)
HDMI in: HDMI 1.3 (1080i 60)
Audio Out: 3.5 mm audio out jack
Speaker: 8W x 2
IO Terminals
Sockets (iPod Dock, VGA, A/V Jack, Audio Out, HDMI, DC Jack)
Executive Overview
To be honest, when I got the press release for the new Optoma Neo-i combo iPod dock/pico projector, it came without any images. As I read through it, I thought about when I used to be in the business world before my conversion to full time Audioholic. One day a guy came in to pitch his software to my employer. We all met in the conference room and he pulled out a laptop and the smallest projector I'd ever seen. We were all fixated on the projector. We couldn't believe the size. While I might not be able to tell you anything else about the guy or his pitch, I do still remember the projector. When I read through the info on the Optoma Neo-i, I thought, "Now there's a device with some wow factor."
And then I saw it.
The Optoma Neo-i is the unlikely marriage of an iPod/iPhone dock and pico projector. Optoma has been making pico projectors for years so it isn't exactly a surprise that they've combined the two. What is a surprise is all the additional features they've built into it. First, the basics. The Neo-i is an oval shaped device that has an iPhone/iPod dock on top. There are two 8 watt speakers utilizing a bass reflex (i.e. ported) design to increase output and depth. They use, as you'd expect Class D amplifiers to reduce size and heat. In fact, the 50 ANSI Lumen Pico projector uses an LED backlight behind its 0.3" WVGA DLP color wheel which means that the power draw on the Neo-i is so low that it can be run on batteries.
The projector can deliver an image of up to 120" in its native WVGA (854 X 480 pixels) resolution in 16:9 format. Yes, that'd be a blurry 120" but it can do it. The contrast ratio is spec'd at 2000:1 with a 60% uniformity. The Optoma Neo-i is a bit over a foot and a half wide, almost nine inches deep and a bit over three inches tall. It may be a bit bulky for a "pico" projector, but it weighs in at under 2.5 lbs so you won't be adding much to your overall load.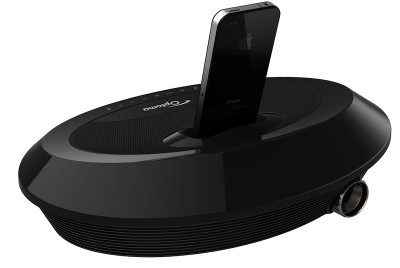 You can control the iPod/iPhone from the device, from an included IR remote, or from the top backlit control panel on the Neo-i. Metadata, such as song and video titles and arts names can be displayed by the projector to make playback management easier. On the back of the unit, surprisingly, Optoma has not only included a VGA port for connection to your laptop, but also a 2.5mm port for composite video/stereo audio (though an adapter), a 3.5mm output for audio, and an HDMI 1.3a input for use with HD devices or newer laptops. This last one was a surprise. Given the projector's naitive resolution, we thought HDMI would be out. But not only have they included it, but the projector will accept 1080p/60Hz. It'll have to down-convert it, but it accepts it. Lastly, we love that they've equipped the Neo-i to charge the iPod/iPhone while docked in the unit. We can't stand it when you are using a device that doesn't. We only hope that Optoma allows this feature to be bypassed when the projector is in battery mode.
Conclusion
The Optoma Neo-i isn't actually categorized as a portable device (even Optoma says so) but we're betting that they'll show up in more than one boardroom. Optoma has an optional accessory kit which will provide connectivity to the iPad - something that makes a lot of sense to us. It's one thing to use a projector/dock combo like this to display presentation and movies, but some of the productivity apps available on the iPad (and iPhone/iPod Touch) like Popplet make great selling tools. We're not sure if the Neo-i will support such apps but we hope so. If not, you're looking at a nice little device for the kids or for parties. At $450, it is above most people's impulse-buy threshold but it does seem to be cool enough to turn a few heads (and maybe open some wallets). Look for the Optoma Neo-i to ship mid-December, just in time for the holiday season.
For more information, please visit www.optomausa.com.

Unless otherwise indicated, this is a preview article for the featured product. A formal review may or may not follow in the future.
quicke60 posts on January 12, 2011 16:25
I've always liked Optoma products - they are good quality products. But seriously? The specs look like it is just the Optoma PK301 in a much, much larger size and a higher price.



Why not get the AAXA M2 micro projector with the Iphone adapter cable? Not only do you get full Iphone connectivity, you also get:

*XGA Resolution
*2x brightness
*HDMI input
*Multimedia player
*Save some money! ($350 on amazon)


Post Reply
Confused about what AV Gear to buy or how to set it up? Join our Exclusive Audioholics E-Book Membership Program!