Denon New Blu-ray Offerings Almost Affordable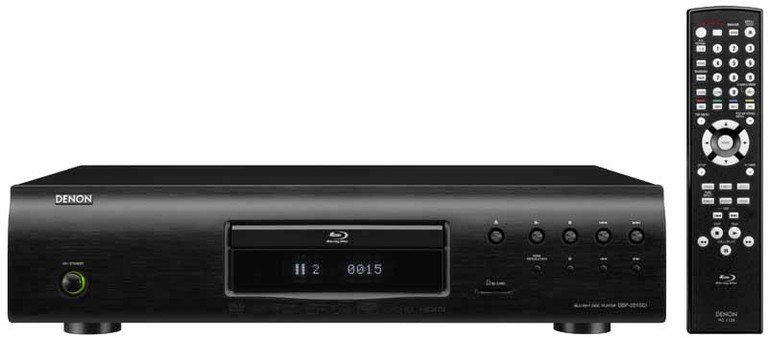 BDP-2010CI
Summary
BD-Live (Profile 2.0)
BD/DVD/CD, WMA, MP3, JPEG, GIF
Rigid chassis
Center drive mechanism
Internal video processing (DBP-1610)
ABT1030 processor (DBP-2010CI)
1080p/24 support

Executive Overview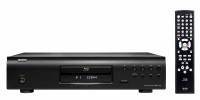 Denon surprised us this week by releasing two new Blu-ray players. It wasn't so surprising that they had new offerings - just that they were almost value conscience, something Denon Blu-ray players have long been lacking. The BD-Live (Profile 2.0) $500 DBP-1610 and $700 DBP-2010CI sound downright bargain basement compared to the flagship universal $4500 DVD-A1HDCI.
Both the models offer a slew of features including Profile 2.0 and BD-Live. The big difference between the 2010 and the 1610 is the 2010 includes ABT VRS upconversion technology. ABT (Anchor Bay Technologies) has been on the leading edge of upconversion and IP scaling (to 1080p on the DBP-2010CI via HDMI) for the last few years and the higher end Denon offerings all sport it. It also has internal high-definition audio decoding. The DBP-1610 can only bitstream the audio to a decoding capable receiver since there are no analogue multi-channel outputs. The 2010CI includes an RS-232 port for advanced programming by your custom installer.
Both the DBP-1610 and DBP-2010CI Blu-ray players include built-in BD-Live and Bonus View functionality and an onboard Ethernet port for Internet connectivity for BD-Live as well as for firmware updates. They also offer DivXHD playback and support for AVCHD playback from BD discs made from newer HD camcorders. Other than the required HDMI port and mentioned Ethernet, both the players include component, composite, and analogue audio outputs. The Analogue audio takes the form of a stereo pair that are supported by Burr-Brown D/A converters for high quality two channel output of CD or high definition (not DVD-A or SACD of course) sources.
A new feature of both of these Blu-ray players is what Denon has dubbed "Source Direct." If you know that your player has worse scaling than something else down the line (like your receiver, outboard scaler, or display) and you want to pass the signal natively, you can now do that. For standard definition DVDs, this means that it will be output at 480i, for Blu-ray that's typically 1080p/24.


What is especially nice about the 2010CI is that it has 7.1 analogue outputs. At a $700 price point, that's about what we'd expect... just not from Denon. This allows the player to decode internally and connect to legacy receivers. With the high quality two channel outputs, you are looking at a very capable player for CDs, DVDs, and Blu-ray discs. Other universal formats like DTS-CDs should also be supported, though your SACD and DVD-A collection will have to go elsewhere. The last feature, maybe not utilized by many, is the DBP-2010CI's ability to output DVDs at 1080p at native 24 frames per second. This eliminates the need for the display (if it is capable of natively displaying a 24p signal) to perform 3:2 pulldown. You'll need a newer display to take advantage of this, but if you have it, it should make for a better viewing experience.

Conclusion
Denon seems to be getting back in the value game with these recent Blu-ray player releases. While not exactly undercutting the competition, you can bet that what they do, they'll do well. The advanced ABT VRS upconversion processing on the DBP-2010CI along with the 7.1 analogue outputs makes it a very attractive player for those with legacy gear and a love of the brand. The DBP-1610 is a decent, if a bit expensive, entry level player. We're particularly impressed with the Source Direct feature which will help newbies who splurge on the display but then buy the entry level player get the best picture possible.

For more information, please visit http://www.usa.denon.com/.


Unless otherwise indicated, this is a preview article for the featured product. A formal review may or may not follow in the future.
Confused about what AV Gear to buy or how to set it up? Join our Exclusive Audioholics E-Book Membership Program!
Recent Forum Posts:
Betterbits posts on December 10, 2009 18:49
Oppo is available in Europe… Companies are importing it and selling it…
Just no Oppo store.. thats all.
Trist posts on November 20, 2009 01:09
Oppo bdp-83v will not be available in Europe

For all the people flaming all other players than Oppo I want to say that for Europeans the Oppo is not an option (unless you want to import a US unit, fix its region code voiding your warranty etc).

I was told directly by Oppo sales that they have canceled all plans for a European version….

So it is still very interesting to read about alternatives from other vendors even if they do not offer all the bells and whistles of the oppo…

/Trist
Biggiesized posts on September 30, 2009 21:35
Oppo? A troll?
Betterbits posts on September 30, 2009 19:48
Denon2010..

I simply love this player. Its awesome on CD, on DVD and BD.
Its three players in one box.
I have one SACD, Pinkfloyd… I dont give a CRAP about SACD or DVDaudio.
Denon2010 looks WAY hotter than the troll named Oppo.
And it sounds way better as well.

Its solid, its nice, it doesnt have a flaky disc tray…
And the green mainboard doesnt show everytime you change the disc…
Lordoftherings posts on July 09, 2009 11:34
Denon DVD-A1UDCI **New** World's First 'Universal' Blu-ray Disc Player = $4,500.00 !!
The only player that can compare to the Oppo BDP-83 Universal Blu-ray Disc Player is the Denon DVD-A1UDCI, with a MSRP of $4,500.00
That is 9 times the price of the Oppo BDP-83.
At over 40 pounds though, it is very well built. It better be, for that kind of dough!
* Here:
http://www.usa.denon.com/DVD-A1UDCI_Lit1222.pdf
Very nice, but thanks, I'll pass.
Post Reply