Denon DBP-1611UD Universal Blu Player First Look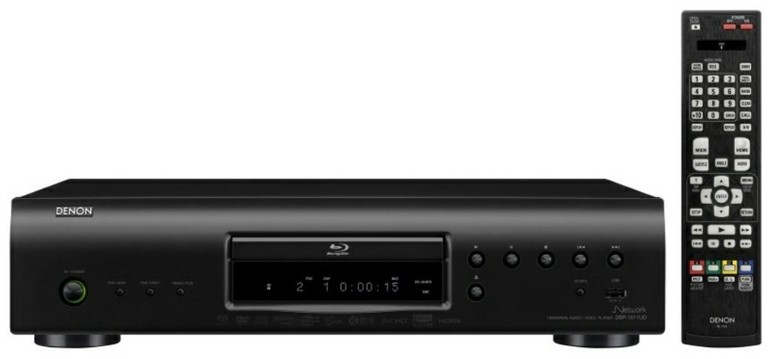 Denon DBP-1611UD Universal Blu Player
Summary
Profile 2.0, BD Live - Profile 5.0 ready (3D - and no, we don't know what happened to Profile 3.0 and 4.0 either)

BD/DVD/CD, SACD and DVD-Audio playback (MP3, WMA, jpeg and others the same as older models)

Rigid chassis
New center drive mechanism
Netflix and YouTube streaming
DLNA 1.5 certified

1 Gig on-board memory with USB to add more
DivX HD playback
Less than 20 seconds from load to play
New remotes
3D ready via fall firmware update

Full compliment of digital outputs, only 2 channel analogue
Available July

Executive Overview
Let's face it people, there is a dominant force in Blu-ray players. Oppo released their $499 Universal Blu player when others cost multiple thousands of dollars. While in the audio and videophile world Oppo may be a household name, for most of the rest of society, it is somewhat less known. I don't know how many people have asked us for Blu-ray recommendations just to shake their heads in confusion and walk away since they don't recognize the name. This isn't a slam against Oppo - their player is so good others have dropped them into their own chassis and charged 7x's the price. It's just a fact.
Denon, on the other hand, has the name recognition. What they also had was a Universal Blu player that cost more than most of our reader's complete home theater systems. While the player may rock, for the prices they were asking, it was just out of the budget of many of our readers. 
Not anymore.
Denon recently released their new line of AV Receivers, Headphones, and Blu-ray players. While most of them aren't shipping yet, they will be soon. The entry level Blu-ray player is EXTREMELY interesting to us. Not only does it undercut the Oppo price, but it also adds some functionality.
The Denon DBP-1611UD is the new entry level Blu-ray player from the electronics giant. At $399, not only is it a very affordable player, it's the cheapest Universal player we've ever seen. For those that don't know, a Universal player is one that not only plays DVDs, CDs, and Blu-rays but also DVD-Audio and SACD discs. The last two are high definition music discs that were released after DVDs but before Blu-ray. These discs sport higher bitrates and often multi-channel tracks. If you don't have any, well, maybe you never will. But for those of us that do, having to keep two players around - one for Blu-ray and one for SACD/DVD-A - is annoying. When we upgrade, we don't want to leave a format behind.
The DBP-1611UD has a lot going for it. Not only is it a full universal player, but it is 3D-ready with a planned fall update. The player includes a full GB of on-board memory and a USB port to add more if you need it. Denon has added a new remote to all of their devices and the DBP-1611UD is no different. The Denon DBP-1611UD will be DLNA 1.5 certified which means you'll be able to stream audio, video and photos off your network. For those with DLNA devices will attest, this is a very painless process and one that takes almost no setup on the users part. It is also DivX HD compatible. DivX is a compression format that allows you to maintain the quality of your content while shrinking the file size enough so that you can stream it on a network.
The big announcement, however, is Netflix and YouTube streaming. The Denon DBP-1611UD will support both and we are shocked to find this at such a low price point. We know there are lots of people out there that want to upgrade to Blu-ray but want both Universal playback and Netflix streaming. Now they not only have that option, but it is affordable as well. When comparing the Oppo and the Denon DBP-1611UD, this is the standout difference. In fact, let's do just that:
| Feature | Oppo BDP-83 | Denon DBP-1611UD |
| --- | --- | --- |
| Universal Playback | Yes | Yes |
| Internal Memory | 1 GB | 1 GB |
| BD Live Profile | 2.0 | 2.0 |
| Digital Outputs | All | All |
| Analogue Outputs | 7.1/5.1/2.0 | 2.0 only |
| DivX HD | No | Yes |
| Video Upconversion | VRS by Anchor Bay | ? |
|  DLNA |  No | Yes |
|  RS232 port | Optional | No |
|  Streaming |  None | Netflix and YouTube |
|  3D Ready | No |  Yes |
|  Price |  $499 |  $399 |
Glancing up at the above chart, there are a few question marks. We know that the $799 Denon player (the DBP-2011UD) has Anchor Bay video processing so the fact that Denon didn't mention the video processing on the DBP-1611UD is probably telling. At the very least it means it has a no-name processing that probably does only the basics. Both the players have USB ports but there is no indication from Denon that it can be used for streaming content (though it does make sense). On the other hand, there is no indication from Oppo that their UBS port can be used to expand the internal memory (which probably isn't the case). If you don't have an HDMI equipped receiver, the Oppo is the better choice with the 7.1 analogue outputs and the quality video upconversion is definitely a plus. But if you want streaming, a lower price, and are going to connect HDMI to a display that does a decent job of scaling, the Denon is the better choice. While Denon was talking up their HDMI 1.4a connections on their receivers, we're guessing that their Blu-ray players have 1.4 (since that is all they need). We know that HDMI 1.3a (which is what the Oppo has) doesn't support 3D currently but we haven't heard definitively that their won't be some sort of fancy firmware update workaround (hey, the PS3 is getting one, why not the Oppo?)
Conclusion
If you had asked us the day before the Denon press event is anyone was going to challenge Oppo for Blu-ray recommendation dominance, we'd have said "No way." Boy, would we have been wrong. The new Denon DBP-1611UD might not have all the bells and whistles that the Oppo does, but it does sport a lower price, Netflix streaming, and more than enough functionality for the common user. We think this is going to be a huge hit for Denon and expect them to sell these by the boatload (literally). Due to be released in July, if you have been on the fence about Blu-ray, this might be the one that pushes you over.
For more information, please visit www.usa.denon.com.

Confused about what AV Gear to buy or how to set it up? Join our Exclusive Audioholics E-Book Membership Program!
Recent Forum Posts:
JJMP50 posts on September 03, 2010 06:48
Thinking about Xmas

Probably going to get a BR player for Xmas. I was almost settled on the Oppo BD83 but not having Netflix bothered me. The I read about the Denon and it sounded like my solution. But I saw it does not have 7.1 analog outs. I have a dated Yamaha (rx-v659) that I use as a pre/pro and I will need the outs for the newer audio formats. Now I'm back to the Oppo but to go wireless I'll need their adapter ($79) and a Roku box ($100) for Netflix. I saw a Panasonic that seems to have everything I need but only costs $180. What am I trading off?
myriad1973 posts on September 02, 2010 19:53
I'm sticking with the Oppo. It has more of what I am looking for. Multichannel analog and Anchor Bay processing.
AcuDefTechGuy posts on August 12, 2010 12:43
I missed this one.

For $399 (low as $379 street price) you get

1) pretty Denon aesthetics (instead of that Oppo look which I'm not a fan of)

2) Netflix streaming

3) USB music streaming

4) DSD SACD, DVD-A, & CD via HDMI

5) Blu-ray

6) HDMI 1.4a for 3D ready

No competition in my book.

I believe I will be buying one.
PENG posts on June 17, 2010 20:25
It does seem like for someone who does not care about 3D and Netflix, the Oppo 80 is a better deal. On the other hand for people who must have 3D or Netflix and don't believe in the upscaling hype, the Denon could be a good alternative.
PENG posts on June 17, 2010 20:17
jtokach, post: 718202
Denon has notorious networking problems with its current line of receivers and a history of denying a problem exists. It wouldn't be wise to be an early adopter with that track record. I'm sure Oppo's not going to take this lying down.
That's interesting, my 4308 has 0 networking problem.
Post Reply